The Lonesome Pine Fiddlers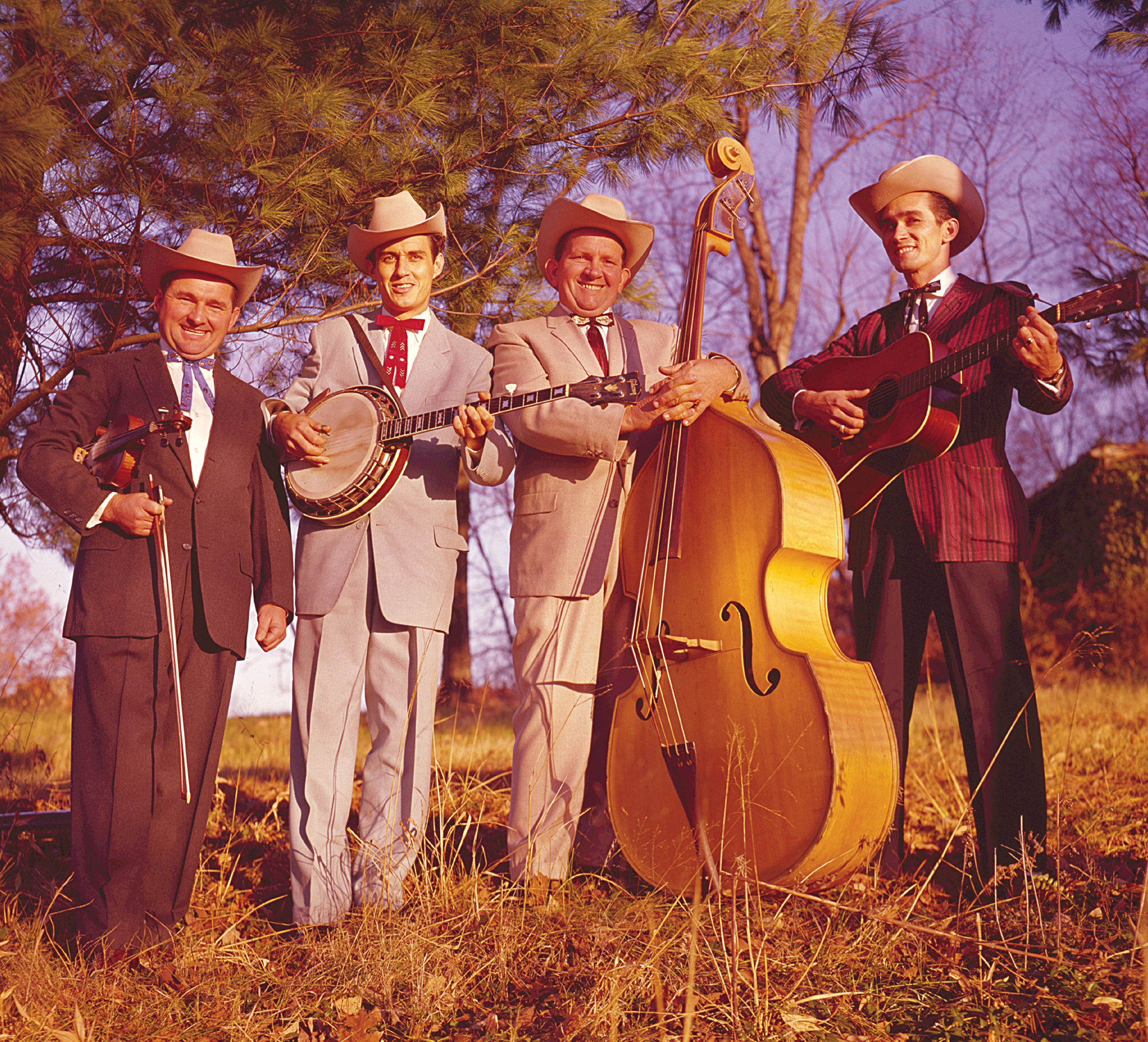 Biography
The Lonesome Pine Fiddlers first organized in 1938, as a pre-bluegrass band that based their style more on the Delmore Brothers than Bill Monroe. The band was headed by West Virginia bass player Ezra Cline. Initial members included his cousins, brothers Ireland "Lazy Ned" (banjo) and Ray "Curly Ray" Cline (fiddle), and a radio announcer by the name of Ordon L. "Gordon" Jennings on guitar. They secured a spot on WHIS radio in Bluefield, West Virginia.
World War II brought about some changes to the group. Ireland Cline joined the military and was later killed in the invasion of Normandy on D-Day. A third brother, Charlie, replaced him in the band. Gasoline shortages during the war forced the group to forego the radio program. However, the group returned to the airwaves in Bluefield in 1945.
More changes occurred in 1949, when Bobby Osborne and Larry Richardson joined the Fiddlers, playing guitar and banjo respectively. Other members at this time included Ezra on bass and fiddle player Ray Morgan. The Fiddlers' first recording session took place during this period. Four numbers were recorded for a small independent label, Cozy Records of Davis, West Virginia: "Pain in My Heart," "Lonesome, Sad, and Blue," "Don't Forget Me," and "Will I Meet Mother in Heaven?" "Pain in My Heart," was picked up and recorded by Flatt & Scruggs.
When Osborne and Richardson left the band in the summer of 1951, Ezra assembled a new group that had Paul Williams on guitar, Charlie Cline on banjo, and Curly Ray Cline on fiddle. Charlie's stay was brief and he was soon replaced by 16-year old Ray Goins. The Fiddlers secured a recording contract with RCA and cut their first session in May of 1952. Appearing on those records were Ezra and Curly Ray Cline, Paul Williams, Ray Goins, and West Virginia mandolin player, Charles "Rex" Parker. It was an excellent band, and Williams' singing added greatly to the success of the session of four songs. Two more sessions were cut, one in October and another in August of 1953, with the same basic trio of Cline-Cline-Williams. Charlie Cline came back and replaced Ray Goins on banjo and an in-law of Ezra's, Albert Punturi, replaced Charles Parker on mandolin. Fourteen songs were recorded all together and they stand as some of the best early bluegrass recordings. Among the highlights were "You Broke Your Promise," "Nobody Cares," "My Brown-Eyed Darling," "Honky Tonk Blues," "Dirty Dishes Blues," and the instrumentals "Lonesome Pine Breakdown" and "5-String Rag."
In the fall of 1952, the Lonesome Pine Fiddlers (Ezra, Charlie, and Curly Ray Cline plus Paul Williams) moved from Bluefield to Oak Hill, West Virginia. Then, from January to November of 1953, the group was headquartered in Detroit, where they appeared on WJR and the Saturday evening Big Barn Frolic. While there, they provided musical backing for one of the early releases by the Davis Sisters (Skeeter Davis went on to enjoy a successful solo career in country music). By November of 1953, the band had relocated to Pikeville, Kentucky, where they appeared on radio station WLSI.
During the next year, more band changes took place. Ray Goins returned on banjo, along with his brother Melvin on guitar. This duo, along with Ezra and Curly Ray Cline and mandolin player James Roberts (who recorded some fabulous gospel tracks in the early 1950s with his wife, Martha Carson), did two more sessions for RCA. These took place in February and September of 1954. Their signature tune, "Windy Mountain," was recorded at the latter session.
By the middle of 1955, Ray and Melvin had departed from the group, replaced by guitarist Udell McPeak – who also played the comedy role of "Jasper," – and banjoist Billy Edwards. Paul Williams re-joined the band briefly after his discharge from the military but soon left to play mandolin and sing tenor with Jimmy Martin. It was during this period that Ezra issued the Fiddlers' one and only souvenir song and photo booklet.
During the late 1950s, the group consisted of Ezra, Charlie Cline on electric guitar, Charlie's wife – Lee Warren Cline – on vocals, and Curly Ray. The group did radio work in Pikeville as well as a weekly television program on WSAZ in Huntington, West Virginia. Charlie and Lee left the group in 1960 or '61 when Charlie sought a career in the ministry.
Melvin and Ray Goins returned to the Fiddlers one last time for several years in the early and middle 1960s. During this time, they cut four albums for Starday, one of which paired the group with Hylo Brown, another Starday artist. A highlight of this era was a 15-month stint on WCYB-TV in Bristol, Virginia. The show eventually ended and in 1964, the grouping of Ezra, Curly Ray, Melvin, and Ray broke up.
Ezra kept a part-time group together for several years while he ran a restaurant in Pikeville. Among his group members was Kentucky Slim (Eddie Branham). In 1968, that group folded and Ezra moved back to West Virginia.
Just as Bill Monroe's Blue Grass Boys was a proving ground for up and coming bluegrass musicians, so too was the Lonesome Pine Fiddlers. Bobby Osborne achieved fame as one half of the Osborne Brothers duo. Larry Richardson is remembered as one of the finest banjo players from the early days of bluegrass, having worked with Bill Monroe, the Sauceman Brothers, and appeared on one of the first bluegrass LPs, American Banjo Scruggs Style. Charlie Cline became one of Bill Monroe's key sidemen of the early 1950s and also recorded with the Stanley Brothers. In later years, Charlie did evangelical work and also toured with the Alabama-based Warrior River Boys. Paul Williams achieved fame as a sideman for Jimmy Martin and appeared on many of Jimmy's great Decca recordings of the late 1950s and early '60s. In recent years, Williams has enjoyed a vibrant career singing bluegrass gospel music with his group, The Victory Trio. Curly Ray Cline worked briefly with the Stanley Brothers and went on to spend 26 years with Ralph Stanley, becoming an indispensible part of his show. Melvin and Ray Goins enjoyed a 25-year partnership as The Goins Brothers. Melvin has had his own solo career for nearly two decades.
The Lonesome Pine Fiddlers were inducted into the IBMA Hall of Fame in 2009.
– Gary Reid is a bluegrass music historian, journalist, producer, and actor based in Roanoke, Virginia.
Read the Full Bio