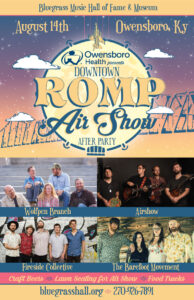 On August 14th, the Bluegrass Music Hall of Fame & Museum hosts a concert event following the Owensboro Air Show.  Presented by Owensboro Health, Downtown ROMP:  Air Show After Party features Wolfpen Branch, Fireside Collective, Airshow, and Barefoot Movement.
Located on the riverfront in downtown Owensboro, the Bluegrass Music Hall of Fame & Museum is a prime location to view the air show.  Gates to the outdoor stage area and lawn open at noon for ticket holders to take in the sights and sounds of the air show, which features a performance by The Blue Angels, the historic aerobatic flight squadron of the US Navy.  Live music on the outdoor stage starts following the air show at approximately 4 pm.
Downtown ROMP:  Air Show After Party Info:
We're so excited to host Downtown ROMP:   Air Show After Party!  Please note the following to make the most of your experience with us on Saturday:
Gates open at 12 pm Central
Tickets will be scanned at the gate, and you'll receive a wristband so you can exit and reenter.
If you plan to purchase alcohol onsite, please have your ID ready to receive a 21 & older wristband.
Children 6 and under are free.  All other children will require a ticket, which can be purchased at the gate.
Seating will not be provided.  Please bring your own chairs or blanket.
No coolers are allowed.
Please practice social distancing throughout the event.
Masks are recommended for everyone entering the Hall of Fame building.
Parking will be limited on the streets near the Hall of Fame!  There is a public parking garage located adjacent to the southwest corner of the Hall of Fame for a fee of $5.
The Hall of Fame is located at 311 W. 2nd Street, Owensboro, KY.  The event will take place on the north lawn behind the building.
Bar and concessions available, and cash and credit cards accepted.
Fresh by Gene's food truck will be onsite throughout the event.  You may also exit the premises to visit other food trucks and reenter with your wristband.
The Bluegrass Hall of Fame & Museum will be open for self-guided tours from 11 am to 5 pm.  A museum admission ticket will need to be purchased to tour the museum.
Umbrellas may be used for shade during the Air Show, as long as they do not block the view of other attendees.  Canopies will be at the back of the festival field for sponsor use only. Umbrellas will need to be closed once the music begins.
Schedule of Events (approximate times):
12:00 pm:  Gates open
12:30 pm:  Owensboro Air Show begins
2:00 pm - 6:00 pm:  Free Vaccination Clinic (Provided in partnership with Owensboro Health, Audubon Area Community Care Clinic, and the Green River District Health Department.  Of those who participate, five people will be chosen at random to receive two VIP tickets to ROMP Festival in September.)
4:00 pm:  Owensboro Air Show concludes
Schedule of Performances on our Outdoor Stage (approximate times):
4:00 pm:  Wolfpen Branch
5:30 pm:  The Barefoot Movement
7:00 pm:  Fireside Collective
9:00 pm:  Airshow (yes, that's the band's name!)