Join us for an evening of music under the stars!  The Nashville Songwriter takes place May 19th in the outdoor stage area on our north lawn. Featuring professional songwriters based in Nashville, the next concert in this series showcases Derik Hultquist, Nick Donley, and Jaida Dreyer.  Tickets are $10.
First Fridays Concert Series
We're thrilled to announce our new concert series "First Fridays" which will take place on our outdoor stage featuring contemporary Christian artists. As part of Friday After 5, this free event will include food trucks, activities for children, and live music.  The first concert takes place on June 3rd with Point of Grace.
Kentucky Humanities presents Sam Bush in conversation with Michael Johnathon
To celebrate its 50th anniversary, Kentucky Humanities, in partnership with the Bluegrass Music Hall of Fame & Museum, will host the Father of New Grass, Sam Bush and Woodsong's Old-Time Radio Hour host, Michael Johnathon who will discuss storytelling through song and the impact of music on a particular region, the Commonwealth, and the country at large.  This is a free event, and tickets will be available on April 15th.
Open Jams Every Saturday and Sunday
Open Bluegrass Jams take place every Saturday and Sunday from 1:30 to 4:30.  All skill levels are welcome!  Jam sessions are free and open to the public, and spectators are welcome.  Join us!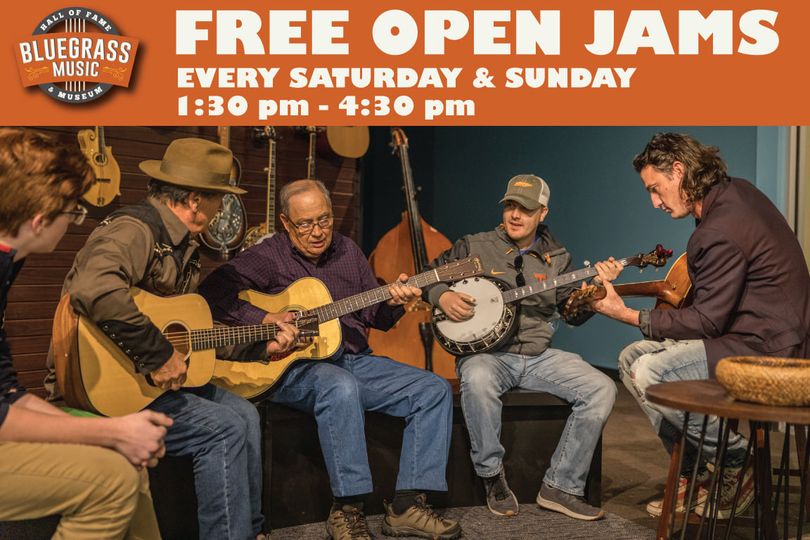 In partnership with the Kentucky Department of Tourism, we're always honored to explore the roots and foundation of music in Kentucky!  Celebrating those roots, 2020 has been deemed the Year of Music in Kentucky.  When planning your visit to the Bluegrass Music Hall of Fame & Museum, be sure to explore everything the Bluegrass State has to offer!