First Fridays Concert Series
We're thrilled to announce our new concert series "First Fridays" which will take place on our outdoor stage featuring contemporary Christian artists. As part of Friday After 5, this free event will include food trucks, activities for children, and live music.  The next concert takes place on July 1st with Cochren & Co.
Join us for the Lanham Brothers Jamboree! Hosted by brothers Barry and Randy Lanham and recorded for broadcast on KET. Guest includes Jeff Hardesty, Skylar and Sophia Cain, The Bluegrass Brothers, Mackenzie Bell, Parker Malone, Lucy Jagoe Chaney, Emmie Kate Williams, and The Footstompin Express Cloggers.
This show is family friendly with music, dance, comedy, skits, and crowd interaction.
Doors open at 6 pm, show begins at 7 pm.  Bar and concessions will be available.
Open Jams Every Saturday and Sunday
Open Bluegrass Jams take place every Saturday and Sunday from 1:30 to 4:30.  All skill levels are welcome!  Jam sessions are free and open to the public, and spectators are welcome.  Join us!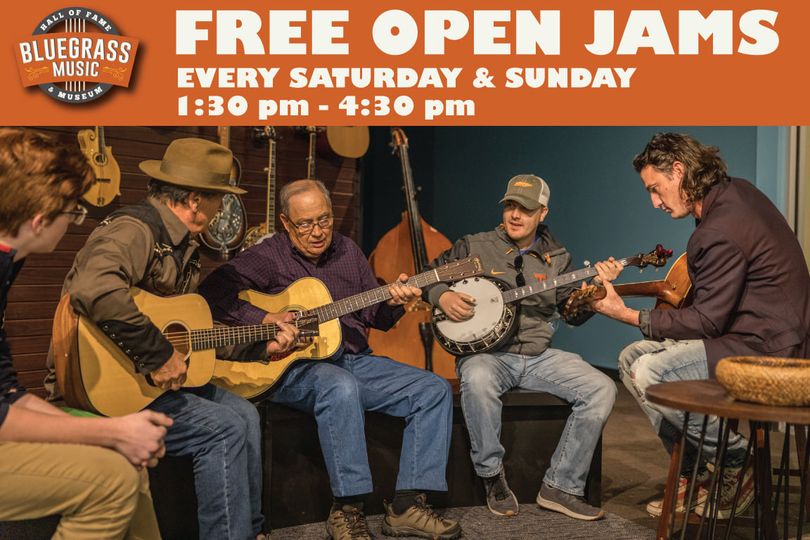 In partnership with the Kentucky Department of Tourism, we're always honored to explore the roots and foundation of music in Kentucky!  Celebrating those roots, 2020 has been deemed the Year of Music in Kentucky.  When planning your visit to the Bluegrass Music Hall of Fame & Museum, be sure to explore everything the Bluegrass State has to offer!