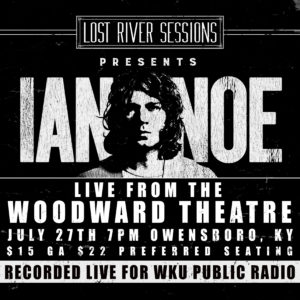 Doors open at 5 pm, show starts at 7 pm.  Bar and concessions will be open at 5 pm, and exhibits will available for pre-show touring.  Bundle museum admission with your tickets for a discounted rate.
Join us for a special presentation of Western Kentucky University Public Broadcasting's Lost River Sessions!  This will be a live taping featuring artist Ian Noe. At 29, Noe only left Kentucky for the first time two years ago to go on his first tour, but he's already grown into somewhat of a folktale within the folk music scene.
A lot has happened in the year and a half since he left that Kentucky mountain. Noe released an EP, Off This Mountaintop, while touring cross-country and throughout Europe, seeing a world he might not have ever experienced had he remained on the oil rigs. He's played for his hero, John Prine, at a recent tribute show, which subsequently landed him an opening spot for the legend on a string of upcoming dates overseas. He's gained attention from industry giants like producer Dave Cobb, who all but demanded to record Noe's first full-length album, Between The Country, released May 31. Literal giants have also taken note: Earlier this spring produced a surreal viral video of Noe arm in arm with Khal Drogo, of all people.