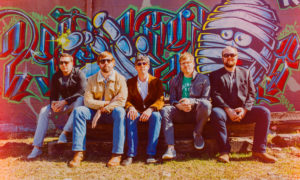 On February 14th, 2020, the Bluegrass Music Hall of Fame & Museum welcomes Love Canon to Owensboro Kentucky for a special Valentine's Day event with dinner and a concert.  As seasoned string players, Love Canon cleverly bring their acoustic-roots sensibilities to the electronic-tinged pop-hits of the 80s and 90s to create a fresh set of classics.
Love Canon pleases audiences of many walks of life.  A crowd favorite at ROMP 2018, Love Canon entertains and effortlessly fuses bluegrass with the melodic pop-sounds of prior decades. "They don't cover music of the '80s as much as kidnap it and take it on a bluegrass-tinged joyride. It's a general rule of American culture that it takes 20-40 years for a decade to shed its stale stench and get its groove back... Love Canon refreshes and extends the originals with affectionate humor and effortless virtuosity," says Style Weekly.
General admission tickets are $25 each. There will be some dance space available in front of the stage for lovebirds who like to boogie.  Tickets are on sale now!
Pre-show Dinner Package is Sold Out, but concert only tickets are still available!
Pre-show Dinner Package Includes:
Concert Tickets
Food Stations & Dining with Riverfront Views
Two Drink Tickets
Champagne Toast
Valentine's-themed Drink Specials
Pre-show Dinner Details:
Food stations will be reminiscent of 80s style with fun food and decor in the VIP/Dinner area.  Think slinkys, tape decks, and Rock em Sock em Robots to enhance our rewind to the 80s with Love Canon.  Moonlite will cater the event offering an appetizer "fun" table featuring sweet & sour meatballs, pigs in a blanket, pimento stuffed celery sticks, and pizza rolls.  Main courses will include a salad bar station, carving station with roast beef and pork tenderloin, scalloped potatoes, and rolls.  For desert, we'll have a large chocolate fondue fountain with assorted fruit and sweets for dipping.
Pre-show dinner begins at 6 pm

Theatre doors open at 7:30 pm

Concert begins at 8 pm