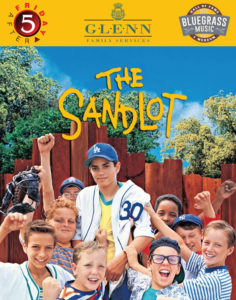 Glenn Family Services presents The Sandlot, shown FREE in Woodward Theatre during Friday After 5.  Stroll back to 1962 with us and enjoy this instant classic!
When Scottie Smalls moves to a new neighborhood, he manages to make friends with a group of kids who play baseball at the sandlot. Together they go on a series of funny and touching adventures. The boys run into trouble when Smalls borrows a ball from his stepdad that gets hit over a fence.  
Doors open at 6 pm, movie starts at 7 pm.  Bar and concessions available.