Alison Krauss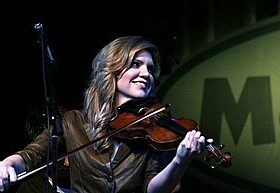 Year Inducted: 2021
Born: July 23, 1971 in Decatur, Illinois, United States
Primary Instrument: Fiddle
"You know, for most of its life bluegrass has had this stigma of being all straw hats and hay bales and not necessarily the most sophisticated form of music. Yet you can't help responding to its honesty. It's music that finds its way deep into your soul because it's strings vibrating against wood and nothing else."
Biography
Singer-vocalist-bandleader-producer Alison Krauss is one of the most influential performers to ever be associated with bluegrass music. Her career got underway while still a young teenager and took an upward trajectory almost immediately. She presented a mix of instrumental prowess: captivating, emotion-laden vocals; an amazing repertoire; and an unassuming yet charismatic, personality. Alison's website notes that "Since 1985, Krauss has released 14 albums including five solo, seven with her longtime band and musical collaborators Union Station, and the Robert Plant collaboration Raising Sand, which was certified platinum and won five Grammys, including Album of the Year and Record of the Year. She's sold more than 12 million records to date, and her honors include 27 Grammys, nine Country Music Association awards, 14 International Bluegrass Music Association Awards, two Academy of Country Music Awards and two Gospel Music Association awards."
Alison's rise to fame is nothing short of spectacular. An Illinois native, she was raised by parents who nurtured her musical talents, starting with violin lessons at age five. At an early age, she was a frequent competitor in midwestern fiddle competitions, where her deft handling of Texas, long-bow style carried the day. Her expressive soprano singing voice – often described as intense, passionate, breathy, and otherworldly – on a music demo captured the attention of Rounder Records producer Ken Irwin. In May 1986, just shy of her fifteenth birthday, Alison was signed to a recording contract with the label. It was also in 1986 that Alison joined the band Union Station, which was headed at the time by guitarist/songwriter John Pennell.
Early in Alison's tenure with Rounder, her releases alternated between solo and band projects. Her debut solo release was Too Late to Cry (1987). Two years later came her first band project, Two Highways. By then Alison had become the leader of Union Station. Her second solo recording, I've Got That Old Feeling (1990) caused the bluegrass community to sit up and take notice. Rounder produced videos of both the title track and "Steel Rails." Both went into heavy rotation on CMT (Country Music Television). Although the album was panned by Bluegrass Unlimited magazine for its use of drums and piano, it took Alison's first Grammy, for Bluegrass Album of the Year. Alison received five IBMA nominations that year and won Best Female Vocalist. She won that award four more times over the next five years.
During the early and middle 1990s, Alison began to appear as a guest artist on recordings by other performers, most notably in the country genre with such artists as Shenandoah, Brad Paisley, and Willie Nelson. In 1993 she became the youngest cast member of the Grand Ole Opry. A high-profile shot for Union Station came when the group toured as opening act for country music superstar Garth Brooks.
The current members of Union Station joined in the 1990s and have remained for more than 25 years. These include banjoist Ron Block, Dobro player extraordinaire Jerry Douglas, bassist Barry Bales, and guitarist and vocalist Dan Tyminski. (the voice of George Clooney in O Brother, Where Art Thou?). Past notables include Alison Brown, banjoist and co-founder of Compass Records,; Tim Stafford, ace guitarist and co-founder of Blue Highway; Adam Steffey, an in-demand mandolin artist who has logged time with Mountain Heart, the Lonesome River Band, the Dan Tyminski Band, the Boxcars, and the Isaacs; and Jeff White, guitarist/mandolinist, songwriter, record producer and sound mixer.
Alison's Now That I've Found You: A Collection (1995) contained choice tracks from earlier projects, selections from recordings where she appeared as a guest, and a few newly recorded pieces. The album went double platinum. The title track, "Baby, Now That I've Found You," received a Grammy for Best Female Country Vocal Performance and "When You Say Nothing at All" was named Single of the Year by the Country Music Association.
The soundtrack to the Coen Brothers film O Brother, Where Art Thou? was released in 2000. Alison was featured on three tracks: "Down to the River to Pray," "I'll Fly Away" with Gillian Welch, and "Didn't Leave Nobody But the Baby" with Emmylou Harris and Gillian Welch. The album sold in excess of eight million copies and won Album of the Year awards from the Grammys, the Country Music Association, the Academy of Country Music, and the International Bluegrass Music Association. Alison's duet with Gillian Welch on "I'll Fly Away" netted the IBMA award for Gospel Recorded Performance of the Year. The success of the movie and soundtrack inspired the launch of the successful multi-artist Down From the Mountain tour and documentary film (2000).
In 2002, Alison and Union Station appeared in concert at the Louisville Palace. The proceedings were recorded and videotaped for release on a double-disc set and a companion DVD. Simply titled Live, both achieved double-platinum status. Hollywood utilized Alison's talents again in 2003 when she contributed vocals to two songs on the soundtrack for the film Cold Mountain. Both were nominated for Grammy awards. The movie was partly responsible for the well-received Great High Mountain tour, of which Alison was a participant.
Another career milestone came in 2007 when Alison partnered with Led Zeppelin singer Robert Plant on a collection called Raising Sand. The album was certified platinum in the United States and sold nearly three million copies worldwide. The disc received (and won) five Grammy nominations for Album of the Year, Best Contemporary Folk/Americana Album, Record of the Year, Best Pop Collaboration with Vocals, and Best Country Collaboration with Vocals.
Alison's next band project, Paper Airplane, was recorded at a time when Alison suffered from frequent migraine headaches and numerous recording sessions were cancelled due to illness. When the disc was finally released (2011), it proved to be her highest charting album to date. It peaked at #3 on the "Billboard 200" chart.
Health concerns continued to be an issue in 2013, when Alison was diagnosed with dysphonia, a vocal condition. She related that "I'd go onstage and it would shut down. In the studio my throat would close up." The malady forced the cancellation of several shows with Union Station but did not hamper a 2014 tour that Alison co-headlined with Willie Nelson.
When it came time for Alison's next solo recording, Windy City (2017)—her first in eighteen years—changes were in the air. Krauss sought treatment for her vocal dysphonia. Work with a singing teacher/voice coach provided the "shot in the arm" needed to complete the project. A change in ownership and management at Rounder Records found Alison looking for a new label after 30 years; she landed at Capitol. With the new label came the opportunity to work with a new producer, long-time Nashville insider Buddy Cannon.
Along the way, Alison found time to produce recording sessions for other artists, including Nickle Creek, the Cox Family, Reba McEntire, and Alan Jackson. She also did voiceover work for several cartoon films. A second Alison Krauss-Robert Plant duet recording is in the works for 2022.
Read the Full Bio