Allen Shelton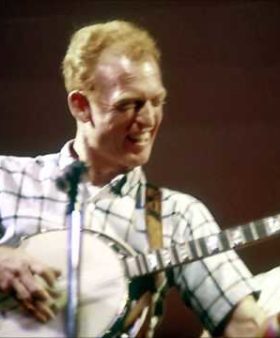 Year Inducted: 2018
Born: July 2, 1936 in Reidsville, North Carolina, United States
Died: November 21, 2009 in Nashville, Tennessee, United States
Primary Instrument: Banjo
"Maybe my ideas were too different from other banjo pickers. I just wanted to play something a little different from what anyone else was playing. I thought there must be something else to play besides 'Foggy Mountain Breakdown.'"
Biography
"As a banjo player there'll never be another Allen Shelton. He plays so clean and hard. If there's anything in the instrument, he's going to get it out," said mandolin player Jesse McReynolds. Allen Shelton was an inventive banjo player who shone brightest during a six year stint with Jim and Jesse in the early and middle 1960s. A solid, straight-ahead banjoist known for his bouncy attack on fast-paced numbers, he was equally adept at accompanying ballads. Shelton's ability to mimic the sounds of a steel guitar set him aside from all other banjo players.
Born on July 2, 1936, near Reidsville, North Carolina, Allen grew up in a musical family. His father played mandolin, fiddle, guitar and banjo and was a fan of the earliest bluegrass sounds. Having a banjo in the house piqued Allen's interest in the instrument and gave him access for practicing. In addition to homemade music, Flatt and Scruggs and Reno and Smiley could be heard on daily radio broadcasts from nearby cities.
In August of 1951, Allen was proficient enough to win second place in a banjo competition; it netted him a stipend of fifteen dollars. At about the same time, he first worked as a radio entertainer, with the Tri-City Playboys on a station in Leaksville, North Carolina.
Allen's first professional touring work was with Jim Eanes and the Shenandoah Valley Boys. He replaced Hubert Davis, regarded at the time as one of the top banjoists in the Piedmont. Davis generously shared some of his techniques with the young musician. Shelton's first stint with Eanes lasted about six months, at which time he was recruited by Mac Wiseman. Allen spent most of 1953 with Wiseman and the Country Boys, during which time he recorded seven songs, including "Love Letters in the Sand" and "Keep on the Sunny Side."
The next move was to Hack Johnson and the Tennesseans, who had a radio presence on 50,000-watt powerhouse WPTF in Raleigh, North Carolina. With Johnson, Shelton recorded for the regional Colonial label. His version of "Home Sweet Home" was somewhat of a regional hit and was quickly covered by Reno and Smiley. (A friend as well as competitor, Don Reno later released several other tunes made popular by Shelton.) Other songs recorded with Johnson included "Crazy Banjo Medley," "You Don't Have to be From the Country," "Gone Home," "What About You, Friend," and "Swanee River."
WPTF terminated Johnson but kept the band, renaming them the Farm Hands, and later Curly Howard and the Farm Hands. The group, booked by Carlton Haney, was heard three times daily on WPTF and on Saturday evenings on the Old Dominion Barn Dance in Richmond, Virginia. With the Farm Hands, Allen recorded "My Old Kentucky Home" and "Allen's Dream."
By the end of 1956, Allen was back with Jim Eanes in Martinsville, Virginia, where Eanes had a daily radio program on WHEE. Allen took a day job changing tires at Montgomery Ward and would play the show during his lunch break.
Much of Eanes' work consisted of playing for area dances—as many as three per week. Oftentimes this involved four or five hours of straight playing and repertoire of all kinds. Since the dancers didn't particularly care what the musicians were doing, Shelton was afforded an opportunity to experiment and refine his back-up work. It was during this time that he devised a method for replicating the popular sounds of a pedal steel guitar on the banjo.
Allen appeared on many of Eanes' memorable recordings of the late 1950s. He was prominently featured on songs and tunes released on the Starday, Mercury, and Blue Ridge labels, including "Lady of Spain," "Log Cabin in the Lane," "Bending the Strings," and "Dine-e-o."
In 1960, Allen became a member of Jim and Jesse McReynolds' Virginia Boys, where he stayed for the next six years. Band members initially included fiddler Vassar Clements and bass player Dave Sutherland but later evolved to include fiddler Jim Buchanan and rhythm guitarist/harmony singer Don McHan. This has been widely regarded as Jim and Jesse's most memorable band. Shelton observed in later years, "You could just tell the way it clicked and the way people responded."
In an article on Allen Shelton by Peter Cooper in the Nashville Tennessean, "Bluegrass Banjo Great Lent Sound to Classics," Jesse McReynolds noted, "He helped start the Jim and Jesse sound. He had his own style: he had a way of presenting with his right hand that no other banjo player has had."
Among the standouts of eighty-nine songs Allen recorded with Jim and Jesse during this time were "Standing on the Mountain," "Sweet Little Miss Blue Eyes," and "Stoney Creek," as well as the albums Bluegrass Classics (1963), Bluegrass Special (1963), The Old Country Church (1964), and Berry Pickin' in the Country (1965).
Allen left the rigors of the road in 1966 and found a steady day job, relocating to Louisiana where he worked as a machinist and as a welder. But he didn't give up playing. In 1968 and 1969 he worked on the Old South Jamboree in Walker, Louisiana, with Luke Thompson and the Green Valley Boys. Later, at the end of 1969 and into 1970, he appeared at the Jamboree with the Dixie Revelers.
At the urging of banjo player Tony Trischka and Rounder Records producer Ken Irwin, Allen was persuaded to record a solo album in 1976. With supporting musicians Jesse McReynolds, Charlie Collins, Billy Smith, Jim Brock, and Jim Brock Jr., he put together the much heralded album Shelton Special, on which he reworked a number of his past triumphs and introduced several new tunes. Two other solo albums showcased Shelton's playing. Instrumentals from Jim Eanes' 1959 radio shows were issued in 1977 as Mr. Original Banjo Man. Five-String Dobro and Banjo followed in 1985. All three remain treasured sources of repertoire and technique for bluegrass banjo players around the world.
Allen returned to full-time touring in 1983 when he signed up for another five-year hitch with Jim and Jesse. As the band already had a full-time banjo player—Mike Scott—Allen was featured on the 5-string dobro, along with occasional solo and twin performances on the banjo.
Shelton later contributed his talents to a twin-fiddle album by Kenny Baker and Blaine Sprouse and Hazel Dickens' It's Hard to Tell the Singer From the Song. He also made a guest appearance on one of Jesse McReynolds annual fundraising benefits in Gallatin, Tennessee. Otherwise, Allen remained in relative musical retirement. He died in Nashville on November 21, 2009, from complications of leukemia diagnosed just two months earlier.
– Gary Reid is a bluegrass music historian, journalist, producer, and actor based in Roanoke, Virginia.
Read the Full Bio