Anne Louise Certain Scruggs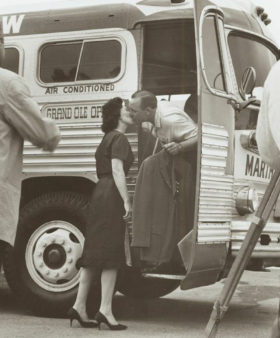 Year Inducted: 2010
Born: February 17, 1927 in Grant, Tennessee, United States
Died: February 2, 2006 in Nashville, Tennessee, United States
Primary Involvement: Booking Agent and Manager
"Well, he'll speak with you. He won't do business with you. So, you'll have to come back to me eventually anyway, we might as well just wrap this up now."
Biography
Anne Louise Certain was born on February 17, 1927, in the little town of Grant, about 45 miles due east of Nashville, Tennessee. She graduated from Watertown High School in 1945, having completed a number of business classes. She moved to Nashville and found employment doing accounting work.
A visit to the Grand Ole Opry in 1946 led to a meeting with Earl Scruggs, who was then playing banjo with Bill Monroe. After a courtship of a year and a half or so, the couple married on April 18, 1948. A few weeks prior to this, the duo of Lester Flatt & Earl Scruggs also got underway.
During the first seven years of the Flatt & Scruggs partnership, the business affairs were primarily handled by Earl Scruggs. This changed in 1955 when, offhandedly, Earl asked Louise to return a phone call to a promoter to finalize details for an upcoming show date. She completed the call and promptly asked for more. Thus began her role as the booking agent for the band.
In 1956, she also assumed the management of the band, performing such chores as publicity, payroll, and accounting. She also came to be the point person for the group when renegotiating their recording contracts.
Among her accomplishments in managing the band was promoting their success in the then-booming folk music market. In a step away from traditional bluegrass record album packaging, she arranged for New York artist Thomas B. Allen to illustrate their covers with oil portraits. The albums themselves, with titles such as Folk Songs of our Land, were definitely aimed at the young folk consumers. Louise's initiated the band's Live at Carnegie Hall album, only the second "live" album to be released in country music. She also conceived the concept for the Songs of the Famous Carter Family album, which included a guest appearance by fellow Grand Ole Opry member, Maybelle Carter.
As a publicist, Louise's writings – some signed, and some anonymous – about Flatt & Scruggs began surfacing in a number of places, including album liner notes (Foggy Mountain Banjo and Folk Songs of Our Land) and the song and picture folios that the group issued. She also had an article published in the Tennessee Folklore Society Bulletin called "The History of the Five-String Banjo," which naturally extolled Earl's role in the instrument's revived popularity.
In 1962, Flatt & Scruggs received their biggest dose of publicity when they performed the theme music for a new television program, The Beverly Hillbillies. Louise was initially opposed to the idea. She had worked hard to build the band's reputation in the folk music world and was fearful that their affiliation with a sitcom with the word "hillbillies" in its title could undermine her efforts. CBS network executives eventually persuaded her otherwise, and soon the duo was making regular guest appearances on the top-rated program. So on board with the show did Louise become that she suggested the group record the show's theme song for release as a 45-rpm single. The song shot to the top of the Billboard country music charts, landing at the #1 position. It was the first and only time a bluegrass song has held this distinction.
As the band continued to rise in popularity, Louise continued to market the group and look out for its interests. To that end, she formed a publishing company, Flatt & Scruggs Music, and had all of the band's original selections copyrighted and published, thus eliminating a share of the proceeds that would have gone to an outside publisher. She also established a mail order company where fans could order songbooks, recordings, and copies of the Earl Scruggs banjo book.
The group prospered financially. They were second in sales at Columbia Records, outsold only by Johnny Cash. A Time magazine article from 1960 reported that Flatt and Scruggs each cleared $100,000, after expenses. Adjusting for inflation, that figure today would be nearly a quarter of a million dollars.
By the mid-sixties there were signs of discontent. Earl embraced the new directions of the band, but Lester felt ill at ease. With the addition of  Earl's sons, Gary and Randy, to the band's recordings, Lester began to feel squeezed. In 1969, the duo parted ways.
The Scruggses didn't miss a beat. Earl formed a new group, the Earl Scruggs Revue. It included the couple's sons – Gary and Randy, and later Steve – and combined bluegrass, rock, folk, country, and gospel music. Louise promoted them much as she had the old Flatt & Scruggs group, but opened a lot of new doors as well. The act was booked on college campuses, large nightclubs, and was featured on festivals with rock bands. For two years in a row, the Revue was the number one college act, eventually bumped to the number two spot by Elton John.
The Earl Scruggs Revue disbanded after a decade. Earl spent the balance of his career making select solo appearances (including MerleFest) and limited-engagement partnerships with Rodney Dillard and with the Three Pickers: Earl, Doc Watson, and Ricky Skaggs. He also continued with his recording career for Columbia Records. All of this, of course, was coordinated and overseen by Louise.
Starting in 1999, Louise began receiving credit for her life's work as a successful agent/manager. In that year she received the Tex Ritter Award from the International Fan Club Organization for "outstanding contributions to the field of country music." In connection with the 2004 Miss Music City/Miss Capital City Scholarship Pageant, Louise was presented with an award at the festivities' kickoff event, Diamond Divas: A Tribute to Remarkable Women. The award recognizes women for their "accomplishments, achievements and visions and for providing exemplary role models for the young women." In 2005, the SOURCE Foundations Awards Committee, which honors pioneering women of Music Row, recognized Louise at their annual awards ceremony. Also in 2005, Louise was featured as part of an exhibit at the Country Music Hall of Fame in Nashville – "Banjo Man" – that honored Earl and Louise Scruggs's accomplishments.
The Country Music Hall of Fame continued to honor Louise after her passing, on February 6, 2006. Starting in 2007, they have hosted the annual "Louise Scruggs Memorial Forum." The program "honors industry leaders who follow in the footsteps of Scruggs, who was Nashville's first female booker and manager." Museum Director, Kyle Young, cited Louise for being considered "the first female manager in country music history, (who) set new managerial and music business standards for both men and women over the course of her illustrious and trailblazing career."
– Gary Reid is a bluegrass music historian, journalist, producer, and actor based in Roanoke, Virginia.
Read the Full Bio