Bill Clifton "William August Marburg"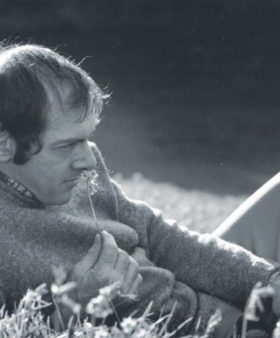 Year Inducted: 2008
Born: April 5, 1931 in Riderwood, Maryland, United States
Primary Instrument: Guitar
"It is to the early pioneer collectors [A. P. Carter, Bill Bolick, J. E. and Wade Mainer, Bascom Lamar Lunsford, Bradley Kincaid, etc.] that I am forever indebted, for it is through them that I learned most of the songs that I have been singing to audiences around the world for the past 50 years or so."
Biography
In contrast to many first-generation bluegrass performers who came from rural, mostly mountainous, agricultural backgrounds, Bill Clifton came from a well-to-do family residing 10 miles from downtown Baltimore, Maryland. In his teen years he developed an interest in mountain music, when workers from Virginia on his family's farm exposed him to the Old Dominion Barn Dance, broadcast from Richmond on WRVA. It was during this time that he bought his first three records – 78-rpm discs by the Carter Family, Eddy Arnold, and Wiley & Zeke Morris – and took an interest in learning to play the guitar.
By 1949, Bill was enrolled at the University of Virginia in Charlottesville. While there, he met folk enthusiast Paul Clayton and the two formed a duo they called the Clifton Brothers. It was with Clayton, along with banjoists Dave Sadler and/or Johnny Clark, and bass player Carl Boehm, that Bill made his first recordings. The masters were intended for release on the New York-based Stinson label but finally saw the light of day in the early 1970s on the German Bear Family label.
During his college years in Virginia, Bill met A. P. Carter of the original Carter Family and the two became fast friends. Carter appreciated the fact that his music was still being appreciated by new audiences and Clifton relished the friendship and knowledge imparted by his musical idol. Several years later, Bill was one of the first people to issue an album in tribute to what became known as the First Family of Country Music.
In 1953, Bill took a leave of absence from the University of Virginia and assembled the first version of his Dixie Mountain Boys. After brief stints at WMBG and WCOD in Richmond, in June the group headed to WWVA in Wheeling, West Virginia, home of the World's Original Jamboree. Their stay there lasted from July until November.
Other members of the band included Johnny Clark and fiddler Winnie Sisk. Due to the low pay, their tenure there was short-lived. At A. P. Carter's urging, Bill and Johnny ventured to Kingsport, Tennessee, to secure a spot on radio station WKIN. When this failed to materialize, Bill ventured to WXGI in Richmond to work as a DJ. Bill Clifton's first recordings were released in 1954 and '55 on Blue Ridge, a label headed by Noah Adams and his daughter Drusilla of North Wilkesboro, North Carolina.
Shortly after receiving his Bachelor of Arts degree from the University of Virginia in February of 1954, Bill enlisted for a tour of duty with the Marines, entered their Officer Training Corps, and by April he was stationed in Camp Lejeune, North Carolina. He was afforded a few musical opportunities during this time but the most important use of his spare time was the assembling of his Bill Clifton 150 Old-Time Folk and Gospel Songs booklet, which was initially printed with the assistance of Noah Adams of Blue Ridge Records. With a forward from A. P. Carter, the collection reprised a number of gems from the 1930s and '40s and made them available to bluegrass pickers. It remained a popular item over the years and was reprinted on several different occasions.
Upon his discharge from the military in 1956, Bill – on the advice of Carter Stanley – contacted Mercury Records to secure a recording contract. At the time, Mercury was in the process of partnering with Starday Records for the purpose of having Starday handle its country and western division. Consequently, several of Bill's releases were labeled "Mercury-Starday." When the joint venture fizzled, Mercury kept George Jones and the remainder of the other country artists – Bill Clifton included – went to Starday. Starday, under the leadership of label head Don Pierce, did much increase Clifton's stature world-wide, mainly through an elaborate distribution network that placed the label's albums in Canada, Europe, Asia, and even Africa. Three-finger banjoist
Johnny Clark was a fixture on most of Clifton's Mercury and Starday recordings, but notable guest sidemen also included Ralph Stanley, Tommy Jackson, Benny Martin, John Duffey, Curley Lambert, Eddie Adcock, and Mike Seeger. Bill's association with Starday lasted for seven years and many of his best recordings were made during this period, including "Little White Washed Chimney," "Mary Dear," and "Springhill Disaster." Several thematic albums were also recorded, including his tribute to the Carter Family, a collection of war songs called Soldier Sing Me a Song, and an anthology of folk songs called Code of the Mountains.
In 1961, Bill leased a country music venue in Luray, Virginia, called Oak Leaf Park. On July 4, he staged an all-day bluegrass event featuring many of the top names in the business including Bill Monroe, Mac Wiseman, the Stanley Brothers, the Country Gentlemen, and Jim & Jesse. A significant feature of the show was the reuniting of Bill Monroe with a number of his former sidemen, most notably Mac Wiseman and Carter= Stanley. This was one of the first all-day bluegrass extravaganzas and was the first to acknowledge Monroe as the central figure of the music. This event did much to set the stage for the weekend-long bluegrass festival phenomenon that took root several years later. The all-day bluegrass show was not repeated in 1962, as Bill accepted a board position with the Newport Folk Festival. In 1963, Bill and his family moved to England for what was to be a 6 to 9 month stay. It wound up being for 15 years instead. During that time, Bill became an international "Johnny Appleseed" for American folk music and toured extensively in Austria, France, Germany, Switzerland, and the Netherlands. Later travels also included performances in Australia, New Zealand, and Japan as well as the African countries of Malawi and Rhodesia (now Zimbabwe). He also arranged for tours in Europe by groups such as the New Lost City Ramblers and Bill Monroe and the Blue Grass Boys. During his first several years in Europe, Bill was accompanied by the Echo Mountain Boys, a group of young schoolboys from Kent, one of the older English public schools. Bill was quite amazed that the school's musical offerings included not only classical and jazz but also a gospel quartet and a bluegrass band! One of the highlight Clifton/Echo appearances was a sold out performance before 7,000 people at London's Royal Albert Hall. This was the first time bluegrass had been presented in a major European venue.
Another important facet of Bill's time in England was his pairing with American folk singer/activist Hedy West. The duo appeared on a number of shows together and made several recordings, including the recently re-released Getting Folk out of the Country.
In 1978, Bill and his Dutch-born wife Tineke moved to the States and settled in Mendota, Virginia. Located in Poor Valley, an area rich in physical beauty, an additional bonus was its proximity (less than 6 miles) to the Carter Family homestead in Maces Springs. It was also during the 1970s that Clifton began a recording association with County Records. Things got underway with a reissue of recordings made in the late 1950s. This led to studio recordings with stellar musicians such as Red Rector, John Duffey, Tom Gray, Kenny Baker, Charlie Collins, Bill Keith, Mike Auldridge, and others. Among the highlights for County were the albums Come by the Hills and Clifton & Company. Most of Bill's recordings since 1980 have been issued on his own Elf label. Bill teamed with mandolin wizard Red Rector and ace banjoist Don Stover to form a group called First Generation. The trio was active from the late 1970s through much of the 1980s, playing festivals in the States and making occasional trips to Europe. They were sometimes joined by legendary fiddler Art Stamper. Jimmy Gaudreau took over on mandolin after Red Rector's untimely passing in 1990. Another void was created in 1996 with the passing of Don Stover. Since that time, Bill has continued to do duet work with Jimmy Gaudreau and perform as a solo, including annual appearances at the Carter Family Fold festival each August. He received a Distinguished Achievement award from the International Bluegrass Music Association in 1992 and was inducted into their Hall of Fame in 2008.
In addition to his work as a performer, recording artist, and promoter, Bill is pleased that he has been able to present traditional and bluegrass music to "new ears," especially among socio-economic groups where these forms were not traditionally played. Along with friends such as Mike Seeger and Paul Clayton, he used numerous non-bluegrass functions (i.e., birthday parties, anniversaries, etc.) as venues to expose people to the music. "Many," he noted, "went on to become life-long enthusiasts, promoters, and supporters of the music."
– Gary Reid is a bluegrass music historian, journalist, producer, and actor based in Roanoke, Virginia.
Read the Full Bio