Bill Emerson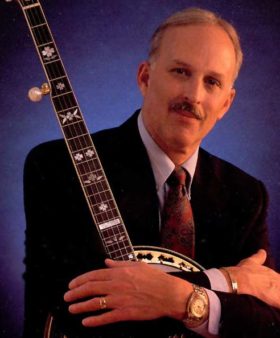 Year Inducted: 2019
Born: January 22, 1938 in Washington, DC, United States
Died: August 21, 2021 in , Fairfax County, Virginia, United States
Primary Instrument: Banjo
"One of the first tours [I worked with Jimmy Martin] was a two week stand at the Golden Nugget in Las Vegas. We drove the distance in Jimmy's '59 Cadillac—all six of us, all 2,000 miles of the way—all jammed inside with numerous suitcases, hat bags, and shaving kits. In the trunk were three guitars, an amplifier, drum, mandolin, banjo, more suitcases, more shaving kits and all our clothes for three weeks. On top was Jeb's bass fiddle tied on with an assortment of dog leashes, clothes rope and rotten straps from the carrier. When we filled up the gas tank, the back bumper was almost touching the ground . . . It took us two days and a night to get to Vegas. We had two blowouts and burned a valve in the Caddie on the way."
Biography
Bill Emerson has a career in bluegrass that dates from the middle 1950s. Along the way he gained a reputation as a superb banjoist, baritone and tenor harmony singer, composer, and song scout who aligned himself with many of the top names in the business. He is best known for his work with Jimmy Martin and the Country Gentlemen, but also performed with Buzz Busby, Red Allen, Cliff Waldron, Pete Goble and other influential artists. Most recently, he has fronted his own band, Bill Emerson and Sweet Dixie.
Although Bill was born in Washington, DC, his family lived across the Potomac River in northern Virginia before relocating to the Maryland suburbs. It was here, while listening to country music on the radio as a teenager, that he discovered the music of Bill Monroe, Lester Flatt and Earl Scruggs, and Mac Wiseman, who had a daily live radio broadcast from nearby Baltimore.
Enthralled by the sound of the banjo, Bill traded an electric guitar for a five-string. John Duffey, another budding musician from the Maryland suburbs, showed Bill some basic techniques on the instrument and soon he was off and running. After three months of intense practice, Bill entered and won a local banjo contest.
Bill's first work in a band setting came in 1955, when he landed a job with Uncle Bob (Bob Smith) and the Blue Ridge Partners. The group had a Saturday morning broadcast on radio station WINX in Rockville, Maryland, and also performed at area Moose lodges. Next came a spot with the father and son team of Roy and Curly Irvin, whose band included legendary fiddler Art Wooten. Bill cited Smitty Irvin, another son, as a big help with his progress on the banjo.
Bill's first professional work came in 1956 when he joined Buzz Busby and the Bayou Boys. A mainstay of the Washington/Baltimore bluegrass scene, Busby had a radio show in Salisbury, Maryland, and had recently completed a season of television work with banjo player Don Stover. Bill participated in several recording sessions with Buzz and appeared on such classics as "Me and the Juke Box," "Lost," "Going Home," and "Lonesome Wind."
It was Bill's association with Busby that led to the formation of the Country Gentlemen. The group had a regular gig at a club in Bailey's Crossroads, Virginia. After one of the shows, Busby and several band mates were involved in a serious automobile accident. Buzz asked Bill, who was not in the accident, to put a group together to hold their spot at the club. He assembled Charlie Waller, John Duffey, and bass player Larry Lahey. Their first gig was July 4, 1957. Those performers liked the sound so well that they decided to stay together as the Country Gentlemen.
During his time with the Gents, Bill recorded nearly a dozen songs and tunes, including the group's debut single, "Going to the Races" / "Heavenward Bound," as well as "Dixie," "Backwoods Blues," "Orange Blossom Fiddle," "High Lonesome," "The Church Back Home," and "Hey Little Girl." Bill sang baritone in the trios and quartets. The group also had a radio show that aired five days a week on WARL in Arlington, Virginia.
Bill stayed with the Gents for about a year, leaving to pursue other musical ventures, which included performances with Mac Wiseman and Bill Clifton and recording sessions with Bill Harrell and Harry and Jeanie West. He also did a year and a half stint with the Stoneman Family and worked with Red Allen and the Yates Brothers. Bill also entered several banjo competitions, netting a $100 prize at the 1959 National Champion Country Music Contest in Warrenton, Virginia, and an Earl Scruggs model Vega banjo in 1960 at a contest in Luray, Virginia.
In the winter of 1961, Bill joined Jimmy Martin and the Sunny Mountain Boys. He cites Jimmy as a big part of his professional and musical development. "He showed me how to put the emphasis, rhythm and dynamics on my playing and singing. He also taught me about show business in general," Emerson said in a Bluegrass Unlimited article, March 1992.
While with Martin, the group made guest appearances on the Grand Ole Opry and the Louisiana Hayride, did a two-week stint at the Golden Nugget in Las Vegas, performed for military troops as part of a USO tour, and made numerous stops at country music parks. The band was based in Wheeling, West Virginia, where they were regulars on the World's Original Jamboree. Over a three-day period in August of 1962, Bill helped to record fifteen tracks, most of which appeared on Jimmy's This World is Not My Home gospel album.
After two years of traveling with Jimmy Martin, Bill gave his notice and returned to the Washington, DC, area where he rejoined Red Allen and the Yates Brothers. It was a busy time of recording for Bill. He played on twenty-five instrumentals released on two budget albums, made several—including a masterful, banjo-driven "Little Birdie"—for Rebel as part of the Red Allen-Frank Wakefield group, and appeared on The Solid Bluegrass Sound of the Kentuckians.
Bill rejoined Jimmy Martin in June of 1965 and stayed through July of the following year. During this period, he made memorable instrumental recordings, including his own composition "Sweet Dixie" and "Theme Time," co-written with Paul Williams and Jimmy Martin.
Following the second stint with Martin, Bill returned to the Yates Brothers. Members of the group helped Del McCoury record his first solo album, Del McCoury Sings Bluegrass. The Yates Brothers band eventually included an up-and-coming singer from West Virginia, Cliff Waldron. Eventually, this configuration morphed into a partnership known as Emerson and Waldron and the New Shades of Grass. The group released three albums on Rebel, all of which borrowed material from non-bluegrass sources, including "If I Were a Carpenter," "Proud Mary," and "Fox on the Run."
In the latter part of 1969, Bill rejoined the Country Gentlemen. The group consisted of Charlie Waller, Jimmy Gaudreau, and Bill Yates. In 1971, Gaudreau left and was replaced by Doyle Lawson. This new configuration made for one of the classic editions of the group. During his stay with the Gents, Bill recorded three albums for Rebel: One Wide River (gospel), Sound Off, and—celebrating recent Muleskinner News magazine polls—The Award Winning Country Gentlemen. It was this configuration of the band that recorded the perennial bluegrass standards "The Legend of the Rebel Soldier" and "Fox on the Run."
The group made a well-received tour of Japan, which included the making of a live double-album set. Not long after their return, the group brokered a deal with Vanguard and released The Country Gentlemen. A masterful collection, it contained a smorgasbord of material including "The Leaves That Are Green," "Paradise," "House Of The Rising Sun," "The City Of New Orleans," and more.
Following the Country Gentlemen's appearance at Ralph Stanley's 1973 Memorial Day festival, Bill enlisted in the Navy for a twenty-year hitch. The move guaranteed him a retirement and also afforded a chance for him to give back to his country.
Master Chief Petty Officer Emerson's assignment in the Navy consisted of performing country music with steel, electric guitar, drums, and electric bass as part of the recruiting-oriented band, Country Current. The group averaged 200 dates a year. In time, the group was able to add a bluegrass component to the mix and they performed at bluegrass festivals as well as at IBMA World of Bluegrass events. One tour in the early 1990s took the group on the road for 26 shows with an average attendance of 1,100.
While still in the Navy, starting in the early 1980s and lasting throughout the decade, Bill made a number of guest appearances on various album projects, most of which appeared on the Webco label. First was Shenandoah Grass by Jim Eanes, two duet projects with songwriter Pete Goble, and selections with Larry Stephenson, Jimmy Gaudreau, and James King. There was also an appearance on a Rice Brothers CD for Rounder and Bill Emerson solo albums for Rebel: Home of the Red Fox and Gold Plated Banjo.
Other milestones of the 1980s included Bill's 1984 induction into the Virginia Country Music Hall of Fame and, with his son John, the 1989 acquisition of Webco Records. The duo maintained the label, mainly as a vehicle to assist up-and-coming artists, until its 1994 sale to Pinecastle Records.
Following his retirement from the Navy in 1993, Bill continued to release a series of well-received CDs, including Reunion (with Tony Rice, Pete Goble, Bill Harrell, Jimmy Martin, Red Allen, Charlie Waller, and Cliff Waldron), Banjo Man, Appaloosa with Wayne Taylor, A Foot in the Past a Foot in the Future with Mark Newton, and an anthology of earlier recordings called Webco Classics.
2007 saw the emergence of Bill Emerson and Sweet Dixie with a self-titled disc on the Rebel label. The next several years brought a mixture of solo and band releases on the Rural Rhythm label, including Southern, Eclipse, The Touch of Time, Dancin' Annie, and The Gospel Side of Bill Emerson and Sweet Dixie. His continued recorded output garnered five IBMA nominations as recently as 2015, including one for Banjo Player of the Year.
– Gary Reid is a bluegrass music historian, journalist, producer, and actor based in Roanoke, Virginia.
Read the Full Bio