Bill Vernon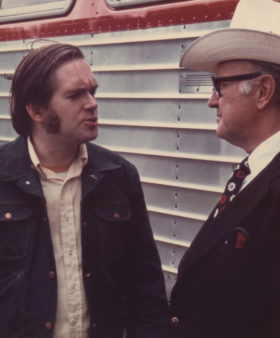 Year Inducted: 2004
Born: July 4, 1937 in New York, New York, United States
Died: November 20, 1996 in Rocky Mount, Virginia, United States
Primary Involvement: Radio Personality and Writer
"When I feel the best, I want to hear bluegrass, and when I feel the worst, I have to hear bluegrass."
Biography
If anyone seemed an unlikely candidate for inclusion in the International Bluegrass Music Hall of Fame, it would be Bill Vernon. Born and reared in Brooklyn, New York, he was the son of a "self-made" corporate tax attorney. His father very much wanted to see young William follow in his footsteps. To that end, as a young teen he was shipped off to Kent School – an Episcopal prep/boarding school – in Connecticut. The Vernons' plans began to unravel in 1951 when Bill, at age 13 or 14, had a chance encounter on the radio with the music of Flatt & Scruggs, in the form of "We Can't Be Darlings Anymore."
He later attended Chicago's Northwestern University and the Ivy League Brown University in Providence, Rhode Island. He never graduated from either institution and actually flunked out of Brown. By 1959, he was married, to first wife Mary T. Vernon (he often reflected that his first love of bluegrass music cost him three marriages), was employed as a margin clerk on Wall Street, and was living in Columbia Heights overlooking the East River. But, more importantly, by this time he had developed a passion for collecting bluegrass music recordings, mostly on 78s but later on other formats as well. And, he was enthusiastically sharing his passion with anyone who would listen. New York City had a small but active and influential bluegrass community in those days, including fellow Hall of Fame member David Freeman, Ralph Rinzler, Tex Logan, Peter Wernick, Fred Bartenstein, Joe Wilson, Kathy Kaplan, and Doug Tuchman, all close associates of Vernon's.
His day job in New York lasted for 12 years, until 1970. It was never a career and only served as a means to enable his bluegrass addiction. In 1962, he began writing a music column for a British publication, Country News and Views. In 1964, he launched Country Music, a weekly radio program on WBAI-FM in New York City, playing primarily bluegrass. It was also during this time that Bill had a position at Billboard magazine, helping to compile their weekly country music chart of popular songs. Clearly by the middle 1960s, he was perfecting two of the talents for which he would become best known: writing about and broadcasting bluegrass music.
1970 was a watershed year for Bill. He left Wall Street and found radio employment – part-time at first and later full-time – in Dover, New Jersey, on WDHA. He also became the record review editor for Muleskinner News, one of the leading bluegrass publications of the early 1970s. He became the editor of Muleskinner News in January of 1976 until the magazine ceased publication in the 1980s. During this time, he began adding yet another dimension to his entertainment profession: a master of ceremonies. Among his early engagements were Bill Monroe's festival at Bean Blossom, IN; Ralph Stanley's festival in McClure, VA; Carlton Haney's festivals in Berryville, VA, Camp Springs, NC, Gettysburg, PA, and Escoheag, RI; and the Berkshire Mountains festival in Ancramdale, NY.
In addition to doing reviews for Muleskinner, Bill also wrote a number of articles for the magazine. A number of these extensively documented the careers of first-generation performers. Especially notable were the four-part "Don Reno Story," "A Conversation with Lester Flatt," "Tex Logan Remembers the Lilly Brothers," and "Curly Seckler: Singing Again." There were also contemporary articles on pickers who were currently touring the bluegrass circuit. These included "The Country Gentlemen – On Tour in Japan," "Cliff Waldron and the New Shades of Grass," "Del McCoury and the Dixie Pals," and "Part Time Professionals: The Seldom Scene."
In February of 1972, Bill sought to expand his experience in the music industry by relocating to the Washington, DC, area and working for Dick Freeland's Rebel Records. He was hired as the label's director of promotion and public relations. Although the title sounded impressive, the position was, in actuality, little more than clerical in nature. Consequently, his stay with the label was brief.
In December of 1973, Bill made a move to the area that would be his home for the next 23 years, the small town of Rocky Mount (population 4,000) in southwestern Virginia. Of his move south, Bill was fond of saying, "I got here as fast as I could." Bluegrass balladeer Jim Eanes made Bill aware of an opening at a local station, WYTI. The AM station, located 20 miles south of Roanoke, afforded Bill the chance to play two hours of bluegrass every day, in addition to country fare of the day, local news, and – much to his disdain – the reading of advertisements for regional grocery stores.
Although he was airing to a tiny audience with his radio work, Bill was establishing a national presence with his festival appearances, mail-order sales of collectible records, and writing of album liner notes. Among his early efforts were Don Stover and the White Oak Mountain Boys (Rounder 0039), The Stanley Brothers of Virginia (County 738), Doc & Merle Watson's Ballads From Deep Gap (Vanguard 6576), and a reissue of vintage material by Flatt & Scruggs called The Golden Years (County CCS 101). These were mostly for independent labels that specialized in bluegrass but he landed a few assignments for some of the majors as well, such as Lester Flatt and Mac Wiseman's Lester & Mac for RCA (LSP 4547).
In October of 1975, Bill started a one-hour program of bluegrass that aired on Sunday evenings on Roanoke's public radio station WVWR (later WVTF). The program was called Bluegrass with Bill Vernon. As the nature of the music continued to evolve, the name of the program was changed to In and Around Bluegrass. Eventually, the show was expanded to three hours. The program was cancelled – just short of its 15th anniversary – by a station manager who wanted to make the NPR station "more talk and less music," provoking considerable upset among the local listening audience and national bluegrass community.
1996 was shaping up to be a good year for Bill. His beloved In and Around Bluegrass show – after a six year absence – was about to go back on the air, on a different Roanoke radio station. He was working diligently on one of the most prestigious writing assignments of his career: the massive booklet for Rebel Records' 4-CD boxed set, 35 Years of the Best in Bluegrass, 1960 – 1995 (the project later received the International Bluegrass Music Association's (IBMA) award for Best Liner Notes) and notes for the long-awaited VHS reissue of the 1971 movie Bluegrass: Country Soul (that reissue attempt failed, but Vernon can be seen in the 2006 Time/Life DVD reissue). And, he served as a co-emcee for the gala 50th anniversary celebration for Ralph Stanley at the Country Music Hall of Fame in Nashville. Tragically, one week later, he was dead; the victim of an asthma-induced heart attack at the age of 59.
What isn't disclosed in the recitation of Bill's massive achievements in bluegrass was his genuine love for the people of the music. He didn't just write and talk about the performers. He became their friend, confidante, and, at times, supportive critic. He befriended and supported Charlie Monroe and Lester Flatt in their latter years. When Jim Eanes began to fail in health, Bill moved in with him to become his caretaker. Beyond the compassion, there was Bill's comedic wit and his ability to launch immediately and endlessly into side-splitting tales – as only he could tell them – of his many encounters on the bluegrass trail. As someone once observed, only Bill Vernon could insert the phrase "Chernoblian" into a record review!
Bill Vernon was the 1988 recipient of IBMA's Certificate of Merit, the co-receiver (with Gary Reid) of the organization's first award, given in 1994, for Best Liner Notes (King 7000, Don Reno & Red Smiley, The Early King Years 1951 – 1959), and posthumous beneficiary of the 1998 award for Best Liner Notes (Rebel 4000, 35th Anniversary Collection). Lastly, Bill was inducted into the International Bluegrass Music Museum's Hall of Honor in 2004.
Following Vernon's death, Col. Tom Riggs of Pinecastle Records, as chairman of the International Bluegrass Music Museum, negotiated purchase of Vernon's vast collection of recordings and correspondence for the Museum, where it is available to visitors and researchers as the "Bill Vernon Collection." An extensive collection of Bill Vernon's radio broadcasts is archived at the Blue Ridge Institute in Ferrum, Virginia.
– Gary Reid is a bluegrass music historian, journalist, producer, and actor based in Roanoke, Virginia.
Read the Full Bio