Carl Story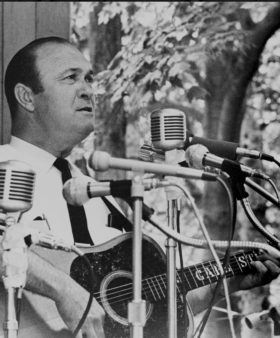 Year Inducted: 2007
Born: May 29, 1916 in Lenoir, North Carolina, United States
Died: March 31, 1995 in Greenville, South Carolina, United States
Primary Instrument: Guitar
"During this time (c. 1952-1953) they sponsored a contest giveaway of a TV set and received some 27,000 peices of mail, reminiscent of the '30s and '40s when country acts received so many thousands of letters in a short time."
Biography
Carl Story came by his love of old-time and country music naturally, having been exposed to it as a youth at home in western North Carolina.  His father was an old-time fiddle player who enjoyed collecting recordings of Charlie Poole, Grayson and Whitter, and others.  Carl took up the fiddle at age nine and eventually learned guitar and clawhammer banjo.
He organized the first iteration of his band, the Rambling Mountaineers, on October 13, 1934.  In the middle 1930s he signed on with J.E. Clark and the Lonesome Mountaineers; his stay was short-lived and he soon left to re-organize his own group.  Members of that band included Carl on fiddle, guitarists Ed McMahan and Dudley "Uncle Dud" Watson, and banjoist Johnnie Whisnant.  Whisnant had by this time developed his own version of the three-finger banjo style later popularized by contemporaries Earl Scruggs and Don Reno.  This band, which Story said made commercial recordings for OKeh that were never released, operated in various configurations from 1935 until 1942, when World War II and the draft made it increasingly difficult to keep a group together.
A chance meeting with fellow North Carolina musician Clyde Moody led to Carl's joining Bill Monroe's Blue Grass Boys.  He played fiddle for Monroe from the waning days of 1942 until October 1943, at which time he was called to join the Navy.
Following his discharge from the Navy in 1945, Carl again re-assembled the Rambling Mountaineers.  Members included brothers Jack and Curley Shelton, banjoist Hoke Jenkins, and Claude Boone on bass.  It wasn't long until the group secured a spot on WNOX radio in Knoxville, Tennessee, where they played on its popular Mid-Day Merry-Go-Round.  Carl stayed at the station for five years, honing the talents of the band.  They sometimes teamed up for the show dates with other performers from the station such as Molly O'Day and the Cumberland Mountain Folks.
It was in Knoxville that Carl came to the attention of Mercury Records' producer Dee Kilpatrick, who heard the group on the radio and approached them about recording.  From 1947 until 1953, Story recorded eleven sessions for Mercury, cutting a total of fifty songs.  Initially he recorded a mix of secular and gospel songs.  Nubmers like "I Watched You Walk Away," "Faded Love," and "Tennessee Border" fared well alongside rousing quartet arrangements such as "I've Found a Hiding Place," "Keep on the Firing Line," and "He Will Set Your Fields on Fire."
Knoxville proved a good location for securing new material, especially songs sold by composer Arthur Q. Smith and the prolific pens of Ira and Charlie Louvin.  Some early Louvin classics introduced for the first time on record by Carl Story were "God Saved My Soul," "Are You Afraid to Die," and "I'll Live With God (To Die No More)."
It was a common practice among rural entertainers in the 1940s and 1950s to move from radio station to radio station, using the exposure of live broadcasts to promote local concert appearances.  When artists had been in one location for a while and had "played out the territory," they would move on to a new location.  Such was the case with Carl Story.  After a five-year stretch at WNOX, he left for WPAQ in  Mount Airy, North Carolina, in the summer of 1951.  In January of 1952, he set up shop at WCYB in Bristol, Virginia/Tennessee, where he appeared on the legendary Farm and Fun Time during a brief stay there.  Then it was off to WAYS in Charlotte, North Carolina, where Carl did live radio and also worked as a disc jockey.  By the mid 1950s he was back in Knoxville, performing on WNOX or appearing on television for grocery store magnate Cas Walker.
In 1953, Carl changed labels and landed at Columbia.  Over the next three years, he recorded a total of eighteen songs which, like his earliest Mercury material, mixed secular and gospel selections.  The sessions highlighted the talents of one of Carl's best bands, which included long-time bass player Claude Boone and mandolin player Red Rector.  Rector's lead singing graced one of Story's best Columbia sides, the Louvin Brothers' composition "Love and Wealth."  Other notable tracks included the Story standard, "My Lord Keeps a Record," and his original composition "I Love the Hymns They Sang at Mother's Grave."
In 1955, Carl returned to Mercury for three years, cutting sixteen more songs.  During his second stay at Mercury, Carl solidified his bluegrass sound by adding five-string banjo.  For a period of time, his 45 rpm releases featured a gospel song on one side and a hot bluegrass instrumental on the other.  The firs session with bluegrass banjo had Bud Brewster playing "Mocking Banjo," a cover of the recent Arthur Smith/Don Reno release "Feudin' Banjo," and "Banjo on the Mountain."  A subsequent sessions featured Bobby Thompson, one of the innovators of the moldic style of banjo playing, on "Banjolina" and "Fire on the Banjo."  At this session, Carl added several signature numbers to his sacred repertoire with "Light at the River" and "Family Reunion."
For a period of time in the late 1950s, Starday Records supervised Mercury's country and western division.  A number of Carl's releases were labeled Mercury-Starday.  When the two labels terminated their partnership in 1958, Carl went with Starday.  Over the next ten years, Carl released a dozen albums, making him one of the most-recorded artists on the label.  One release paired him with another powerhouse Starday act, the Lewis Family.  Many of Story's Starday albums featured the talents of the Knoxville-based Brewster brothers, Bud and Willie G., along with Claude Boone.  A few of the later albums were augmented with the talents of the Jones Brothers, a duo from North Carolina.
As the bluegrass festival phenomenon caught fire in the 1970s, Carl's performing career and visibility received a strong boost.  Sadly, many of his strongest earlier recordings on Mercury and Columbia, many released originally only as singles, never made it to album except in Europe, and were thus unavailable to North American fans during the years that the seminal work of other pioneers shaped the bluegrass repertoire.  All have since been reissued by the German Label Bear Family.
In the 1970s, Carl recorded for several labels, most notably Atteiram Records of Marietta, Georgia, and the newly founded CMH label of Los Angeles, a joint venture involving Arthur "Guitar Boogie" Smith and former Starday staffer Martin Haerle.  Initial releases on CMH usually consisted of lavishly produced two-LP sets that featured re-recorded versions of past hits.  Such was the case with Carl's The Bluegrass Gospel Collection.  Single CMH albums included Mountain Music and A Lonesome Wail From the Hills.
Carl spent the last thirty years of his life in Greer, South Carolina, where he headquartered the Rambling Mountaineers.  As he had done throughout the earlier portions of his career, he supplemented his touring schedule by working during the week as a disc jockey.  His last DJ work was a five-year stint on WESC in nearby Greenville, South Carolina.  Carl passed away in March of 1995 from complications of heart bypass surgery.
Read the Full Bio