Carlton Haney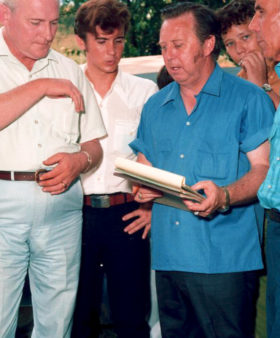 Year Inducted: 1998
Born: September 19, 1928 in Rockingham CO, North Carolina, United States
Died: November 3, 2016 in Greensboro, North Carolina, United States
Primary Involvement: Festival Promoter, Booking Agent
"Haney was not only an intellectual, he was a home-grown mystic who expressed his belief in the strength of Bill Monroe's music in terms of "vibrations."
Biography
Carlton Haney was a larger-than-life character. His verifiably significant accomplishments are sometimes hard to disentangle from legends — his own and those of others. Between the early 1950s and the late 1970s, Haney played major roles in the popularization, preservation, and business development of bluegrass and country music. His contributions helped mightily in reversing bluegrass music's decline in the rock 'n roll years. Decades of relative prosperity followed, building upon the amazing spread of the bluegrass festival phenomenon.
Carlton Haney grew up in Reidsville, a town in the North Carolina Piedmont dominated by the American Tobacco Company. In high school, he was a baseball catcher and earned spending money by outfitting bashful farmers in downtown clothing stores. The family listened to the Grand Ole Opry on Saturday nights. His brother played country music with his friends, but Carlton didn't particularly enjoy or follow any style of music. He took a job in a Reidsville battery plant, and was about to be promoted to a supervisory position, when destiny intervened.
Probably in 1953 (the chronology is uncertain), Bill Monroe's 16-year-old daughter Melissa was sent to live temporarily with former Blue Grass Boy Clyde Moody and his wife in nearby Danville, Virginia. Perhaps it was hard feelings boiling over between Melissa and her father's lady friend Bessie Lee Mauldin. Perhaps it was to separate the teenager from 25-year-old Blue Grass Boy Jimmy Martin, for whom she had developed an attraction. In any case, Haney had come to know the Moodys, met Melissa while visiting them, and asked the high-spirited girl for a date.
Haney recalled sitting with Melissa in his car, listening to her father and Jimmy Martin sing "The Little Girl and the Dreadful Snake" on the Grand Ole Opry, and asking Melissa to explain the appeal of such an "old timey" sound. Catching wind of the burgeoning relationship, Bill Monroe called Haney and asked him to book some show dates in the Piedmont. When these turned out well — and probably to keep a closer eye on the young man courting his daughter — Monroe offered Haney a job promoting bookings and traveling on his show dates to manage advance publicity.
In the summer of 1955, Monroe sent Haney to Bean Blossom, Indiana, to help with his Brown County Jamboree. This arrangement and Haney's audacious ideas didn't please Bill's older brother Birch, the resident manager there for several decades. In September, Haney was sent home to Reidsville in a car with bald tires, with little to show for his efforts.
Back in North Carolina, Haney began booking for a band called the Farm Hands: Allen Shelton, Curly Howard, Roy Russell, and Bill Phillips (they later became the core of Jim Eanes' Shenandoah Valley Boys). At the Old Dominion Barn Dance in Richmond, Virginia, Carlton was introduced to Don Reno, Red Smiley & the Tennessee Cut-Ups, who asked him to book shows for them. Haney did so successfully, and a business relationship ensued from January, 1956, until the group's break-up in February, 1965.
During his years with Reno & Smiley, Haney made astute suggestions and contacts, including the initiation of a daily television show, "Top 'o the Morning," on WDBJ, Roanoke. He helped the group to pick material for their frequent King single and album releases and wrote a few songs.
According to Haney, his interest in Bill Monroe's music stemmed from a backstage jam session at the Grand Ole Opry in October of 1957. Don Reno, Red Smiley, Jimmy Martin, Bobby Hicks, Chubby Wise, and Charlie Cline were present. Twice, Jimmy Martin started "Live and Let Live," and twice Bill Monroe stopped it. When Bill started the song, Haney could hear a distinct difference in the timing and began to seriously study Monroe and his recordings. He developed the idea of a stage performance where Monroe would perform in successive reunion with former members of his band, many of whom had gone on to their own prominent careers.
The Old Dominion Barn Dance, a Richmond stage attraction and WRVA radio broadcast, foundered in 1956 after 11 years, a victim of changing public tastes. Carlton Haney was recruited to revive the show as the New Dominion Barn Dance through 1964. There Haney learned how to book combinations of popular country artists that would sell tickets. Bluegrass music was also a significant part of the program, including rare (at the time) joint appearances by multiple bluegrass-type acts. Carlton Haney observed or participated in a number of events that led up to the multi-day bluegrass festivals, including Watermelon Park, Berryville, Virginia (1960); Luray, Virginia (1961), a New Year's concert in Roanoke, Virginia (1963), and the Newport Folk Festival (1964).
After Reno & Smiley's break-up, Carlton Haney booked shows for Red Smiley & the Bluegrass Cut-Ups and conceived of a series of "Country Shindigs," package shows in huge venues in multiple markets. His first took place in the Winston-Salem, North Carolina, Coliseum, with Ray Price, Porter Wagoner, Norma Jean, and Kitty Wells. At his peak, Haney promoted more than 100 major shows a year in 30-some cities, from Philadelphia to Oklahoma City, generating handsome profits. He played important roles in building the careers of a number of country artists, including Wagoner, Loretta Lynn, Merle Haggard, Conway Twitty, and the Osborne Brothers.
Haney's financial success, contacts, and credibility in the country music field helped him to take a risk on the concept he had nurtured for almost a decade. On Labor Day Weekend, 1965, Carlton Haney booked what he called the "Blue Grass Festival" at Cantrell's Horse Farm, 12 miles north of Roanoke, Virginia, at Fincastle. Present were Bill Monroe & the Blue Grass Boys, Jimmy Martin & the Sunny Mountain Boys, Clyde Moody, Don Reno & the Tennessee Cut-Ups, Red Smiley & the Bluegrass Cut-Ups, the Stanley Brothers & the Clinch Mountain Boys, Mac Wiseman, and Doc Watson (the Osborne Brothers and Howdy Forrester were advertised but unable to attend). The highlight for everyone was "The Story of Bluegrass Music," emceed by Carlton Haney and assisted backstage by Bill Monroe's former manager Ralph Rinzler. For a glorious Sunday afternoon, Monroe held the spotlight as musician after musician joined him to recreate their musical triumphs from earlier decades.
The format of the Labor Day Weekend festival was repeated in 1966 at Fincastle; in 1967 and 1968 at Berryville, Virginia; and from 1969 at Camp Springs, North Carolina, near Haney's hometown of Reidsville. Others promoted similar events in other states and very soon thereafter in hundreds of locations each year, throughout the world.
Carlton Haney initiated Muleskinner News magazine in 1969, and Grassound (aimed at a younger, more progressive, demographic) in 1974. He was prominently featured in the movie Bluegrass: Country Soul (1971, reissued on DVD in 2006). He began an annual Newgrass Music Festival at Camp Springs in 1972. He continued to generate ambitious ideas (for example, a bluegrass hall of fame, library, and archives, to be located in North Carolina), but by the end of the 1970s, fewer of these were coming into fruition. Much of his capital and energy seemed to be drained by extended litigation with the American Federation of Musicians, with whose Unfair List tactics he took particular exception.
By 1980 Haney was for all practical purposes out of the music business. For a while, he operated grocery stores with family members, but long since retired from that pursuit. In his later years, Carlton loved to talk about music and a surprising number of other topics. He was known for extensive, late-night, telephone conversations and occasionally made appearances at bluegrass events, such as the story stage at the Bass Mountain, North Carolina, festival; the early '90s video series Grass Roots to Bluegrass, and an event celebrating the 40th anniversary of the Fincastle Bluegrass Festival in 2005. He died on March 16, 2011 following an earlier stroke at Moses H. Cone Hospital in Greensboro, North Carolina.
– Fred Bartenstein is a bluegrass music historian and journalist.
Read the Full Bio