Charles Samuel "Sam" Bush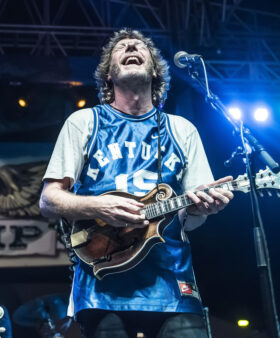 Year Inducted: 2023
Born: April 13, 1952 in Bowling Green, Warren County, Kentucky, United States
Primary Instrument: mandolin (also fiddle)
"There are some mandolin tunes, when I hear them, I want to hear them the way they were done when Bill [Monroe] recorded them . . . certain tunes I don't think should ever change. And that's the trouble with some people—how they just seem to fit their ideas in at the wrong place when it should have that old trembly plain sound that it had. One of the reasons bluegrass has remained as pure as it has is because Bill has been around to fight for it. It will never die; it's established its roots like jazz, and it'll be here from now on."
Biography
Mandolin guru David Grisman called Sam Bush "the world's greatest all-purpose mandolinist." In a professional career that got underway in 1970, Bush was equally adept at both mandolin and fiddle, was a distinctive vocalist and songwriter, and pioneered a subgenre of bluegrass music that came to be known as "newgrass." He performed in a number of groups, including his own Sam Bush Band, and is widely known for an 18-year run at the helm of the cutting-edge New Grass Revival.
Sam Bush grew up in a musical household that was situated on a tobacco farm in Bowling Green, Kentucky. His father, Charles, played both mandolin and fiddle and was a big fan of the Grand Ole Opry; his mother, Henrietta, and sisters, Clara and Janet, picked guitar and sang. One of Sam's earliest non-family influences was the Lester Flatt and Earl Scruggs television show. One program in particular, a January 1962 airing that featured a seven-year-old Ricky Skaggs, made an indelible impression.
Bush got his first mandolin in 1964 at age 11, a Gibson A-50 model. A year or so later, in response to an advertisement in Sing Out! magazine, 13-year-old Sam attended the first multi-day bluegrass festival which was held in Fincastle, Virginia. The main impetus for his attending was to be around other mandolin players. A year later, he took up the fiddle and less than a year later placed fifth at competitions in Weiser, Idaho; for the next three years after that, he placed first.
Sam's first band was assembled with his older sisters, Clara and Janet. Later, Sam and Janet joined the Folkswingers, a local folk group that was patterned after the New Christy Minstrels. His first bluegrass group came in 1966 at age 14, the Grayson County Boys.
At one of Sam's Weiser outings, he met banjo player Alan Munde. With the addition of guitarist Wayne Stewart, the trio used home recording equipment to assemble what has been hailed as a progressive bluegrass masterpiece, Poor Richard's Almanac.
Bush graduated from high school in 1970. At age 18, he married and moved to Louisville where he replaced Dan Crary on guitar in the Bluegrass Alliance. Only a few months into his tenure, Sam had the audacity to recruit budding guitarist Tony Rice. This necessitated Sam's move to mandolin. This version of the group remained together for a year and unfortunately never made it to a recording studio. Rice's 1971 departure for J. D. Crowe's group set in motion a conflict concerning the direction of the band. When fiddler and owner of the band name, Lonnie Peerce became uncomfortable with the directions desired by the others, they departed en masse.
Shortly after exiting the Alliance, Sam and the others—banjoist Courtney Johnson, guitarist/Dobro picker Curtis Burch, and bass player Ebo Walker—formed New Grass Revival. Due to their appearance (long hair, blue jeans, and t-shirts) and penchant for performing tunes from non-traditional and rock sources, they were shunned by some bluegrass festivals. Carlton Haney, Jim Clark, and other promoters championed their fresh approach and helped New Grass Revival win fans in both progressive and traditional camps.
The first year of its existence, New Grass Revival recorded its debut album, a self-titled disc that appeared on the usually staid Starday label. The following year, they bypassed traditional bluegrass performance venues by appearing as an opening act for popular entertainers such as John Hartford and rocker Leon Russell. They became one of the few bluegrass acts to appear nightly before crowds of 20,000+ attendees.
From 1975 to 1982, the group released five albums on the Flying Fish label: Fly Through the Country, When the Storm is Over, Too Late to Turn Back Now, Barren County, and Commonwealth. Rank-and-file bluegrass publications sometimes took issue with the band's repertoire and approach, while less genre-specific magazines touted the group for its inventiveness.
By the end of the 1970s, New Grass Revival had built its own audience and enjoyed a robust schedule that kept it on the road 42 weeks a year. In 1979, the group began a two-year stint opening, once again, for Leon Russell. As before, it landed the group before large crowds but with a grueling schedule. Near the tour's end, in 1981, two of the original members, Curtis Burch and Courtney Johnson, left the group. Sam, along with bass man John Cowan, finished out the tour, but left the duo undecided about the band's future.
Sam and John Cowan, known informally now as the "Two Grass Revival," filled the vacancies with 23-year-old banjoist Bela Fleck and guitarist/vocalist Pat Flynn. Fleck, who had already been in several bands and had a well-received solo album, was regarded as one of the banjo players to watch in the early 1980s. Flynn was a 12-year veteran of touring, working as a session musician, and developing as a songwriter.
Just like the Country Gentlemen of the 1960s, the new version of the New Grass Revival was a synthesis of divergent musical personalities, the combined tension of which made for exciting musical performances. Pat Flynn told Frets magazine in 1982: "We're all inspired by each other. When you're onstage with these guys they can eat you alive unless you're on your toes. There are a lot of trade-offs instrumentally, so we all lift each other up. You tend to play over your head a lot."
Sam married his current wife, Lynn, and released his first solo album, Late as Usual, in 1984. That same year found him and New Grass Revival on a State Department-sponsored tour that took them to Portugal, Spain, Turkey, Hungary, Greece, Malta and France. At year's end, they released a new band project, On the Boulevard, on the Sugar Hill label.
The band realized its greatest exposure to date when it signed with Capitol/EMI in 1985. Over the next four years it released three albums: the self-titled New Grass Revival, Hold to a Dream, and Friday Night in America. A number of songs from those albums appeared on Billboard magazine's Top 100 chart for country singles. Among them were "What You Do to Me," "Ain't That Peculiar," "Unconditional Love," "Can't Stop Now," "Calling Baton Rouge" (which broke through to the Top 40), and "You Plant Your Fields." Additionally, Béla Fleck's instrumental "Seven By Seven" was nominated for a Grammy.
Outward signs of success notwithstanding, after 18 years Sam was ready to move on to other endeavors. New Grass Revival played its last performance on New Years Eve, 1989. A short time later, he signed on as the mandolin player for Emmylou Harris's new acoustic band, the Nash Ramblers. It was a position that he held for five years. With Harris Sam received his first Grammy award, for Live at the Ryman (1992).
Ironically, New Grass Revival's greatest exposure came four years after it broke up. Country mega star Garth Brooks reunited the band for his own 1993 recording of "Calling Baton Rouge," reaching #2 on the country charts.
Sam's stint with Emmylou ended in the early part of 1995. For the next several years, he toured and/or recorded with several outfits, including Lyle Lovett's Small Band, Joshua Bell's Americana projects, and Béla Fleck's Bluegrass Sessions band. He also embarked on the recording of several solo projects: Glamour & Grits (1996) and Howlin' At The Moon (1998). During this timeframe Sam assembled the Sam Bush Band. While the group's personnel fluctuated over the years, the band remains active to the present day.
Gary Reid is a bluegrass music historian, journalist, producer, and actor based in Roanoke, Virginia.
Read the Full Bio