Clarence White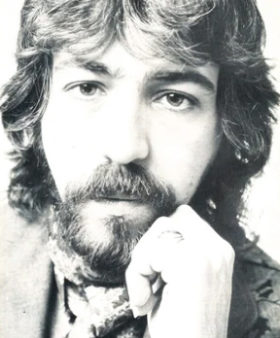 Year Inducted: 2016
Born: June 7, 1944 in Lewiston, Maine, United States
Died: July 15, 1973 in Palmdale, California, United States
Primary Instrument: Guitar
"To the average person, Clarence White is obscure, but in guitar circles he is certainly legendary. While still in his teens, Clarence developed a playing style of lightning runs, syncopated picking, and sophisticated rhythms that transformed bluegrass guitar into a lead instrument..."
Biography
Clarence White is revered in bluegrass circles for his cutting-edge work as soulful lead guitarist in the popular West Coast band the Kentucky Colonels. Incorporating sophisticated slides, minor scales superimposed against major chords, and frequent emphasis on the offbeats, White's mastery of the instrument did much to propel the role of the guitar from a mostly rhythm instrument to a more prominent lead. He was also an in-demand studio session musician and, from 1968 to 1973, a member of the country-folk-rock band the Byrds.
Of French-Canadian ancestry, Clarence Joseph LeBlanc was born on June 7, 1944, in Lewiston, Maine, a city of about 38,000 situated in the southern part of the state. LeBlanc is a French surname that translates to "the white," so it is no surprise that the family adopted White as their anglicized family name.
Clarence grew up in a musical family. His father, Eric, Sr., played fiddle, guitar, and harmonica, and several uncles played piano and guitar. His older brother Roland had been playing guitar from age five, mandolin from age eight, and singing with sister Joanne. When Clarence first showed an interest in playing the guitar, Roland would fret while he strummed. Their dad got him a ukulele, which he played for about a year before switching to the guitar. It wasn't long before a band featuring the four White children came into being with Roland on mandolin, Eric, Jr. on tenor banjo, Joanne on bass, and Clarence on guitar. The group took its cues from music played by older members of the family: pop and country hits of the '40s and '50s.
In 1954, the White family relocated to Burbank, California. There the family band morphed into The Three Little Country Boys, including Roland, Clarence, and Eric. The group's first-place status in an October 1954 Pasadena talent contest hosted by Carl "Squeakin' Deacon" Moore of radio station KXLA, led to monthly appearances on the Squeakin' Deacon Talent Hour at the Riverside Rancho and regional television programs such as the County Barndance Jubilee, and Town Hall Party. One of Clarence's influences on the guitar became Joe Maphis, a regular fixture on the Town Hall Party television broadcast, but in 1955 the group gravitated towards what came to be known as bluegrass, after Roland brought home Bill Monroe's recording of "Pike County Breakdown."
In 1959, the band now known as the Country Boys included—in addition to Clarence, Roland, and Eric—an Arkansas native by the name of Billy Ray Lathum on banjo and southern Californian LeRoy Mack on Dobro. It was this quintet that made the first recordings: a 45 rpm single on the Sundown label that included a cover version of Flatt & Scruggs's "I'm Head Over Heels in Love With You" and "Kentucky Hills," a song credited to a fellow Sundown artist, Bill Lowe.
Around 1960, the Country Boys were appearing at the Ash Grove, a trendy Hollywood coffee house owned by Ed Pearl. A CBS cameraman, impressed with what he heard and saw, forwarded his feedback to producers at the Andy Griffith Show. Shortly afterwards the group received a call asking if they would be interested in appearing on that TV program. The Country Boys subsequently appeared in two 1961 episodes: Mayberry on Record, which aired on February 13, and Quiet Sam, which aired May 1.
April of that same year saw the second 45 rpm release by the Country Boys. Two songs: "On The Mountain (Stands My Love)" and "Valley Below" appeared on the Republic label. But it was the Griffith show that first landed the group in a large-scale professional studio. Four tunes recorded at Capitol Records in Hollywood appeared on a November 1961 album called Songs, Themes and Laughs from the Andy Griffith Show.
In April of 1962, Doc Watson appeared at the Ash Grove as part of a group headed by Clarence Ashley. Clarence White, eighteen at the time, was captivated by Watson's picking, both on stage and in informal jam sessions. Clarence also carefully studied the earlier bluegrass guitar styles of Earl Scruggs and Don Reno, as well as French Gypsy-jazz guitarist Django Reinhardt. After brother Roland was drafted for a two-year hitch in the Army, Clarence began to play both rhythm and lead guitar with the Country Boys.
Six months after Clarence's encounter with Watson, in September of 1962, Clarence, LeRoy, Billy Ray, and singer and bass player Roger Bush went into the studio to record their first long-play album. Executive producers Joe Maphis and Johnny Bond recruited Ralph Stanley—who had just finished a three-week stint at the Ash Grove—to oversee the sessions. Released on the Briar label as The New Sound of Bluegrass America, the album signaled a name change for the band. Due to Little Jimmy Dickens' and Mac Wiseman's bands both being named the Country Boys, at Merle Travis's suggestion the group decided to become known as the Kentucky Colonels.
Three tracks from the album, "I Might Take You Back Again," "420 Special," and "Won't You Call Me Darling," were the first to showcase Clarence's lead guitar work on record. Some of Clarence's first studio sessions took place shortly afterwards, when he contributed to Eric Weissberg and Marshall Brickman's album New Dimensions In Banjo & Bluegrass (later the basis for the soundtrack album of the movie Deliverance, 1973). In 1964, the Kentucky Colonels, with Roland back from the Army and Bobby Slone on fiddle, released Appalachian Swing, a twelve-tune instrumental outing that did much to propel the use of the guitar as a lead instrument in a bluegrass setting.
In the early and middle 1960s, the Kentucky Colonels appeared at Gerde's Folk City in New York, the UCLA Folk Festival, the Newport Folk Festival, and Club 47 in Cambridge, Massachusetts, in addition to regular performances in California at the Ash Grove. By the end of October 1966, the group that had been in existence since the late 1950s—first as the Country Boys and later as the Kentucky Colonels—came to an end. The British Invasion and declining interest in folk music during this period made it increasingly difficult for bluegrass band members to give up day jobs and tour full-time.
In their last year together, the band went electric and played country and rock covers five and six nights a week in the Flame Room lounge at a bowling alley in Azusa, California. Clarence sold his D-28 Martin guitar to buy a Fender Telecaster. Billy Ray also played electric guitar, Roger Bush played electric bass, Roland played electric mandolin, and Bart Haney played drums. Roland left to play bass with a California country band before joining Bill Monroe's Blue Grass Boys on guitar, in May of 1967.
Clarence moved on to play with Gene Parsons and Gib Guilbeau in California country-rock bands: the Reasons and Nashville West. He was increasingly in demand for studio session work which included a debut solo album by Gene Clark (formerly of the Byrds) and the Gosdin Brothers, guest appearances on the Byrds' Younger Than Yesterday and Sweethearts of the Rodeo albums, Rick Nelson's Country Fever, and sessions for West Coast country icon Wynn Stewart. During this period, he also worked with Gene Parsons to develop the B-Bender, a device that gave a steel guitar effect to the electric guitar.
In July of 1968, Clarence joined the Byrds as a full-time member and stayed with the group until they disbanded in January of 1973. The group logged numerous personal appearances and released five albums during White's tenure. Despite the busy schedule, Clarence continued to do session work and appeared on recordings by a number of prominent artists, including Joe Cocker, Linda Ronstadt, Arlo Guthrie, Randy Newman, Rita Coolidge, the Everly Brothers, Gene Parsons, Freddy Weller, and Jackson Browne.
Following the dissolution of The Byrds, Clarence participated in sessions that produced A Potpourri of Bluegrass Jam under the band name Muleskinner, which included Peter Rowan, Richard Greene, David Grisman, and Bill Keith. The album mixed traditional and progressive bluegrass with country rock sounds and remains an influential release from the early days of the progressive movement in bluegrass.
In February of 1973, Clarence reunited with brothers Roland and Eric to form the New Kentucky Colonels, an all-acoustic group. After a short series of California dates, including one at the Ash Grove, the group departed for a tour of Europe that included performances in England, Belgium, Sweden, and Holland. Banjo players Herb Pedersen and Alan Munde each played at some of these concerts, which also produced live recordings. Once back in the States, the group made its only bluegrass festival appearance at Indian Springs, Maryland, as well as a four-date country-rock package tour with Gram Parsons, Emmylou Harris, Country Gazette, Gene Parsons, Byron Berline, and others.
After the tour, Clarence embarked on the recording of the first of what was to be a three-album deal with Warner Brothers. Six songs were recorded over a two-day period at the end of June. Two weeks later, on July 14, 1973, Clarence and Roland played a jam session at BJs, a bar in Palmdale, California. In the early morning of July 15, while loading their gear, they were struck by a drunk driver. Clarence never regained consciousness and died later that day.
Although Clarence White made only a handful of studio recordings that featured his pioneering bluegrass guitar work, his flatpicking mastery forever altered the role of the instrument within the genre. Over the years, a number of albums and CDs that featured live concert and demo recordings have only added to his reputation. An inspiration to other aspiring pickers, his legacy lives on through the work of his protégés, most notably Tony Rice, Wyatt Rice, and David Grier.
– Gary Reid is a bluegrass music historian, journalist, producer, and actor based in Roanoke, Virginia.
Read the Full Bio