David Jay Grisman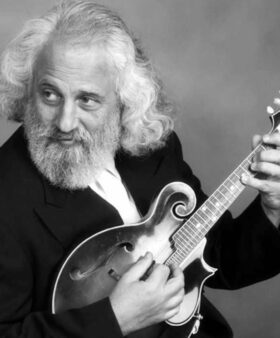 Year Inducted: 2023
Born: March 23, 1945 in Hackensack, New Jersey, United States
Primary Instrument: mandolin
"One day Jack [Scott] came back from New York with a record called Mountain Music Blue Grass Style. He put on a cut called 'White House Blues' by Earl Taylor, and it just totally flipped me out. It was so fast! We just played it over and over. I was ripe to hear that sound – not so much the mandolin at first, but as I started listening to more records the mandolin sounded really neat."
Biography
With influences ranging from bluegrass to jazz, New Jersey native and California-based David Grisman is one of the most distinctive and influential mandolin players in history. An admirer of mandolin geniuses including Bill Monroe, Frank Wakefield, Dave Apollon and Jethro Burns, Grisman is best known for his own style of music that came to be known as "Dawg music." Bluegrass fans revere him for a series of genre-bending groups he formed in the early and middle 1970s as well as a series of ultra-traditional bluegrass recordings that he released in the 1980s and '90s.
Grisman grew up in a Jewish New Jersey household that appreciated music and the arts. His father, Samson, 47 at the time of David's birth, was a store owner who had been a professional trombone player earlier in his life. His mother, Fanya, was an art teacher and an accomplished piano player. David's first instrument, at age seven, was piano.
The rock 'n' roll that Grisman listened to in the mid-1950s gave way to folk music as heard on programs in the early 1960s hosted by Oscar Brand in New York City. Popular offerings by commercial artists like the Kingston Trio were supplanted by quests for more authentic roots music. In Passaic high school Grisman formed a folk music club with two classmates, sponsoring a school visit by budding folklorist/musician Ralph Rinzler, who demonstrated traditional folk music as played on several instruments, including mandolin.
For Grisman, the event was transformative.
David began studying bluegrass mandolin as a teenager. Rinzler, who lived just four blocks away, opened the youth's eyes (and ears) to vintage bluegrass instruments while playing tapes of live recordings by Bill Monroe, Doc Watson (who Ralph had discovered while recording Clarence Ashley) and others. In 1961 Rinzler took Grisman to hear Bill Monroe play at New River Ranch in Rising Sun, Maryland. Also on the bill that day was mandolin wizard Frank Wakefield.
From 1962 until 1966 Grisman attended New York University in Greenwich Village. While there he logged a lot of extracurricular activities that included working for Israel Young at the Folklore Center, making his first recording for Elektra as a member of the Even Dozen Jug Band and co-producing (at age 18) a Folkways LP by Red Allen and Frank Wakefield. During that time he formed several bands including the Garret Mountain Boys and the New York Ramblers, who won first place in the band contest at the 1964 Union Grove Fiddler's Convention, and played on the 1965 debut recording of Hazel Dickens and Alice Foster (Gerrard.) In 1963 he wrote the first of many mandolin compositions, "Cedar Hill." He attended the first Bluegrass Festival at Fincastle, Virginia, in 1965, where he played onstage with the New York Ramblers. In 1966, David hosted mandolin workshops at the Newport Folk Festival and the second Fincastle Festival, which included Bill Monroe, Bobby Osborne, John Duffey and Ronnie Reno. He also played sets there with Del McCoury and Red Smiley.
In the latter part of 1966 Grisman joined Red Allen's Kentuckians and began exploring different modes of expression on the mandolin. His stay with Allen was short-lived, but he did co-produce both of Red's County albums (1965-6) and played on the second (1966). In 1967 David teamed up with former Blue Grass Boy Peter Rowan to form a folk-rock group Earth Opera, in which Grisman played electrified mandolin and mandocello. The group released two Elektra albums, the self-titled Earth Opera and The Great American Eagle Tragedy. After the group disbanded in 1969, David relocated to the Bay Area of California.
In 1973 a bluegrass supergroup dubbed Muleskinner was assembled as an opening act for a Los Angeles public television appearance with Bill Monroe. It included three former Blue Grass Boys (fiddler Richard Greene, banjoist Bill Keith and guitarist Peter Rowan) plus Grisman, guitar innovator Clarence White and bassist Stuart Shulman. A bluegrass bus breakdown prevented Monroe from making the show and the new group filled in for him. This landed them a recording contract with Warner Brothers, which produced Muleskinner: A Potpourri of Bluegrass Jam. A video and CD of the TV performance were subsequently released in 1998.
A second all-star ensemble followed a short time later in 1973. Billed as Old & in the Way, the group consisted of Grateful Dead front man Jerry Garcia on banjo, Grisman on mandolin, Peter Rowan on guitar, Vassar Clements on fiddle and John Kahn on bass. Grisman composed the title track to the group's self-titled album (1975), recorded live at the Boarding House club in San Francisco. Other live recordings of the band followed, among the best selling in bluegrass history. It was during Old & in the Way that Garcia hung the moniker "Dawg" on David, a name that stuck and became a descriptor for the music Grisman was to compose and perform for the next five decades.
In 1974 the Great American Music Band came into being. It started when Richard Greene and Vassar Clements were booked to appear separately on the same program at San Francisco's Great American Music Hall. Their separate groups merged, with additional support from Grisman, Garcia, guitarists Eric Thompson and David Nichturn with a surprise appearance by Taj Mahal on upright bass. This group featured many of David's original compositions and lasted for a year, until the departure of Richard Greene.
In the spring of 1975 David met guitarist Tony Rice when they both were invited to play on banjo innovator Bill Keith's first solo album. When Rice heard Grisman's music, he invited him to Lexington, Kentucky (where he was playing nightly with J.D. Crowe's New South) to play and teach him the new tunes. Several months later, Tony moved to California to join Grisman's ensemble which included mandolin (and bass) player Todd Phillips, fiddler Darol Anger and bassist Joe Carroll. The new aggregation was christened the David Grisman Quintet by Tony Rice.
It was with the Quintet that Grisman realized his greatest acclaim. Frets magazine described his dawg music as "bluegrass-jazz-gypsy-rock-middle- Eastern-Hebraic-folk-classical-Grisman." The music explored different chord progressions, rhythms and arrangements — all-instrumental and original, composed mostly by David himself. The group's debut Kaleidoscope album, The David Grisman Quintet, sold over 60,000 units during the first two years of its release. It was followed by a second release, Hot Dawg, on A&M- Horizon with many more to come in the ensuing decades.
In addition to the ever-evolving Quintet and his other performing groups, Grisman was in demand for studio session work. By 1979 he had appeared on albums by Judy Collins, the Grateful Dead, Richard Greene, Martin Mull, Maria Muldaur, Mark O'Connor, Tom Paxton, Dolly Parton, the Pointer Sisters, Bonnie Raitt, Tony Rice, Linda Ronstadt, Don Stover, James Taylor, Tony Trischka and a host of others.
In 1983, having been out of the eye of bluegrass for several years, Grisman and banjoist Herb Pedersen produced a studio recording, Here Today, with guitarist Vince Gill, fiddler Jim Buchanan and bassist Emory Gordy Jr.
Reviewer Frank Godbey excitedly noted that, "The first order of business here is to issue a hearty welcome back to Grisman and company; we've missed you." The group channeled masters of yesteryear to produce a well- received album of traditional bluegrass.
Grisman's next foray into bluegrass was a 24-song, double-length album, Home is Where the Heart Is (1987). Billed as a "Traditional Bluegrass Album," the collection featured a number of top-shelf pickers and singers including Harley Allen, Sam Bush, J.D. Crowe, Del McCoury, the Nashville Bluegrass Band, Tony Rice, Ricky Skaggs and Doc Watson. Several others, heavy hitters in their day, were brought out of retirement, most notably Red Allen, Porter Church and Curly Seckler.
In 1989 Grisman, with his manager, Craig Miller and longtime friends Artie and Harriet Rose, formed Acoustic Disc, "an independent record label dedicated to the preservation and integrity of acoustic music, musicians, and instruments." For over three decades, the label, with a catalog of over 100 releases, has paired Grisman with artists such as Red Allen, Svend Asmussen, Sam Bush, Tommy Emmanuel, Jerry Garcia, Herb Pedersen, Tony Rice, Andy Statman, Martin Taylor and Doc Watson. Several volumes of his Tone Poems series feature the sounds of vintage guitars and mandolins played by Grisman with Tony Rice, Martin Taylor and others. Old & in the Gray was a reunion of the surviving members of Old & in the Way. Other highlights included releases by musical giants such as Dave Apollon, George Barnes, Jethro Burns, Stéphane Grappelli and Bill Monroe.
Among Grisman's most recent endeavors is the David Grisman Bluegrass Experience, sometimes tagged as DGBX, featuring banjoist Keith Little, fiddler Chad Manning, guitarist Jim Nunally and David's son Sam on bass. The group's 2006 release was praised by one reviewer as "bluegrass as Bill Monroe intended it." In 2015, David formed the Dawg Trio with multi- instrumentalist Danny Barnes and Sam Grisman.
In 2020, Grisman and his wife Tracy, a fine artist and musician, took over the full-time operation of Acoustic Disc, moving to an all-digital platform. Since then, David has produced over 30 digital releases, including six volumes of his original compositions in chronological order, Dawg Works. In 2023 he was inducted into the Bluegrass Hall of Fame. Dawg still plays the mandolin, writes tunes and produces monthly releases and podcasts for Acoustic Disc.
Gary Reid is a bluegrass music historian, journalist, producer, and actor based in Roanoke, Virginia.
Read the Full Bio