Del McCoury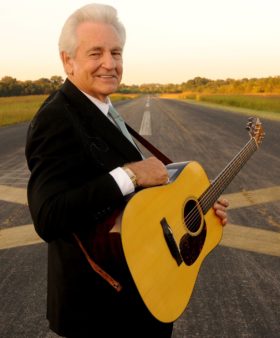 Year Inducted: 2011
Born: February 1, 1939 in Bakersville, North Carolina, United States
Primary Instrument: Guitar
"I heard a lot of music but I never really was enthused about it until I heard Earl Scruggs pick the banjo. It's funny how the music you're raised around, you just take it for granted."
Biography
Delano Floyd "Del" McCoury was born into a musical family on February 1, 1939 in Bakersville, North Carolina, a small mountain community about an hour's drive from Asheville, North Carolina, and Johnson City, Tennessee. In 1941, the McCourys relocated to York County in southeastern Pennsylvania. Del's mother, Hazel, sang and played the organ, piano, and harmonica. His older brother, G. C., instructed him in playing the guitar and made him aware of bluegrass musicians such as Bill Monroe and Earl Scruggs.
The sound of Earl Scruggs' banjo prompted Del to learn that instrument. He started out on a banjo that his father borrowed. Upon graduation from high school, Del purchased a new Gibson banjo and played that for several years. In 1957, he acquired another Gibson previously owned by Baltimore banjoist Walter Hensley. Not long after that Del got his first job as a musician, playing banjo on the radio with a group called the Stevens Brothers. His next stint was with Keith Daniels & the Blue Ridge Ramblers. The group stayed busy for several years, making numerous appearances on the New Dominion Barn Dance in Richmond, Virginia. They recorded an album for the Empire label in 1962.
Del was drafted in 1962 but soon received a medical discharge. He then played with several groups, including Melvin Howell & the Franklin County Boys and Jack Cooke & the Virginia Mountain Boys. It was his tenure with Jack Cooke – a former Blue Grass Boy – that led to Del's joining Bill Monroe in February of 1963. He was originally slated to play banjo, but switched to guitar and lead vocals as Monroe had hired Bill Keith a few days before. Del has remained a guitarist ever since. He stayed with Monroe for a year where he make numerous appearances on the Grand Ole Opry and helped to record six songs for Decca Records.
When Del's tenure with Monroe ended in February of 1964, he headed for California with fiddler Billy Baker for a short stay with the Golden State Boys (a band that included Chris Hillman). McCoury soon moved on to another California group, the Shady Valley Boys, but by the end of June was back East doing logging work for his father. He worked at this for several years and did some club work on the side.
By 1967, living in Glen Rock, Pennsylvania, he played weekend jobs in Baltimore and Washington, DC, as well as local shows in York County, Pennsylvania. In December of that year, he made his first recordings under his own name: Del McCoury Sings Bluegrass, on the Arhoolie label. Appearing on that recording were Billy Baker on fiddle, Bill Emerson on banjo, Wayne Yates on mandolin, and Tommy Neal and Dewey Renfro on bass.
1969 saw the formation of the Dixie Pals, Del's group for the next twenty years. Initial members included Del's brother Jerry on bass, Larry Smith on banjo, and Dick Laird on mandolin. It was with the Dixie Pals that Del began to achieve considerable notice within the bluegrass community. A string of releases for a variety of independent labels was praised for Del's intense, high lonesome singing and expert backing from the musicians he employed. A highlight of this era was Del's 1972 album for Rounder, High on a Mountain. The album's title track, written by Ola Belle Reed, remains a favorite to this day. Other albums from this period include two for Rebel: 1975's Del McCoury and 1978's Our Kind of Grass. Standouts from these albums include "Cabin on a Mountain," "Rain and Snow," and "Rain Please Go Away." Notable Dixie Pals from this era included mandolin players Dick Staber and Donnie Eldreth, fiddler Bill Poffinberger, banjo player Bill Runkle, and bass player Dewey Renfro.
The end of the 1970s ushered in a new band, with Dick Smith on banjo, Herschel Sizemore on mandolin, Sonny Miller on fiddle, and Jerry McCoury on bass. A highlight of their time together was a tour of Japan in 1979. Del signed with Roanoke-based Leather Records. His lone release for the label – Take Me to the Mountains – was short-lived, due to the company's demise. However, it was picked up and reissued by Rebel Records, followed by a 1985 release on Rebel called Sawmill.
The 1980s were formative years for Del. A number of things transpired that would reap later benefits. In 1981, his son Ronnie joined the band playing mandolin. In 1987, another son, Robbie, joined on bass but switched to banjo a year later. Also in 1987, Del began a nearly ten-year relationship with Rounder Records with a duet project called The McCoury Brothers (Del and Jerry). By the end of the decade, the group would be rechristened The Del McCoury Band.
In 1992, the band relocated to Nashville. This, and three high-profile releases on Rounder (Don't Stop the Music, Blue Side of Town, and A Deeper Shade of Blue), brought much attention to Del and his music. During the 1990s, the Del McCoury Band dominated the IBMA awards. Del was a four-time winner of the Male Vocalist award, five-time winner of Entertainer of the Year, two-time winner of Instrumental Group, and a winner of the Album of the Year and Recorded Event of the Year awards. Ronnie McCoury won the Mandolin Player award seven times while band members Jason Carter and Mike Bub each won twice for Fiddle Player and Bass Player. The end of the decade was witness to a pairing of Del with folk-rock-country singer Steve Earle. Their CD, The Mountain, was nominated for several IBMA awards and introduced Del to audiences beyond the bluegrass field.
In 1999 and 2001, Del made two albums for Ricky Skaggs' Ceili label, The Family and Del and the Boys. In 2003, Del released the first CD under his own imprint, McCoury Music. Since then, all of his recordings have appeared on that label, including It's Just the Night, The Company We Keep, The Promised Land (his first all-gospel recording), By Request, Celebrating 50 Years of Del McCoury – a five-CD boxed set with new recordings of Del's most popular songs, Family Circle, American Legacies – recorded with the Preservation Jazz Hall Band, and Old Memories: The Songs of Bill Monroe.
The awards kept coming in the 2000s. There were four more IBMA Entertainer of the Year awards, as well as song and album of the year wins. In 2006, Del received a Grammy award for It's Just the Night. In 2010, he received a National Heritage Fellowship and in 2011 he was inducted into the International Bluegrass Hall of Fame. One of his best "awards" was induction into the cast of the Grand Ole Opry in 2003.
In addition to his active recording career, Del maintains a busy touring schedule. Fans flock to see McCoury not only at bluegrass festivals and concerts, but also at rock clubs, college campuses, large youth-oriented events like Bonnaroo, and highly successful tours such as the Down From the Mountain tour.
– Gary Reid is a bluegrass music historian, journalist, producer, and actor based in Roanoke, Virginia.
Read the Full Bio