Paul Warren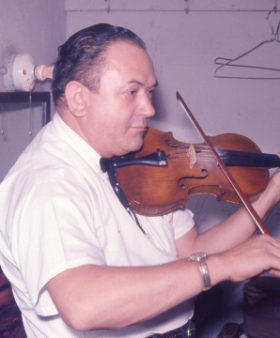 Year Inducted: 2013
Born: May 17, 1918 in Lyles, Tennessee, United States
Died: January 12, 1978 in Nashville, Tennessee, United States
Primary Instrument: Fiddle
"Plain old country fiddle is what I like, and it takes a lot of practice and staying with it. You got to live the fiddle, that's the way I look at it; keep your ears open, learn all you can. It doesn't come to you; you have to go get it."
Biography
Paul Warren was born forty miles from Nashville in Hickman County, Tennessee, in the community of Lyles, on May 17, 1918. He was reared in a musical family that included a father who played guitar and banjo, a mother who played clawhammer banjo, a brother who played banjo, and a sister who played guitar. As the family had no electricity, it was a neighbor who lived several miles away that afforded Paul his first opportunity to hear theGrand Ole Opry on the radio. He was captivated by the sounds of Opry musician Fiddlin' Arthur Smith. At age thirteen Paul developed an interest in becoming a fiddler himself, and was soon playing for local dances and public events.
Upon graduation from Hickman County High School in 1938, Paul got his first job in music playing with Johnnie Wright and the Happy Roving Cowboys. Over the next several years, the band went through several name changes and eventually morphed into one of the most popular country acts of the 1950s, Johnnie and Jack and the Tennessee Mountain Boys. Paul stayed with the group until 1942, when World War II dictated that he enter military service. He was sent to North Africa, where he was captured and served twenty-nine months as a prisoner of war. He traded a pack of cigarettes to an enemy soldier for a fiddle; his playing of "Under the Double Eagle" – composed by Austrian bandmaster Josef Franz Wagner – earned him preferential treatment.
Following the end of the war, Paul rejoined the group that was now called Johnnie and Jack and the Tennessee Hillbillies. The band had hired another fiddler in Paul's absence and for a period of time the group operated with twin fiddles. Paul temporarily found employment with Homer Briarhopper on WPTF in Raleigh, North Carolina, but was soon back in the employ of Johnnie and Jack. The group joined the Grand Ole Opry in 1952; Paul maintained his affiliation with that program for the next twenty-five years.
While working with Johnnie and Jack, Paul participated in nineteen recording sessions, which resulted in the creation of seventy-six masters. Among them were "What About You," "Poison Love," "Lonesome," "Ashes of Love," "Heart Trouble," "S.O.S.," and "South in New Orleans." The group emphasized Johnnie and Jack's unique vocals and the dynamic dobro work of Shot Jackson; Paul's abilities as a fiddler weren't fully utilized.
During the Johnnie and Jack years, Paul also played fiddle on sessions for Kitty Wells, who was Johnnie Wright's wife and a member of their touring ensemble. These releases included "How Far is Heaven," "Searching For a Soldier's Grave," "It Wasn't God Who Made Honky Tonk Angels," "Crying Steel Guitar Waltz," "You're Not Easy to Forget," "One By One" (with Red Foley), "Release Me," and "After Dark."
At the start of 1954, Paul Warren and fiddler Benny Martin switched jobs. Martin went to work for Johnnie and Jack and Paul went to work with Lester Flatt, Earl Scruggs and the Foggy Mountain Boys. Paul worked with Flatt and Scruggs until the group's breakup in 1969. He is reported to have never missed a show during this entire period. Working with such a high-profile group made him one of the most visible fiddlers of the 1950s and '60s.
The group performed radio shows for Martha White Flour that were aired up to seven days a week over radio station WSM in Nashville. With the rise in popularity of television, the band traveled a grueling 2,500 miles a week to do a circuit of live broadcasts for Martha White. Appearing in a different city each night of the week, the group returned to Nashville each Saturday for appearances on the Grand Ole Opry. Later on the programs were videotaped, cutting down on the extensive travel schedule.
Starting in May of 1954, Paul appeared on all of the 250 recordings Flatt and Scruggs made for Columbia Records. In contrast to the Johnnie and Jack releases, Paul's work with Lester and Earl was prominent, especially on the instrumentals. He appeared on influential albums such as Foggy Mountain Banjo, Carnegie Hall, Live at Vanderbilt, and Strictly Instrumental(with guest Doc Watson). Paul was one of the musicians who recorded the theme song for the Beverly Hillbillies television program in 1962. "The Ballad of Jed Clampett" went to #1 on the Billboard county singles chart, the highest charting bluegrass record in history.
A stylistic innovation Paul helped bring to the Flatt and Scruggs show was the featuring of banjo and fiddle duets with Earl Scruggs. The practice resonated with older fans, who remembered the fiddle and banjo as sole musical accompaniment at country dances. Younger listeners also enjoyed the vibrant interplay between Paul and Earl on the old-time instrumentals. Among Paul's signature breakdown tunes were "Black Eyed Susie," "Durham's Reel," "Liberty," "Dusty Miller," "Grey Eagle," and "Hoedown in Hickman County."
Following the 1969 breakup of the Flatt and Scruggs group, Paul stayed on with Lester Flatt and his new group, the Nashville Grass. The band maintained a busy schedule, which included Opry appearances, festivals, concerts, and college dates. Paul's fiddle work appeared on all of Lester's recordings from 1969 to 1977, including releases on Columbia, Nugget, RCA, Canaan, Flying Fish, and CMH. Notable highlights during this era were three albums on RCA that paired Lester with Mac Wiseman and a live two-LP set recorded at Bill Monroe's 1973 Bean Blossom Bluegrass Festival. With the exception of a few days off for surgery in 1972, Paul never missed a show.
Ill health necessitated Paul's retirement from active touring. His last performance with Lester Flatt was on February 23, 1977 in Lynchburg, Virginia. He died almost a year later, on January 12, 1978. With his wife, the former Eloise Hill of Spencer, Tennessee, Paul raised three children. One of them, Johnny, followed in his father's footsteps as a master fiddler.
Due to Lester Flatt's policy of restricting the outside recording activities of his band members, Paul never got the opportunity to record an album of his work. After his passing, Lester's manager Lance LeRoy assembled a collection of Paul's work recorded on personal appearances and radio performances. The album, released on CMH Records, was called America's Greatest Breakdown Fiddle Player.
– Gary Reid is a bluegrass music historian, journalist, producer, and actor based in Roanoke, Virginia.
Read the Full Bio