Doyle Wayne Lawson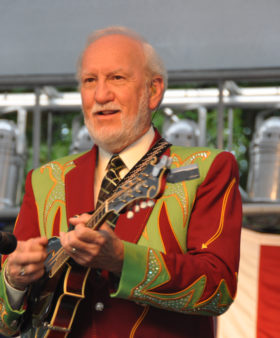 Year Inducted: 2012
Born: April 20, 1944 in Ford Town, Tennessee, United States
Primary Instrument: Mandolin
"When Bill [Emerson] left [the Country Gentlemen], it fell into my lap to get the music together, and I was inquisitive about what it took to get it done in the studio. I did some mixing, and was on the ground floor of the whole process. The expanse of knowledge I gained from that… to this day, no one mixes my vocals but me."
Biography
Doyle Wayne Lawson was born on April 20, 1944, in Ford Town, near Kingsport, Tennessee, to Leonard and Minnie Lawson.  For as long as he can remember, Doyle has had an avid interest in music.  Early exposure came in the form of his parents' singing in local gospel trios and quartets and radio broadcasts such as the Grand Ole Opry.  It was Bill Monroe's spots on the Opry that captivated the young man and fueled his desire to one day become a professional musician.
Doyle acquired a mandolin when he was 11 or 12 years old.  In 1954, his family relocated to Sneedville, Tennessee, about an hour's drive west of Kingsport.  It was here in 1958 that Doyle met Sneedville native Jimmy Martin.  He recalls that Martin spent several hours helping with his picking techniques.  This cemented Lawson's passion to make music a career.  In an attempt to make himself a more versatile and desirable player he set about learning guitar and banjo.  These efforts paid off several years later when, in 1963, he went to work playing banjo for Jimmy Martin.
Doyle's next job came in 1966 when he joined J. D. Crowe & the Kentucky Mountain Boys.  His first recording was the 1968 album The Kentucky Mountain Boys: Bluegrass Holiday,which included Crowe on banjo, Lawson on mandolin, vocalist/guitarist Red Allen, and bass player Bobby Slone.  He stayed with Crowe through 1969, at which time he returned to Jimmy Martin's group for about six months.  Doyle came back to J. D. Crowe, this time on guitar while Larry Rice played mandolin, and stayed until 1971.  He recorded two more albums with J.D.: Model Church – heralded to this day as a bluegrass gospel classic – andRamblin' Boy.
On September 1, 1971, Doyle began an eight-year stint with one of the most popular bands in bluegrass, the Country Gentlemen.  When he joined, the configuration included Charlie Waller, Bill Emerson, and Bill Yates.  Doyle enjoyed a special bond with Emerson, who had a knack for finding and arranging great material (e.g., "Fox on the Run").  When Emerson left the group to join the US Navy Band, Lawson considered doing the same but decided to stay with bluegrass as a civilian.
For the bulk of Doyle's tenure with the Country Gentlemen, the core remained the same:  Waller, Yates, and Lawson.  Two notable banjo players during this period were James Bailey and Bill Holden.  In the middle 1970s, Jerry Douglas and Ricky Skaggs joined, giving the band a lush, full, contemporary sound.
Doyle recorded five projects with the Country Gentlemen:  Award-Winning (with song of the year "Legend of the Rebel Soldier,") Live in Japan, the self-titled Country Gentlemen,Remembrances and Forecasts, Joe's Last Train, and Calling My Children Home – a celebrated gospel release that bore Doyle's distinctive imprint in terms of material and style.
In 1979, Doyle made the decision to strike out on his own.  In April of that year, he launched Doyle Lawson & Foxfire, only to find that another band was using that name.  At his mother's suggestion, he adopted the name Quicksilver.  Original band members included Jimmy Haley on guitar and lead vocals, Lou Reid on bass and harmony vocals, and Terry Baucom on banjo and baritone and bass vocals.  The new group secured a recording contract with newly formed Sugar Hill Records.  Early releases – including the self-titledDoyle Lawson & Quicksilver and Rock My Soul – met with immediate critical acclaim.
In addition to launching a new band/recording career, Doyle embarked on several new ventures.  1980 saw the inauguration of his own bluegrass festival in Denton, North Carolina.  The event quickly established itself as one of the top festivals in the southeast and featured many of the trendsetting bands of the day.  The same year brought Doyle's participation in Rounder Records project called The Bluegrass Album Band.  It allowed top-flight musicians Tony Rice, J. D. Crowe, Doyle, Bobby Hicks, and Todd Phillips to recreate classic songs and tunes from the early days of bluegrass.  The release became one of the best selling albums of the early 1980s and led to five follow-up recordings, the last in 1996.
Doyle followed up the success of Rock My Soul with 1983's Heavenly Treasures.  The album was a mix of bluegrass gospel and – in an overture to the southern gospel audience – tracks with pedal steel.  Gospel music became an increasingly important component to his sound, so much so that he began to cater to that segment specifically.  Where most bluegrass artists would release one album per year, and might alternate every other or every third album with gospel, Doyle took the unprecedented step of simultaneously releasing two projects at a time, one bluegrass and one gospel.  In 1985, his love of gospel music took on a new meaning when he rededicated his life to Jesus Christ and viewed his work as a musical ministry to lead others to Him.
During this time period, Doyle averaged between 125 and 175 booking dates per year.  A 1979 Ford van racked up so many miles that the engine had to be replaced four times.
In more than three decades as a bandleader, Doyle earned a reputation for maintaining a top-notch sound.  His recordings are meticulously produced and he has a knack for choosing and developing stellar talent.  Just as Bill Monroe's Blue Grass Boys were a proving ground for many performers who went on to become headliners in bluegrass in the 1950s and '60s, the same can be said of Doyle Lawson's Quicksilver from the 1980s onward.  Among many bluegrass notables who gained a leg-up with Doyle were Lou Reid, Terry Baucom, Randy Graham, Russell Moore, Scott Vestal, Jamie Dailey, John Bowman, Jim Mills, Ray Deaton, Barry Abernathy, Steve Gulley, and Jimmy Van Cleve.
Doyle's 22-year association with Sugar Hill Records came to an end in 2002 when he contracted for two albums with the all-gospel Brentwood label.  From there, he jumped to another gospel concern, Horizon, while at the same time releasing straight-ahead bluegrass projects on Rounder.  Most recently, his bluegrass and gospel recordings have appeared on the Crossroads label.
A recent career highlight was Doyle's participation in the Children's Hospital and Arena Tour, which combined National Anthem performances at major sporting arenas with performances for boys and girls at Children's Hospitals in the same regions.  The 2011 tour consisted of six performances which put Doyle before 108,000 people.
In addition to a spate of awards and nominations from the International Bluegrass Music Association (IBMA), the Society for the Preservation of Bluegrass Music in America, Grammy and Dove award nominations, Doyle is the recipient of a National Heritage Fellowship from the National Endowment for the Arts (2006) and an Honorary Ph.D. in Fine Arts from King College in Bristol, Tennessee (2007).  He was also recognized by the Tennessee State Senate with a Joint Resolution that honored him for his "many contributions to this state through the gospel bluegrass music."  The bluegrass community acknowledged Doyle's lifetime commitment to the music with his induction into the International Bluegrass Hall of Fame in 2012.
– Gary Reid is a bluegrass music historian, journalist, producer, and actor based in Roanoke, Virginia.
Read the Full Bio