Earl "J. T." Gray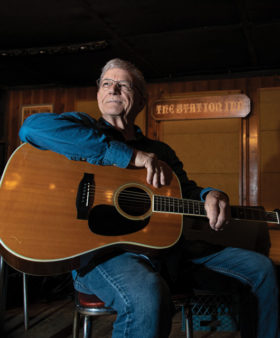 Year Inducted: 2020
Born: March 7, 1946 in Corinth, Mississippi, United States
Died: March 20, 2021 in , United States
Primary Instrument: Guitar
"I always say the Station Inn is like an old coffeehouse used to be — a listening room, and that's exactly what it is. It's a beer joint, it's a club, whatever you want to call it, but it's a listening room. People come here, pay their admission to get in and they want to hear the music."
Biography
Earl "J. T." Gray was the owner and driving force behind the Station Inn, a Nashville hot-spot for bluegrass music that first opened its doors in 1974. What started as a local venue that catered to local bands blossomed into a world-renowned destination that has routinely hosted virtually all of the top names in bluegrass. The aged building that is home to the Station Inn, with its wood paneled walls adorned vintage photos and concert posters, is an oft-used spot for Music Row photo and video shoots. The venue even sports a set of seats that were once part of the Flatt & Scruggs touring bus. As Nashville is home to many top-name touring bluegrass artists, the club is frequently used as an incubator where new material is audience-tested before it is taken out on the road.  J.T. had no inkling of becoming a club owner when he moved to Nashville in 1971. The Corinth, Mississippi, native relocated there to perform with the Misty Mountain Boys, a Nashville-based bluegrass band. The group performed at various locations around Music City including the Bluegrass Inn, the Old Time Picking Parlor, and at Opryland.
In 1976, J. T. organized his own group, Nashville Skyline. As time permitted, he also performed with Vassar Clements, The Sullivan Family, and Tom T. Hall. He later joined Jimmy Martin's Sunny Mountain Boys and performed on bass from 1979 until 1981. J. T participated in the making of one album with Martin, a 1980 release for Gusto called First Time Together (along with Ralph Stanley). His tenure with Martin ended in 1981 when he purchased the Station Inn.
The Station Inn opened in April 1974 as a consortium between several Nashville bluegrass enthusiasts. The original location was situated at 104 28th Avenue North, not far from Vanderbilt University and Centennial Park. The club moved to its present location at 402 12th Avenue South, an underdeveloped part of town known as The Gulch, in 1978. Gray and his Nashville Skyline group played there on numerous occasions. After changing hands several times, the Station Inn was offered for sale to J. T. in March 1981.
Gray quit his job with Jimmy Martin and embarked on a series of renovations for the nightclub. As before, the Station Inn continued to feature local talent, with less than stellar results. Things began to turn around in June 1981 when bluegrass booking agent Lance LeRoy approached J. T. about booking one of his acts, the Bluegrass Cardinals. It was the first time that a national, touring act was booked at the club and the response (and turnout) was positive. The Country Gazette appeared there the following evening.
The Whites had yet to land a major label record deal or join the Opry, but they began developing a following with regular appearances at the Station Inn. A "free TV taping" took place there in July 1981 and recurring appearances started in early 1982. Heavy hitters including Bill Monroe and Ralph Stanley began booking there around the same time. In later years, Monroe became a semi-regular who arrived unannounced to pick a few tunes with whoever happened to be on stage. One of Stanley's visits yielded a surprise reunion with two of his former sidemen: Keith Whitley and Ricky Skaggs.
In addition to being a venue where Nashvillians could see and hear top-flight bluegrass, the Stanley Inn became a meeting place where in-town pross could meet and swap tunes. On any given night, it would not be uncommon to find ace players such as Bela Fleck, Stuart Duncan, Mark O'Connor, Alan O'Bryant, Roland White, Dierks Bentley, Tim O'Brien, Sam Bush, Vassar Clements, Jerry Douglas, and Roy Huskey, Jr. up on stage jamming. J. T. noted that "those guys are the ones that are really packing it out . . . Jerry Douglas could bring his Dobro down by himself and play and pack the place." Some groups, such as the Nashville Bluegrass Band and the Dreadful Snakes, got their start at the Station Inn.
And then there were the regulars, groups that had long-standing stays at the club. One of the earliest was Peter Rowan and Crucial Country. Rob and Ron McCoury started a group known as the sidemen and played for sixteen years – the longest of any band at the Station Inn. The Time Jumpers started in late 1998 and ran for thirteen years, at which time they outgrew the club's 150 seats.
In 2003, with a twenty-two-year track record of promoting bluegrass, J. T. was presented with a Distinguished Achievement Award by the IBMA. The achievement was not accomplished without struggle. Early on, there were many sleepless nights and work until 4:00 AM to keep the Station Inn afloat. He even took side jobs driving coaches for road musicians. By 2004, at age 58, he'd had three heart bypass surgeries.
That same year, documentary filmmaker Pat Isbey produced a 75-minute film called The Station Inn – True Life Bluegrass. With commentary by Sam Bush, Bela Fleck, Alison Krauss, Del McCoury, Ricky Skaggs, Ralph Stanley, and Roland White, the film told the story of the Station Inn from 1974 to 2004.
The next year, J. T. released his first – and only – studio recording, It's About Time. Touted as a disc that recalls "bluegrass and country music's bygone days of yesteryear," it features backing from many of the musicians who were regulars at the Station Inn. Featured pickers and singers include Bobby Nicholas, Terry Eldredge, David Talbot, Shad Cobb, Josh Ulbrich, Andy Hall, J.D. Blair, and Kurt Storey. Songs from the Louvin Brothers, Moore & Napier, Doyle Lawson, and the Stanley Brothers permeate the album.
Speaking of CDs, at least two projects were recorded live and in person from the stage of the Station Inn. Singer/songwriter Shawn Camp and comedian Mike Snider both recorded projects from the club's stage. Another disc was inspired by the venue. The Sidemen called their debut disc Almost Live From the Station Inn.
Even before the Station Inn moved to The Gulch, it was touted as being "World Famous." Indeed, the club has hosted visitors from the four corners of the globe. Recently, the nightspot instituted a web channel – Station Inn TV – to live stream performances. Instead of waiting for the world to come to Nashville, the Station Inn is taking it to world. One recent broadcast netted 6,000 viewers – worldwide!
Closer to home in the virtual world, it's been more than just rank and file bluegrassers that have flocked to the club for the music. Celebrities have made their way there, too. Among the memorable ones are actors Robert Duvall, Reese Witherspoon, William Shatner, and Mel Gibson; football legend Peyton Manning; and even a United States Treasurer.
With J. T. Gray at the helm since 1981, the Station Inn evolved into a first-class venue for the presentation of bluegrass music. J. T. created a welcoming environment where his patrons are viewed as friends, not just paying customers. For a host of Nashville-based musicians, Gray established a space where creative ideas could flow back and forth, all in front of a nurturing and supportive audience. It's a successful business model that continues to this day.
Gary Reid is a bluegrass music historian, journalist, producer, and actor based in Roanoke, Virginia.
Read the Full Bio