George Saunders Shuffler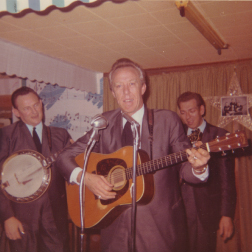 Year Inducted: 2011
Born: April 11, 1925 in Valdese, North Carolina, United States
Died: April 7, 2014 in Valdese, North Carolina, United States
Primary Instrument: Bass and guitar
"We were doing these old, slow, drawn-out mournful songs… I tried Merle Travis-style guitar and Mother Maybelle Carter-style guitar, but single-string leads were just not getting it. So I tried that — two notes down, one up, crossing over strings. At first Carter did not like it. 'Is that all you do?' he asked. 'It's all I want to do,' I said. And after it started selling, I could not do it enough to satisfy him."
Biography
George Shuffler is known for his flamboyant walking-style bass playing and distinctive cross-picking guitar, both popularized during his sixteen-year association with the Stanley Brothers. He was born in the Western North Carolina community of Valdese, situated not far from Hickory, Charlotte, and Asheville. George was the second of nine children. Music abounded in his family; his mother sang, his father was an old-time banjo player, and most of George's brothers and sisters played. George attended singing schools that were held at a church where he enjoyed harmonizing in quartets.
At ten he got his first guitar and learned the basic chords. Along with music at home and in church, the radio offered inspiration to the young Shuffler. Merle Travis, the Delmore Brothers and Grandpa Jones were particular favorites.
George's first opportunity to play in a band came in about 1941. At sixteen, he played electric guitar in a group called The Carolina Boys. He soon moved on to The Melody Mountain Boys, an outfit which included his brother John as well as future Stanley Brothers' fiddler Lester Woodie. In 1946 at age twenty-one he joined the brother duo of Charles and Danny Bailey, then featured on the Grand Ole Opry. When the Bailey Brothers left the Oprylater that year, George came back to North Carolina and reassembled the Melody Mountain Boys. The group performed on several regional stations, including WKBC (North Wilkesboro), WMNC (Morganton), WIRC (Hickory), and WJRI (Lenoir).
George Shuffler had occasion to work with several other professional bands between 1949 and 1951. One, Mustard and Gravy, was described in Bruce Eder's online biography of the duo as "country-novelty with a hillbilly edge." The team's forte was blackface comedy and they worked from Florida to New York. Several of their shows were done in conjunction with Eddy Arnold, one of the top country stars of the day.
Shuffler also worked with Jim and Jesse and the Virginia Boys, along with banjoist Hoke Jenkins. In the summer and fall of 1951 the group appeared on WWNC in Asheville. It was while working with Jim and Jesse that George began developing his unique cross-picking guitar style (Jesse McReynolds cross-picked the mandolin in a slightly different pattern; both echoed the roll of the newly popular Scruggs-style banjo.)
In the spring of 1951, George married Sue Benfield. Shortly after Christmas that year he received a phone call at Sue's parents' house in Hickory. It was from Carter Stanley, who invited George to accompany the Stanley Brothers to Versailles, Kentucky, to appear on WVLK Radio.
It was to be the first of many stints with the Stanleys. This first tour of duty lasted for most of 1952. From January to April, they worked out of the Versailles-Lexington area. Bandmates included Curly Seckler, Pee Wee Lambert, Charlie Cline, and Art Wooten.
At the end of their stay in Kentucky, the band journeyed to Nashville to record the Stanleys' final session for Columbia Records. Included on the session was a song that George – although uncredited – helped to put together, "A Life of Sorrow." Other radio shows included WLSI in Pikeville, Kentucky, (for two weeks) and WOAY in Oak Hill, West Virginia. As often happened George missed horse trading and returned home to North Carolina, only to be lured back to music and the road within a number of months.
George participated in the Stanley Brothers' first session for Mercury records in August of 1953. Heralded as one of the Stanleys' best trips to the studio, it prominently showcased George's driving 4/4 walking bass on songs like "(Say) Won't You Be Mine" and "I'm Lonesome Without You."
The summer of 1955 found George again touring with the Stanleys, including a performance at Bill Monroe's Brown County Jamboree in Bean Blossom, Indiana. In the fifties and sixties Shuffler regularly appeared on recording sessions at Carter Stanley's request, even when he wasn't currently a member of the group. Chuck Seitz, a recording engineer at King Records, overheard George doodling around with his guitar cross-picking and encouraged the Stanleys to feature it on record (Bill Napier, primarily a mandolin player at the time, was the first to record guitar cross-picking with the Stanleys, in September of 1959, at a session where Shuffler played bass). Carter and Ralph were initially opposed to the idea but warmed to it after it caught on with their fans.
In 1958 the Stanley Brothers relocated to Live Oak, Florida. George joined them there in the early part of 1961. In addition to touring and recording he did radio and television work with the group, appearing on their Jim Walter Jamboree programs. It was in 1961 that George switched from bass to lead guitar as his primary instrument with the Stanleys. The Shuffler style of guitar playing has remained a part of the Stanley sound ever since.
Throughout the early and middle 1960s George appeared on most of the Stanley Brothers' recorded output for King as well as specialty labels such as Wango and Rimrock. He became so identified with the Stanleys that he received prominent billing on a 1964 album release, Hymns of the Cross.
The Stanley Brothers' act came to an end with the passing of Carter Stanley on December 1, 1966. George continued with Ralph for several months, helping him to get established as a bandleader. When Larry Sparks – a capable lead guitarist – joined the band as featured vocalist, George felt it was time to move on.
After a brief rest George signed with the newly formed team of Don Reno and Bill Harrell. Over a roughly two-year period (1967-1969) he recorded three albums with them for King Records and at least as many for other labels such as Jalyn and Rural Rhythm. A Bluegrass Unlimited magazine readers' poll in 1967 named George the Best Bass Player of the Year.
While working for Reno and Harrell George filled in on bass for Ralph Stanley's 1968 King gospel album, Over the Sunset Hill. In the middle of 1969 Ralph's bass player of the last three years, Melvin Goins, departed the Clinch Mountain Boys leaving an opening once again for George. He stayed for about a year and appeared on one recording session during this period, a fiddle album called Curly Ray Cline and His Lonesome Pine Fiddle.
George's last professional group began in 1974 when he put together the Shuffler Family, a traditional country gospel act featuring his daughters (Jennie and Debbie), son (Steve), brother (Dude) and nephew (Dude's son, Joe Shuffler). Also included was masterful finger-style guitarist Roger Hicks. The group stayed together for nearly fifteen years and recorded four albums for Rebel.
Throughout the 1990s, 2000s, and into the 2010s George kept busy musically, often appearing as a solo, in a duet with Asheville-based Laura Boosinger, and at workshops. He was a fixture in the traditional tent at MerleFest and usually held down the vendor's spot next to Ralph's long-time guitarist James Alan Shelton at Stanley's Memorial Day festival. He also released a number of guitar-oriented albums, including a solo outing for Rex Nelon and three for Copper Creek, including a duet album with James Shelton and one with Laura Boosinger.
George was presented with an IBMA Distinguished Achievement Award in 1996, a North Carolina Heritage Award in 2007, and in 2011 he was inducted into the Bluegrass Hall of Fame. In 2014 he died peacefully at home, of natural causes, four days short of his eighty-ninth birthday.
– Gary Reid is a bluegrass music historian, journalist, producer, and actor based in Roanoke, Virginia.
Read the Full Bio