Howard Staton "Cedric Rainwater" Watts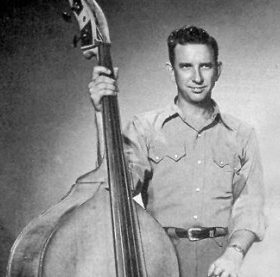 Year Inducted: 2007
Born: February 19, 1913 in Monticello, Florida, United States
Died: January 21, 1970 in Nashville, Tennessee, United States
Primary Instrument: Bass
"His metronomic playing serves as a rhythmic reference for everyone in the band, freeing them from any worries whatsoever concerning the location of the beat."
Biography
A medical condition exempted him from service during World War II, at a time when the war effort created a scarcity of working musicians.
Performed in the bands of both Hank Williams, Sr. and Hank Williams, Jr.
After Watts left the Foggy Mountain Boys in 1950, his replacement, Chuck Johnson, assumed the comedy role of his "brother," Jody Rainwater.
Florida native Howard Watts embarked on his musical career in the early days of the Great Depression as a singer and guitarist. During this era he formed his own Howard Watts Trio, won a talent contest, and appeared on his first radio broadcast. As the 1930s progressed, Watts added to his performing capabilities by teaching himself to tap dance and by working up comedy routines. With a friend, he joined a group known as Jim Boyd and the Melody Boys and toured throughout Florida, Georgia, and Alabama.
In 1938, he adopted the stage name of "Arizona Slim" and teamed up with "Tex" Willis to form Tex and Slim and the Sunset Ramblers. The group, heavily steeped in western music, wore ten-gallon hats and bandanas. Even with the addition of Howard's crowd-pleasing fire-eating stunts, the band was unable to make a go of it. The duo soon found musical employment with Jacksonville-based Dock Williams (not the same performer as Wheeling-based Doc Williams) and the Santa Fe Trailriders. It was while working in Jacksonville that Watts met and became friends with Florida fiddler Chubby Wise.
In 1941, Watts moved to Nashville in hopes of hooking up with an established group. His friend "Tex" Willis was working in a western swing outfit, Paul Howard and his Arkansas Cotton Pickers, and before year's end Howard was signed on to play guitar. While working with the Cotton Pickers, Watts developed an interest in the bass fiddle. Two years later, with the assistance of Chubby Wise, he joined Bill Monroe's Blue Grass Boys, playing bass. It was a post he would hold, off and on, for the next five years.
As soon as he joined Monroe's group, Watts adopted a new comedic stage name, C. Cedric Rainwater. Eventually, the "C." was dropped and he was known simply as Cedric Rainwater. His comic persona dressed in "baggy pants, suspenders, and a funny-looking hat" while he would "play bass with the band, interjecting comments that tickled band and audience," according to Tom Ewing's May, 2002 biography in Bluegrass Unlimited. Other band members included Dave "Stringbeans" Akeman on banjo, Sally Ann Forrester on accordion, Chubby Wise on fiddle, and Clyde Moody on guitar.
Working with Monroe wasn't easy. The recording and radio star had a traveling tent show that usually worked five nights a week and then journeyed back to Nashville for the Saturday evening Grand Ole Opry. In addition to performing, traveling, and assisting with the set up and tear down of the tent, the Blue Grass Boys also competed against local baseball teams prior to their performances.
Watts' recording debut came in February of 1945 when he journeyed to Chicago with Bill Monroe to record eight sides for Columbia. Monroe had yet to solidify the definitive bluegrass sound and this session included a variety of elements that later disappeared from the music, most notably two-finger style banjo and accordion. Four vocal solos featured Monroe, and there were also one instrumental, one duet, and two trios.
Although Watts had only been playing bass for a year or so, Tom Ewing's biography noted his "great tone and style throughout the session."
Reflecting the influence of western swing, Howard Watts played walking bass (a quick four beats to the-measure) on about half the recordings on his initial session. Others had used the technique sporadically throughout a song, but he was the first to do so from start to finish. Examples include the bluesy vocal "Rocky Road Blues" and the swingy instrumental "Blue Grass Special."
A turnover in personnel resulted in what has come to be termed the "original bluegrass band," that included Bill Monroe on mandolin, Lester Flatt on guitar, Earl Scruggs on banjo, Chubby Wise on fiddle, and Howard Watts on bass. No time was wasted in getting this classic ensemble into the recording studio. Over a two-day period, September 16 and 17, 1946, a dozen songs were recorded. Again, Howard walked his bass through a number of songs and tunes such as "Heavy Traffic Ahead," "Blue Yodel No. 4," "Will You Be Loving Another Man," and "How Will I Explain About You." He also contributed baritone harmony to "Summertime is Past and Gone."
This group recorded together one more time, again over a two-day period. On October 27 and 28, 1947, a marathon session produced a total of 16 masters. Howard walked the bass on four songs: "Little Cabin Home on the Hill," "Sweetheart, You Done Me Wrong," "When You Are Lonely," and "Along About Daybreak." Curiously, a number of songs were recorded with minimal or no bass. On one song, "I Hear a Sweet Voice Calling," he played bass on the verses and instrumental breaks but ceased playing on the verses to concentrate on singing baritone harmony. He also sang bass on five gospel quartet selections which included only guitar and mandolin backing. One of these, "Remember the Cross," was written by Howard Watts and his wife Alice.
In the spring of 1948, Lester Flatt and Earl Scruggs left Monroe and shortly afterwards organized their own group, the Foggy Mountain Boys. Howard Watts turned in his notice as well and became a charter member of the ensemble. He stayed with that band for nearly two years, working with them on radio in Danville, Virginia; Hickory, North Carolina; Bristol, Virginia; Knoxville, Tennessee; and Lexington, Kentucky. He participated in Flatt & Scruggs' first four recording sessions for Mercury, cutting a total of 16 songs. Among the standouts were "My Cabin in Caroline," "Foggy Mountain Breakdown," "Baby Blue Eyes," as well as a gospel composition he co-wrote with his wife, "I'll Be Going to Heaven Sometime."
A growing family prompted Howard to leave the road in order to have a more stable home life. Instead of securing steady local employment, Howard soon found himself working in one of the busiest outfits of the day, Hank Williams and the Drifting Cowboys. With Hank, he toured, played the Opry, did radio work – including shows for Mother's Best Flour which were recently issued by Time Life – and most likely assisted with Hank's MGM recordings. Williams' untimely passing on January 1, 1953, left Howard without steady employment.
For a brief period of time, Watts found work with Hank Snow's Rainbow Ranch Boys. The Drifting Cowboys reunited to help up-and-coming country star Ray Price on one of his early Columbia sessions. For the balance of the decade, and into the early 1960s, Howard often worked as a bass player and featured soloist in his comic persona "Cedric Rainwater" for a variety of entertainers such as Marty Robbins, Carl Smith, Ernest Tubb, Hawkshaw Hawkins, Ferlin Husky, Patsy Cline, Cowboy Copas, Lefty Frizzell, and Johnnie & Jack. He also did session work in Nashville. Of interest to bluegrass fans are the recordings he helped make with Bill Monroe – featuring Carter Stanley – in 1951, six songs by Jimmy Martin and the Osborne Brothers for RCA in the middle 1950s, several of Jimmy Martin's first solo recordings for Decca, also in the middle 1950s, and a Flatt & Scruggs session in 1957.
In the early 1960s, Watts left performing and recording to take a job with the Aud-Lee booking agency, a firm that was set up by Hank Williams widow, Audrey, and talent agent Buddy Lee. A subsequent foray into the restaurant business was cut short when Hank Williams, Jr. resurrected the original Drifting Cowboys. Howard Watts worked in this capacity for about two years until his untimely passing from a fatal heart attack. He was 56.
– Gary Reid is a bluegrass music historian, journalist, producer, and actor based in Roanoke, Virginia.
Read the Full Bio