Jake Tullock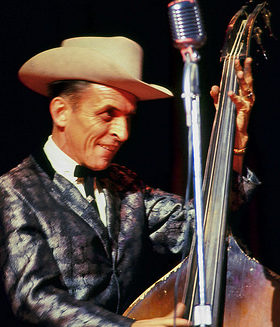 Year Inducted: 2018
Born: July 23, 1922 in Etowah, Tennessee, United States
Died: June 18, 1988 in Maryville, Tennessee, United States
Primary Instrument: String Bass
"For something that's so easily understood when it's heard, this bluegrass music is hard to play."
Biography
Jake Tullock is revered today as the most-visible and longest-tenured bass player and comedian with Lester Flatt and Earl Scruggs, the most commercially successful act of the early days of bluegrass. He also performed with other early pioneering groups such as the Bailey Brothers and Esco Hankins. Tullock capped his musical career in the early 1970s as a member of Lester Flatt's Nashville Grass.
Tullock was born in 1922 in Etowah, Tennessee, a small community located some sixty-five miles southwest of Knoxville. His earliest exposure to music was the singing in his church. The young man formed a gospel quartet with his sisters and provided guitar accompaniment; the foursome enjoyed a robust local following. The budding teen musician often went by the name Junior to avoid being confused with his father, English P. Tullock, Sr., who composed a few hymns during this period.
At the age of sixteen or seventeen, Tullock relocated to Knoxville, Tennessee, where he stayed with an aunt and uncle. The area sported several popular live country music radio shows on powerhouse WNOX, including the daily Mid-Day Merry-Go-Round and the Saturday evening Tennessee Barn Dance. Jake found musical employment with several of the groups that regularly appeared on these programs.
From 1942 to 1946, Tullock's career as an entertainer was put on hold while service in the Army landed him in faraway places such as the Philippines and New Guinea. At war's end, he was back in Knoxville, learning the trade of bricklaying. But the lure of music was strong. A chance meeting with another area musician, Burkett "Uncle Josh" Graves, led to Tullock's acquisition of a string bass. He subsequently joined Esco Hankins and the Crazy Tennesseans, of which Graves was a member. Jake is reported to have participated in at least one recording session with the group and, with Graves, provided much of the band's comedy. It was Hankins who tagged Tullock "Cousin Jake," a moniker which stuck with him for the rest of his career.
After a year of service with Hankins, Tullock sought non-musical employment in a textile mill. But as before, the allure of music was strong and he left to spend most of the next six years with the Bailey Brothers and the Happy Valley Boys, an early bluegrass ensemble. Like many of the early groups, Jake and the Baileys periodically jumped from station to station, logging time in Knoxville; Raleigh, North Carolina; Roanoke, Virginia; and Wheeling, West Virginia. Jake participated in virtually all of the Bailey Brothers' recording sessions from the late 1940s to the early 1950s. Songs recorded for the Rich-R-Tone and Canary labels included "The Sweetest Gift, a Mother's Smile," "Alabama," "I Never Will Marry," and "We Shall Rise."
In early 1954, Jake returned to Knoxville to work with up-and-coming country artist Don Gibson. It was at this time that Tullock first met Lester Flatt and Earl Scruggs. In the spring of that year, he became a member of that duo's Foggy Mountain Boys. In short order, on May 19, he made his recorded debut with the group. "You're Not a Drop in the Bucket" highlighted Jake's high baritone harmonies and, during a well-placed pause in the singing, a smack of the bass.
Flatt and Scruggs were well on their way to establishing themselves as the premier bluegrass act of the decade. They hopscotched from Knoxville to Crewe, Virginia (just outside Richmond) and eventually to Music City. Appearances on WRVA's Old Dominion Barn Dance and radio programs on Nashville's WSM (sponsored by Martha White Mills) did much to increase their visibility. Television (also sponsored by Martha White) soon entered the mix.
In the midst of this frenetic pace, complications from Jake's World War II-contracted malaria necessitated a break from life on the road. From 1955 until 1958, he resided in Knoxville and played locally with the Bailey Brothers and other area musicians.
Flatt and Scruggs again sought out Tullock in the early part of 1958. By now, with the group's membership on the Grand Ole Opry, a steady circuit of television work, and the promise of a weekly paycheck, Jake returned to the Foggy Mountain Boys. He remained with the outfit until its demise in the early part of 1969.
For eleven years, Jake proved an indispensible part of the Flatt and Scruggs troupe. A spot-on bass player, he was so much more. Recalling their days together in the Esco Hankins outfit, Jake and Josh Graves (by now also a Foggy Mountain Boy) worked up riotous comedy routines. Additionally, Jake's distinctive high harmony vocals became an integral part of the Flatt and Scruggs sound, especially in the middle and later 1960s. As part of the best-selling bluegrass act of the day, Jake appeared on some 230 of Flatt and Scruggs's recordings, making him one of the most widely heard bass players in bluegrass history.
In an era when bluegrass sidemen were not encouraged to make their own recordings, Jake and Josh recorded and released an entire album that mixed comedic selections with bluegrass instrumentals and vocal standards. Just Joshin' appeared on the independent Cotton Town Jubilee label in 1963.
Among Jake's career highlights with Flatt and Scruggs were appearances at Carnegie Hall, the Newport Folk Festival, participation on the first chart-topping bluegrass recording ("The Ballad of Jed Clampett," theme of the hit television series The Beverly Hillbillies), recording the soundtrack to the Bonnie and Clyde movie, and participation in the 1969 presidential inaugural parade.
Following the breakup of Flatt and Scruggs in 1969, Jake remained with Lester Flatt as part of his Nashville Grass. His stay with the group was short-lived. In May of 1970, he suffered a heart attack and a year later retired from the road. He took a job as a police dispatcher in his hometown of Etowah. Over the years, he made guest appearances on various concerts and festivals (including a 1983 Foggy Mountain Boys reunion) and assisted the Bailey Brothers with the recording of two new albums. Jake passed away at the age of sixty-five on June 18, 1988.
Jake was an often-emulated, much-admired bass player with a long and broad musical career. Among his most ardent admirers is Barry Bales, another Tennessean who has likewise enjoyed high visibility through his long tenure with Alison Krauss; Bales emulates Jake Tullock in the Flatt and Scruggs tribute band, the Earls of Leicester. In 1994, the town of Etowah paid homage to its native son by launching the Jake Tullock Memorial Bluegrass Festival, an annual one-day event that continues to this day.
– Gary Reid is a bluegrass music historian, journalist, producer, and actor based in Roanoke, Virginia.
Read the Full Bio