Jimmy Martin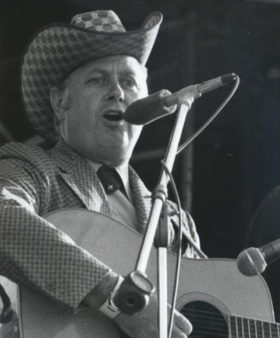 Year Inducted: 1995
Born: August 10, 1927 in Sneedville, Tennessee, United States
Died: May 14, 2005 in Nashville, Tennessee, United States
Primary Instrument: Guitar
"Martin's high, reedy voice, and subtle intonations complemented Monroe's singing extremely well, and his strong rhythm guitar playing, punctuated frequently with dynamic bass runs, gave the Blue Grass Boys a surging, supercharged sound that not even the Lester Flatt years had witnessed…. Martin and Monroe evoked images of that lonesome, rural life that had originally been the context for bluegrass music's emergence. It was 'white soul singing' at its best."
Biography
Jimmy Martin was a true original in any field of endeavor. A talented singer and guitar player, he was a musical perfectionist with a clear and unswerving vision of what would sound good and please the public. He led some of the tightest performing and recording ensembles in the history of bluegrass. He was also profoundly insecure, compensating with a brash and overbearing personality that derailed many personal and professional opportunities. For good or ill, no one who ever saw Jimmy Martin ever forgot him.
Born in the east Tennessee farming community of Sneedville, Jimmy Martin was the middle of seven children, two of whom died in infancy. When he was four and his father died of pneumonia, Jimmy and his siblings assumed much of the farm work, under the cruel direction of stepfather Ellis Johnson. Johnson sang gospel music in a quartet and took the aspiring vocalist with him to performances, but discouraged Jimmy's interest in instruments because of his religious beliefs.
Martin dropped out of school in the eighth grade and left home for work as a painter and factory hand, playing music on the side. Hearing that lead singer and guitarist Mac Wiseman would be leaving Bill Monroe in 1949, the 22-year-old took a bus to Nashville and insinuated his way backstage at the Grand Ole Opry. Monroe's banjo player Rudy Lyle heard him sing and arranged an on-the-spot audition. A week later, Jimmy was on the road as a Blue Grass Boy.
During several stints with the band, Jimmy Martin participated in 11 Decca sessions during 1950, 1951, 1952, 1953, and 1954. Martin's high voice and vocal stamina contributed to a more intense and harder-edged sound for the style (which had not yet been named bluegrass). The Monroe-Martin harmonies are revered as some of the best and most affecting ever recorded, including "Memories of You," "I'm On My Way to the Old Home," "I'm Blue, I'm Lonesome," "Uncle Pen," "Lord Protect My Soul," "Letter from My Darling," "Memories of Mother and Dad," "The Little Girl and the Dreadful Snake," and "On and On."
Money was tight in those days, and Jimmy Martin tried several times to find a better-paying musical niche. In 1951, he joined the Lonesome Pine Fiddlers and recorded four sides for King with bandmate Bobby Osborne under their own names. After Bobby's stint with the Marines in Korea, they formed Jimmy Martin & the Osborne Brothers at WJR-AM in Detroit and CKLW-TV in nearby Windsor, Ontario. RCA liked the sound and released three singles, including "Save It! Save It!" and "20/20 Vision." The Osbornes left for Wheeling in 1955, and Jimmy decided to stay in Detroit at the head of a group he called the Sunny Mountain Boys.
Decca had become interested in recording Jimmy as a solo act while he was a Blue Grass Boy on that label. In 1956, he began 18 years with Decca by recording "Hit Parade of Love," "You'll Be a Lost Ball," and six others. By the next year, he had assembled his classic band, with brother-in-law Paul Williams on round-hole mandolin and tenor vocals and J.D. Crowe on banjo and baritone vocals. The act rehearsed diligently and was hard to beat in any field of music. From 1958 to 1960 they starred at the Louisiana Hayride in Shreveport, and from 1960 to 1962 at the Wheeling Jamboree in West Virginia. KWKH and WWVA were both clear-channel 50,000-watt powerhouses that exposed the Sunny Mountain Boys to millions. In 1962, Martin returned to Tennessee and established his base of operations just outside Nashville, where WSM's Grand Ole Opry proved an elusive goal.
During the Decca/MCA years, some of Jimmy Martin's most popular tunes were "Sunny Side Of The Mountain," "Widow Maker," "Ocean Of Diamonds," "Freeborn Man," and "You Don't Know My Mind." A few of the other musicians who passed through the band included Bill Emerson, Paul Craft, Doyle Lawson, Vic Jordan, and Alan Munde on banjo; Earl Taylor, Vernon Derrick, and Ronnie Prevette on mandolin; Bill Yates on bass; Tater Tate on fiddle; and Lois Johnson, Penny Jay, and Gloria Belle as high harmony singers and instrumentalists. Jimmy's MCA contract – as well as those of country music icons Ernest Tubb and Loretta Lynn – ended in 1974.
Jimmy continued recording with Gusto and performing in country and bluegrass settings, including outdoor parks in the border states and a growing circuit of festivals. He drew national attention among new audiences as a featured guest on the Nitty Gritty Dirt Band's three Will the Circle Be Unbroken album projects, and as the subject of a book (True Adventures with the King of Bluegrass, 1999) and a movie (King of Bluegrass: The Life and Times of Jimmy Martin, 2003). Feisty to the end, Jimmy served as ambassador for the Bean Blossom Bluegrass Festival and held court each year in the lobby of the International Bluegrass Music Association's annual convention. After he was diagnosed with bladder cancer in 2004, a steady stream of fans and interviewers passed through his home in Hermitage Hills until the end came on May 14, 2005, at the age of 77.
– Fred Bartenstein is a bluegrass music historian and journalist.
Read the Full Bio