Joe Val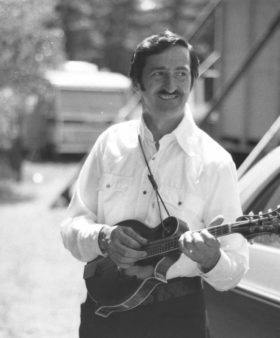 Year Inducted: 2018
Born: June 26, 1926 in Everett, Massachusetts, United States
Died: June 11, 1985 in Boston, Massachusetts, United States
Primary Instrument: Mandolin
"I've played some terrible places in my time. The Hillbilly Ranch was the best of them, and we used to call it 'The Zoo.' But at least they kept it under control. Places like the Novelty Bar were the worst . . . The Mohawk Ranch on the corner of Dartmouth Street and Columbus Avenue was the first place to have hillbilly music even before the Hillbilly Ranch existed. It was the only place in the world where I had a guy stick a gun in my ribs. It took ten years off my life."
Biography
Joe Val was a mandolin player from the Boston area who possessed a soaring tenor voice and did much to popularize bluegrass in the New England states. He apprenticed under the Lilly Brothers, West Virginian transplants to Boston, before making his own mark with groups such as Bill Keith and Jim Rooney, the Charles River Valley Boys, and ultimately his own Joe Val and the New England Bluegrass Boys.
Born of Italian descent as Joseph Paul Valiante in the Boston suburb of Everett in 1926, Val developed an interest in country music early in life; a chance hearing of Canadian country and western singer Wilf Carter on the radio sparked his interest in the music. When Joe was fourteen, his grandmother gave him a guitar; he later added banjo and mandolin to his repertoire. After hearing the music of Bill Monroe, he switched his focus to bluegrass. Music was a hobby and sideline for Val early in his career; his primary occupation was repairing typewriters.
New England's live country music scene was robust in the mid-twentieth century. Appearing locally, Toby Stroud and Blue Mountain Boys, the Lilly Brothers and Don Stover, and the duo of Jerry and Sky did much to inform Joe's tastes in bluegrass. An early 1950s visit to the Hillbilly Ranch, a Boston hotspot, found Joe in the audience enjoying the music of the Lane Brothers. Joe was asked onstage to play on several selections. Band member Tex Logan queried Joe about his name so he could make an introduction. Finding Valiante too cumbersome, Logan—on the spot—abbreviated the name to Val; it stuck for the remainder of Joe's career.
In 1952, radio station WHIL signed on the air from Medford, Massachusetts. One of the earliest live combos to appear on the station was the Radio Rangers, a country music ensemble that was headed up by Maine native Slim Sullivan; Joe Val played lead guitar. The Rangers also played at the Mohawk Ranch, another Boston club that featured country music, and the Hayloft Jamboree, which was broadcast over Boston's WCOP. It was during this era that Joe took up an interest in the mandolin. The Hayloft Jamboree featured hotshot mandolin picker Buzz Busby. But it was the playing of Everett Lilly that really ignited Joe's passion for the instrument.
The Lilly Brothers and Don Stover moved to the Boston area in the early 1950s and helped to establish bluegrass in the area. Joe learned much from Everett's playing and at times even participated in some of their performances at the Hillbilly Ranch; most notably, he filled in on banjo in 1957 when Don Stover spent six months working with Bill Monroe.
Joe kept a hand in performing as part of a group known at the Berkshire Mountain Boys, which he joined in 1960. The band also included Herb Applin, a guitar player and fiddler who would become Joe's singing partner for much of the decade. In 1962, Joe and Herb teamed up with banjoist Bill Keith and guitar player/singer Jim Rooney, stalwarts at the Club 47, a Cambridge folk club popular with a college crowd. Joe made his first trip to the recording studio with Keith and Rooney; he appeared on their 1962 Prestige album Livin' on the Mountain. Joe's presence in the band raised its professionalism to a new level and brought into its repertoire Bill Monroe favorites such as "I Hear a Sweet Voice Calling" and "Goodbye Old Pal."
Joe and Herb branched out as a duo, where they had the chance to perform many of the duet favorites that they had learned from the likes of the Blue Sky Boys, the Webster Brothers, and the Louvin Brothers. Known as Val and Applin, the duo was short-lived as Joe moved on to other endeavors.
Joe's next move was in 1964 to the Charles River Valley Boys, a group initially composed of Harvard and MIT students. In 1966, the band recorded its now legendary Beatle Country album on the Elektra label. Initially skeptical about the project, Joe in time came to embrace it. His vocal solo "Norwegian Wood" was regarded as a highlight and the album itself did quite well; it was reissued on CD in 2006.
In 1967, Joe teamed again with Herb Applin to form the Old Time Bluegrass Singers, a band that eventually included Bob French on banjo and Bob Tidwell on bass. They performed on the college, coffeehouse, television, and nightclub circuit for several years before renaming themselves Joe Val and the New England Bluegrass Boys. Among their highlights was a guest spot at Carlton Haney's 1970 Berryville, Virginia, festival. The band's debut album, One Morning in May, recorded in the spring of 1971 with the catalog number of 0003, was among the handful of releases that launched Rounder Records.
During the fifteen-year run of the New England Bluegrass Boys, the band went through numerous personnel changes and released six albums for Rounder, all of which met with critical acclaim. A broad range of material was drawn from then-recent country groups, classic country, old-time, traditional, and bluegrass. The band was equally at home with selections from Merle Haggard, Porter Wagoner and Dolly Parton, the Louvin Brothers, Bill Monroe, and the Stanley Brothers. The group maintained a mostly regional profile, with performances mainly in the Northeast. One diversion was a 1981 tour of Europe, which resulted in the release of a live album on the Dutch Strictly Country label.
Headed into the early 1980s and freed from the constraints of a day job, Joe Val was able to make more of a national and international presence as a musician. For instance, in 1982 the New England Bluegrass Boys traveled to fifteen states and five foreign countries. After having been in the business for just shy of twenty-five years, and having positioned his group to take its place alongside many of the mainstream bluegrass acts, Joe was diagnosed in 1984 with lymphoma and succumbed to it on June 11, 1985.
In addition to Joe Val's musical legacy as a mandolin-playing tenor singer in the Bill Monroe tradition who did much to spearhead the popularity of bluegrass in the Northeast, he is fondly remembered as a nice guy and really sweet person. Shortly before Joe's passing, a benefit concert was held to help defray his medical expenses. The following year, this morphed into a Joe Val Day and eventually the Joe Val Bluegrass Festival. Joe received a posthumous Award of Merit (Distinguished Achievement Award) from the International Bluegrass Music Association in 1995 and the festival received the organization's award for Event of the Year in 2006.
– Gary Reid is a bluegrass music historian, journalist, producer, and actor based in Roanoke, Virginia.
Read the Full Bio