John Hartford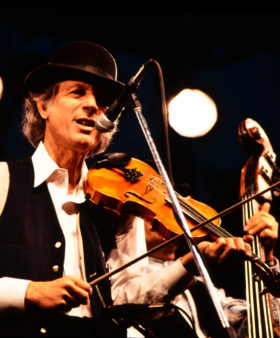 Year Inducted: 2010
Born: December 30, 1937 in New York, New York, United States
Died: June 4, 2001 in Nashville, Tennessee, United States
Primary Instrument: Banjo and fiddle
"I was bad to sit and daydream in school anyway and many times when I could hear the wind in the trees outside the classroom window, it sounded like fiddles and banjos off in the distance somewhere, and I then couldn't even begin to be able to concentrate on what was happening up on the blackboard."
Biography
John Hartford was born John Cowan Harford (the "t" in Hartford was added later by record producer Chet Atkins), in New York City on December 30, 1937. The son of a medical doctor, John grew up in St. Louis, Missouri, where he acquired a love for music and the Mississippi River.
John's parents loved to square dance, both to recorded and live music. By his early teens, John was fiddling and played for a few dances. A 1953 release by Flatt & Scruggs of an instrumental called "Dear Old Dixie" forever transformed his life. In June of that year, shortly after hearing the tune on the radio, fifteen-year old John saw the band in person at Chain of Rocks Amusement Park in St. Louis. He was especially taken by the sounds of the banjo and fiddle, as played by Earl Scruggs and Benny Martin. With the assistance of local fiddle legend Gene Goforth, John tried to emulate Martin's style of fiddling. With a set of finger picks, he also worked at the Scruggs style of banjo playing.
In the 1950s, John worked with several groups, including the Mississippi Valley Boys, Missouri Ridgerunners and the Dixie Ramblers, which also included future Bluegrass Hall of Fame members Doug and Rodney Dillard.
From 1958 until 1963, John was part a group known as Don Brown and the Ozark Mountain Trio. The band gained quite a bit of prominence locally and had radio shows on several stations, a lot of television work, and even scored an appearance on the Ernest Tubb Midnight Jamboree in Nashville. With the Trio, John made his first recordings four songs that were cut as part of a various-artists gospel album put together for, St. Louis radio station KXEN.
In 1963 John left the Trio to work in record distribution, promotion, and as a disc jockey. At WHOW in Clinton, Illinois, he reconnected with Red Cravens and the Bray Brothers, whom he had met at Bill Monroe's Brown County Jamboree Park in the late 1950s. John performed in various configurations with these musicians and Pat Burton. In the 1970s Hartford produced two albums of their early and classic radio programs.
A move to Nashville in 1965, to take a job at radio station WSIX, set in motion a series of events that put John's career on an upward trajectory. Newly in town, he signed as a songwriter with the Glaser Brothers publishing concern, who in turn landed a deal for him with RCA as a recording artist. From 1967 to 1971, during the folk music boom, he released six albums and several singles for the label, including his composition, "Gentle on My Mind." He also began doing work as a solo performer. Several of his RCA recordings made it to the Smothers Brothers, who were riding high with their popular comedy/variety TV show. Soon, John found himself in Los Angeles as a writer for the program, as well as for the show's spin off, The Glen Campbell Goodtime Hour.
It was John's association with Glen Campbell that put him on the map. While John's earlier recording of "Gentle on My Mind" had charted modestly in the Billboard country charts and had been covered by a few other artists, it was Campbell's 1969 release that turned it into a mega success. It became the most-played country song of 1969, and won four Grammy awards that year, two of which went to John and two to Campbell. The song has since been recorded at least 400 times by artists including Elvis Presley, Aretha Franklin, Frank Sinatra, Lou Rawls, Tammy Wynette, and Waylon Jennings. According to BMI, the song has been played at least six million times on the air. The biography on his website notes, "Hartford often said that 'Gentle on My Mind' bought his freedom."
1971 was a busy year for John. He moved from RCA to Warner Brothers, where his first release, Aereo-Plain, became an instant classic. Along with Vassar Clements, Norman Blake, and Tut Taylor, the Aereo-Plain Band (which Hartford dubbed the Dobrolic Plectral Society in honor of Taylor's unusual style of flat-picking the Dobro) artfully moved bluegrass in a new direction. Sam Bush noted, "Without Aereo-plain, there would be no 'newgrass' music." The foursome enjoyed a brisk season on the summer festival circuit. The same year saw the publication of the first of John Hartford's two books, Word Movies, a collection of his original lyrics and poems.
The following year, John recorded and toured with Norman Blake. The follow-up LP to Aereo-Plain, called Morning Bugle, also featured jazz bass master Dave Holland.
While advancing his music career in the late 1960s and early 1970s, John also pursued his other love the river. Having previously worked as a deckhand on towboats and the Delta Queen, he spent three years working toward a pilot's license that would enable him to operate riverboats on inland waterways. Starting in 1973, he worked on the Julia Belle Swain, pulling 10 days of duty each month between Memorial Day and Labor Day. His love of the river and experiences as a riverboat pilot no doubt contributed greatly to his Grammy-winning 1976 release for Flying Fish called Mark Twang.
Over the next quarter century, John released nearly thirty recorded projects, mostly solo recordings. The Chicago-based Flying Fish label was home to the largest share of these releases. Other outlets included Rounder, his own Small Dog a-Barkin', Acoustic Disc, Dot, Blue Plate, and even the Children's Book-of-the-Month Club.
John's association with Flying Fish extended from 1976 to 1991. In all, he had eleven projects released on the label. These included several reunions with his old picking buddies from Missouri, Doug and Rodney Dillard (Glitter Grass from the Nashwood Hollyville Strings); with Vassar Clements and Dave Holland, who both recorded with him in the early '70s on Warner Brothers (Vassar Clements, John Hartford, Dave Holland); and a pairing of John with his son, Jamie (Hartford and Hartford). During this era, John helped to resurrect the career of his fiddling hero Benny Martin, incorporating him on a number of the Flying Fish projects and playing on Martin's own Tennessee Jubilee.
The Rounder releases included another reunion with Doug and Rodney Dillard (Permanent Wave), a coupling with old-time banjoist Bob Carlin (The Fun of Open Discussion), two solo outings (Wild Hog in the Red Brush and The Speed of the Old Long Bow), two projects with the Hartford String Band (Good Old Boys and Hamilton Ironworks), and a collection of out-takes and jam sessions from the 1971 Aereo-Plain project (Steam Powered Aereo-Takes).
The 1980s were busy years for John. He was working 150 to 200 dates per year as a solo, often accompanied by his wife Marie and two drivers. He showcased his fiddle, guitar, and banjo talents and incorporated an additional percussive sound on a number of selections by dancing on a piece of amplified plywood. The practice became a trademark of his live performances. In addition to musical tour dates, he worked as a riverboat pilot during the summer months.
In 1986, the second of John's books was published, Steamboat in a Cornfield. Aimed primarily at young readers, the book documented the grounding, and subsequent re-floating, of the steamboat Virginia in circa 1910. One reviewer cited Hartford's style for the narrative as a "ballad-like poem."
John augmented his touring, recording, and writing activities by helping with adding music and narration to the 1990 The Civil War series, produced by Ken Burns for PBS. A year later, he wrote and hosted a special for the Nashville Network called Fiddles, Banjos, Riverboats, subsequently released as a home video.
In 1991, John founded his own label, Small Dog a-Barkin', and released six of his own projects as well as three by other artists. Titles released on the label included Cadillac Rag (1991), Goin' Back to Dixie (1992), The Walls We Bounce Off Of (1994),
Old Sport (with fiddler Texas Shorty, 1994), Live at College Station Pennsylvania (1995), and No End of Love (1996).
John's last recorded triumph came in 2001 with the release of the O Brother! Where Art Thou? soundtrack. He received his fourth Grammy for his part of the project and participated in the highly successful Down From the Mountain tour. It was while on this tour that John was forced to retire, due to complications from non-Hodgkin's lymphoma. He battled the disease for twenty-one years and succumbed to it on June 4, 2001. At the time of his passing, he was working on the manuscript to a third book, a biography on old-time fiddler Ed Haley.
– Gary Reid is a bluegrass music historian, journalist, producer, and actor based in Roanoke, Virginia.
Read the Full Bio