John Ray "Curly" Sechler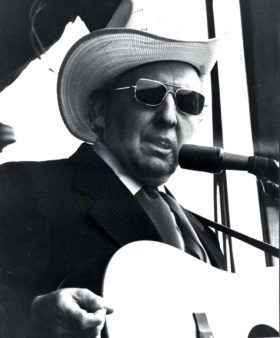 Year Inducted: 2004
Born: December 25, 1919 in China Grove, North Carolina, United States
Primary Instrument: Mandolin
"Leading the Nashville Grass was the best time of my career."
Biography
Curly Seckler embarked on a music career over 75 years ago to escape the hard life of picking cotton on the family farm in China Grove, North Carolina. With a neighbor, Murray Belk, Curly and his brothers (Marvin "Slim," George, and Duard "Lucky") formed a band known as the Yodeling Rangers. The group secured a spot on radio station WSTP in Salisbury, North Carolina. The show was simulcast on several other stations, including WSJS in Winston-Salem and WPTF in Raleigh.
Curly's first big break came in 1939 when he came to the attention of Charlie Monroe. The Monroe Brothers – one of the most popular country music acts of the 1930s – had recently disbanded and the older Monroe was looking for someone to replace his younger brother. After much persuasion, Curly agreed to sign on as the banjo player and tenor singer for Charlie Monroe's Kentucky Pardners. At the age of 19, Curly found himself with Monroe in Wheeling, West Virginia, appearing on WWVA and the World's Original Jamboree. He received an unheard of (to him) salary of $20.00 a week.
Following his tenure with Monroe, Curly teamed up with Tommy Scott (another Charlie Monroe alumnus) and the two worked as a duo under the sponsorship of Vim Herb Products. World War II put Curly's musical career on hold. Although he did work briefly with Leonard Stokes, in a duo known as the Melody Boys, Curly stayed put in Columbus, Ohio, working for the post office. Near the War's end, he found work in Nashville with the Bailey Brothers as a stand-in for Charlie Bailey, who had been drafted.
The late 1940s were busy years for Curly. In 1945, he rejoined Charlie Monroe's Kentucky Pardners in Winston-Salem, North Carolina, and moved with that band to Charlotte and then WNOX in Knoxville. During this stint, he recorded four songs with the group, including some of the Pardners' best-known recordings: "Who's Calling You Sweetheart Tonight," "There's No Depression in Heaven," and "Mother's Not Dead, She's Only Sleeping." The following year, he teamed up with Mac Wiseman in Bristol, Virginia/Tennessee. When Mac left to join Flatt & Scruggs' new group in the spring of 1948, Curly worked briefly in Knoxville with his own band and then rejoined Charlie Monroe in Bristol. By year's end, he was in Augusta, Georgia, with a group that included Jim & Jesse McReynolds, Hoke Jenkins, and Wiley Morris. The act billed themselves as the Smoky Mountaineers. The next year, 1949, Curly joined up with Flatt & Scruggs, the group with which he would become most associated.
It wasn't long before Curly was in the recording studio with Flatt & Scruggs, making the first of what would amount to 138 recordings with that group. He appeared on 24 of the 28 sides the group recorded for Mercury Records, including classics such as "Roll in My Sweet Baby's Arms," "Old Salty Dog Blues," "Preachin', Prayin', Singin'," and "Foggy Mountain Breakdown," as well as one of his own compositions, "No Mother or Dad." When the group moved to Columbia in November of 1950, Curly was there for the debut session, with such memorable cuts as "Come Back Darling," "I'm Waiting to Hear You Call Me Darling," "The Old Home Town," and the Flatt-Seckler composition "We Can't Be Darlings Anymore."
In the early part of 1951, Curly left the Foggy Mountain Boys and joined the Sauceman Brothers in Bristol. He worked with them for eight or nine months and appeared on their Farm & Fun Time broadcasts. Although he never recorded with the group, he can be heard on a series of radio broadcasts released as On WCYB Bristol. By the end of the year, Curly was working with another WCYB band, the Stanley Brothers. He engineered that band's move to WVLK in Lexington, Kentucky. His stay with the Stanleys was rather brief and by the early part of 1952, he was working with Jim & Jesse, also in Lexington. One of Curly's most enduring compositions was recorded with Jim & Jesse, the Korean War lament, "A Purple Heart."
Curly rejoined Flatt & Scruggs in the late summer of 1952, moving with them from Raleigh, North Carolina, to Knoxville, Tennessee, and eventually to Nashville. The impetus for moving to Music City was the group's sponsorship by Martha White Mills. The flour company placed Flatt & Scruggs on powerful WSM for daily live early morning radio broadcasts. Eventually, these programs were pre-recorded, allowing the group to tour more extensively.
In 1954, Curly went with Flatt & Scruggs to Virginia once again. They appeared on WSVS in Crewe and were cast members of Richmond's Old Dominion Barn Dance. They started off 1955 back in Nashville, with a new television program that was also sponsored by Martha White.
With the exception of a brief time-out in 1958, when Curly performed with Carl Sauceman in Alabama, Curly appeared with one of the most celebrated versions of the Foggy Mountain Boys, which included Paul Warren on fiddle, Jake Tullock on bass, and Josh Graves on Dobro. When vocalist Hylo Brown was added to the mix in the early part of 1962, Curly made his final departure from the band. For the next decade, he contracted as an independent truck driver. He kept a hand in bluegrass, often times coordinating his trucking runs with newly flourishing bluegrass festivals where he appeared as a solo and/or master of ceremonies. Curly's part-time presence on the music scene led to his debut solo recording for County Records in 1971. Ably assisted by the ultra-traditional Shenandoah Cut-Ups, Curly Seckler Sings Again foreshadowed his full-time return to music.
In 1973, Curly was reunited with his old boss and singing partner, Lester Flatt. He stayed with Flatt's Nashville Grass for the next six years, picking up many of the performance duties as Lester's health began to deteriorate.
Following Flatt's passing in May of 1979, Curly assumed leadership of the band and continued to operate it for the next 15 years. In 1981, Curly added an excellent singer and rhythm guitarist to the band, Willis Spears. Very reminiscent of Flatt from his best days of the early 1950s, Spears' addition to the group allowed Curly to recreate a lot of musical magic from the past. Eventually, Spears was made a partner in the organization.
In 1994, Curly retired the Nashville Grass and gave up full-time touring. He has by no means been inactive since then. He has recorded three new projects (60 Years of Bluegrass With My Friends, Down in Caroline, and Bluegrass Don't You Know) and has seen his 1971 solo album reissued on CD, with several additional tracks. He has been the subject of two cover articles in Bluegrass Unlimited magazine, and is having his life story chronicled in a biography by noted journalist Penny Parsons. He was elected to the International Bluegrass Music Association's Hall of Fame in 2004 and to the North Carolina Music Hall of Fame in 2010. Despite significant health challenges, Seckler continues to bless audiences with his positive and genial personality and frequent stage appearances.
– Gary Reid is a bluegrass music historian, journalist, producer, and actor based in Roanoke, Virginia.
Read the Full Bio