Peter Hamilton Rowan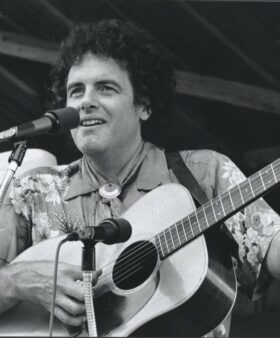 Year Inducted: 2022
Born: July 4, 1942 in Boston, Massachusetts, United States
Primary Instrument: Guitar
"I take inspiration as probably the most important factor in music, and then come the technical things like time and notes and things like that. Inspiration is inspiring, you know, and even if somebody can't really be as technically perfect as someone else, if you've got that spirit, man, you can do it. You have something to say that cannot be held back and it becomes magic then. So, in song writing, I just sort of wait. Suddenly a song will just pop up."
Biography
Peter Rowan's legacy will always begin with his membership in Bill Monroe's Blue Grass Boys, but in a career spanning sixty years, he was that and much more. A performer who has embraced a number of performance styles and genres, he has brought his bluegrass sensibilities to diverse sets of audiences. Throughout the late 1960s and early '70s, he bridged the bluegrass and rock communities, as well as northern bluegrass performers and the music's traditionally southern counterparts. He is a prolific songwriter with literally hundreds of works to his credit.
Peter grew up in a house with homemade music. Both his parents sang and played piano and an uncle played guitar. Some of his first exposure to music outside the home came with attendance at local square dances. On the radio, music from the locally produced Hayloft Jamboree inspired Peter to strum along on a tennis racket. He also fashioned a banjo out of some wood, screws, wire, and a pie plate. One of his first real instruments came at age twelve when his father presented him with an Arthur Godfrey ukulele.
The urge to perform in public came early in life. In high school, Peter's band was called the Cupids. The group featured cover versions of songs by Buddy Holly and Elvis Presley. Around the same time, he heard Joan Baez singing Child ballads in Harvard Square and while too young to enter legally stood outside the doors of Boston's Hillbilly Ranch to listen to the Lilly Brothers and Don Stover. The singing and playing of Eric von Schmidt opened Peter to the world of the blues, and he soon traded an electric guitar for an acoustic. In 1960 and 1961, an annual event billed as the Boston T Party featured the trio of Peter Rowan, Bob Emery (later a founder of the bluegrass band Northern Lights), and David Perkins performing as the "Kingston Trioists."
Rowan spent two years studying literature at Colgate University. During one summer in the early 1960s, he took a break from his studies and headed south to see the nascent Country Gentlemen perform at the Shamrock nightclub in Georgetown, Washington, D.C. The same summer found him jamming at fiddlers' conventions in Galax, Virginia, and Union Grove, North Carolina. Eventually, Peter dropped out of school to devote his energies to music. He organized his own bluegrass band, the Bonney Hill Boys, and played dates in northern New York. Eventually he made his way back to Boston to hook up with Bill Keith and Jim Rooney, whose group included mandolin player Joe Val. The group did much to develop Peter's appreciation for the music of Bill Monroe.
Through his friendship with another Boston bluegrass act, the Charles River Valley Boys, Peter gained the opportunity to perform a series of northeastern dates with Bill Monroe in the fall of 1963. At the conclusion of the tour, Monroe extended an invitation: "You ought to come to Nashville, I can help you."
Rowan accepted Monroe's advice and joined Monroe's Blue Grass Boys in 1964; he was twenty-two years old. He became one of the first northern, college-educated musicians to work for Bill Monroe (Steve Arkin, Bill Keith, and Sandy Rothman slightly preceded him, closely followed by New Yorker Gene Lowinger). While with Monroe, Peter played numerous dates on the Opry, at times served as the band's bus driver, co-wrote two songs with Monroe ("The Walls of Time" and "It's Love"), performed at the first multi-day bluegrass festival, and participated in five recording sessions that netted a total of fourteen songs. Most of the songs and tunes were released on the 1967 album Blue Grass Time.
Peter left Monroe in the early part of 1967. In an abrupt shift of genre, he teamed with mandolinist David Grisman to form Earth Opera, a psychedelic rock group. The band released two well-received albums on the Elektra label: Earth Opera and The Great American Eagle Tragedy. The latter album contained his co-write with Monroe, "It's Love," as well as other Rowan originals.
In 1969, Peter joined fiddler Richard Greene, a former Monroe bandmate, in the roots-fusion band Seatrain. Peter appeared on two of the band's albums, both released on Capitol and produced by famed Beatles producer George Martin: Seatrain and The Marblehead Messenger. As with Earth Opera, Seatrain became an outlet for Peter's original compositions.
Peter returned to the bluegrass format in 1973 with a group that included Richard Greene, Bill Keith, David Grisman, guitar master Clarence White, and several others, the supergroup Muleskinner. Never intended to be a full-time touring outfit, they did release one album for Warner Brothers: Muleskinner – A Potpourri of Bluegrass Jam, and a West Coast television special later released as a CD and DVD. Both albums were made up mostly of bluegrass standards, with a few Rowan and Grisman originals thrown in.
Yet another supergroup came together before year's end. Comprised of Peter Rowan, David Grisman, fiddler Vassar Clements, banjoist Jerry Garcia (at the time, de facto leader of the Grateful Dead), and bass player John Kahn, the group was known as Old and in the Way. The short-lived band lasted a year or less and reportedly played somewhere between thirty to fifty personal appearances. Their self-titled LP was released after the group broke up and contained an artful mixture of bluegrass standards ("Pig in a Pen" and "The White Dove"), a rock band cover (the Rolling Stones' "Wild Horses"), and three of Peter's better-known songs: "Midnight Moonlight," "Panama Red," and "Land of the Navajo." The album became among the best-selling bluegrass releases of all-time and was later joined by two other albums of the band's live show tapes.
As evidenced by the groups that Peter played with in the 1960s and '70s, he was never strictly a bluegrass performer. In 2002, booking/management icon Keith Case noted that "In the mid- and late '80s, it felt like a real challenge, because he played in so many formats. My agents wouldn't know what they were pitching at any given time! . . . He's still performing in five or six different formats." There were excursions into Tex-Mex, Conjunto, Reggae, Native American mysticism, and solo singer-songwriter, to name a few. And, in the middle/late 1970s, he teamed with brothers Lorin and Chris to tour and record as the Rowan Brothers. They released three albums on the Asylum label.
As a songwriter, Peter came to the attention of Nashville-based artists in the 1980s. He wrote hit songs for Ricky Skaggs, "You Make Me Feel Like A Man" (a BMI Award Winning Song); George Strait, "Dance Time In Texas"; and Janie Fricke, "Where Does Love Go When It's Gone").
Despite his many explorations far beyond the style, Peter always came back to bluegrass. This started in 1982 with the release of his Walls of Time album. In 1985, The First Whippoorwill was an album's worth of Bill Monroe songs. In 1988, New Moon Rising paired Peter with the Nashville Bluegrass Band and garnered a Grammy nomination.  All on a Rising Day, released in 1991, sported a stellar cast with Sam Bush, Jerry Douglas, Roy Huskey, Jr., Stuart Duncan, Alan O'Bryant, and then-rising-vocalist Alison Krauss. Peter's only Grammy win, despite numerous nominations, came in 1996 when he placed two songs on the various artists' True Life Blues tribute to Bill Monroe. The same year saw the release of his Bluegrass Boy album as well as a duet project with Jerry Douglas called Yonder. More recently, a pair of releases called The Light in Carter Stanley's Eyes and Calling You from My Mountain demonstrate that, like his mentor Bill Monroe who remained a vibrant touring artist until well into his eighties, Peter Rowan continues as a creative, driving force in bluegrass music.
——
Gary Reid is a bluegrass music historian, journalist, and producer, based in Roanoke, Virginia.
Read the Full Bio