Josh Graves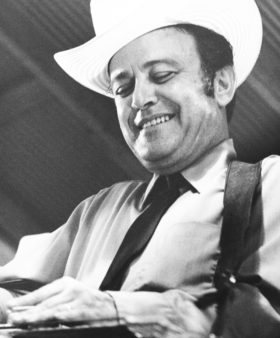 Year Inducted: 1997
Born: September 27, 1927 in Tellico Plains, Tennessee, United States
Died: September 30, 2006 in Nashville, Tennessee, United States
Primary Instrument: Dobro
"I met Cliff Carlisle - he played the Dobro on some of Jimmie Rodgers's records. I remember he and his brother Bill Carlisle came in to Knoxville, Tennessee, in '38, '39... somewhere in there. I was just a little feller, and they played my little home community."
Biography
In 1955 Burkett Howard "Buck" Graves changed the sound of bluegrass music when he added a new instrumental voice, that of the Dobro, to the five instruments — fiddle, guitar, mandolin, bass, and banjo — first heard together in Bill Monroe's Blue Grass Boys of the mid-1940s.
Graves' Dobro became part of bluegrass music when he joined Lester Flatt and Earl Scruggs' band, the Foggy Mountain Boys. Subsequently he participated in all of their Columbia recording sessions except one — more than any other Foggy Mountain Boy.
Lester and Earl hired him to work as bassist, and as comedian in the role of "Uncle Josh." At first he played Dobro only at their recording sessions and on a few pieces in shows. But Uncle Josh's picking was so well received that Lester and Earl quickly moved him to Dobro full-time and hired a second comedian, E.P. "Cousin Jake" Tullock, to play bass. Thereafter, Josh and Jake's wonderful comedy routines and singing were part of every Flatt & Scruggs show.
Josh's Dobro became an integral part of the instrumental signature of bluegrass music's most successful band — not just on their chart-topping records, but on radio and television and in personal appearances as well. Soon other bands began adding the Dobro to their sound.
Graves not only introduced a new voice to this music, he also developed a multifaceted musical vocabulary for it. He had studied the sounds and techniques introduced by the masters of early country music steel guitar — players like Brother Oswald of Roy Acuff's Smoky Mountain Boys, and Cliff Carlisle, who recorded with Jimmie Rodgers. To this he added his own upbeat bluegrass-style picking developed from Earl Scruggs's right-hand banjo technique, which Scruggs personally taught him when they were both working at WVLK near Lexington, Kentucky.
He'd also grown up listening to and playing the music of early blues stars like Blind Boy Fuller. To me his signal contribution came as he added the rhythms and licks of this music to the bluegrass sound. When I first started listening to new bluegrass 45s in 1957-58, each new Flatt & Scruggs single had Josh's picking front and center. Pieces like "Big Black Train" with its bluesy Dobro opening drew me (a teenage R&B fan) into this new music. His blues feeling transformed the Foggy Mountain Boys sound. This can be heard clearly by comparing their 1952 recording of "If I Should Wander Back Tonight" (made before he joined the band) with their 1961 version. There are other examples of this kind of transformation with Josh in the band: compare Flatt and Scruggs' 1950 recording of Flatt's "I'm Head Over Heels in Love" with Lester's 1971 version on Victor.
Graves worked with other top acts besides Flatt and Scruggs. Before joining them he'd played with Esco Hankins, Wilma Lee and Stoney Cooper, and Mac Wiseman. After Lester and Earl split up in 1969, Josh was a member in each of their bands. In 1974 he began performing and recording as a featured soloist. He collaborated with many other leading performers, like the Masters (Eddie Adcock, Kenny Baker and Jesse McReynolds), and Red Taylor to name but a few.
Josh inspired hundreds of musicians to pick up the steel and slide it over the strings of the Dobro. Befriending many of them, he encouraging Dobroists to develop their own music, and sometimes even graciously performed with them on their CDs and at their personal appearances.
– Neil V. Rosenberg is a bluegrass music historian, journalist, and Hall of Fame member.
Read the Full Bio