Larry Sparks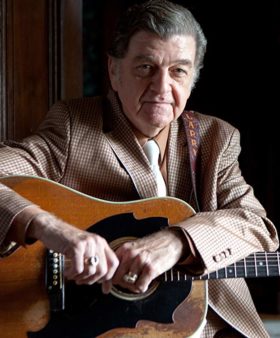 Year Inducted: 2015
Born: September 25, 1947 in Lebanon, Ohio, United States
Primary Instrument: Guitar
"Ralph [Stanley] didn't do much after Carter passed away until about February seventh [1967], I think it was. Ralph was playing Tom's Tavern in Dayton [Ohio]. I didn't know what he was going to do, but I thought I could do the job if he wanted it done. We sang some together there at Tom's and he hired me that night."
Biography
Larry Eugene Sparks was born on September 25, 1947, in Lebanon, Ohio. He began to develop an interest in music at the age of five when his older sister Bernice began to show him a few things on the guitar. Recordings belonging to older siblings and the clawhammer banjo playing of his father further whetted Larry's musical appetite. Attendance in church as a child helped to foster a love for singing and led to opportunities to perform religious music on the radio.  
Listening to the radio played a big part in Larry's musical development. Wayne Raney on Cincinnati's WCKY featured a host of first-tier bluegrass performers, including the Stanley Brothers, Flatt and Scruggs, Bill Monroe, and Reno and Smiley. Other influential broadcasts included the Grand Ole Opry and Nashville's WLAC, which exposed Larry to a variety of blues artists whose influence can be particularly heard in his guitar style.
Around 1960, at the age of thirteen, Larry began playing locally with several regional groups. The experience of being in a band situation, coupled with his own natural abilities as a singer/guitarist, groomed him for his first professional work. At the end of November 1964 he joined the Stanley Brothers, with whom he played lead guitar and sang an occasional baritone part in some of the trios. A tape of a Stanley Brothers appearance at the University of Chicago Folk Festival in January of 1965 shows Larry very capably handling lead guitar chores on "When You and I Were Young, Maggie."
Larry's stay with the Stanley Brothers was short-lived but it set the stage for his next professional work. When Carter Stanley passed away on December 1, 1966, Larry stepped into some very big shoes – literally – to take his place in the Clinch Mountain Boys. Until he was outfitted with his own gear, he wore Carter's shoes and played his 1954 Martin D-28 guitar.
Over the next two years, Larry served as the lead vocalist and lead guitarist in Ralph Stanley's Clinch Mountain Boys. He helped Ralph to record five albums, including two for the Dayton, Ohio-based Jalyn label and three for King Records: Brand New Country Songs, Over the Sunset Hill, and The Hills of Home. Larry's tenure with Ralph ended around the end of 1969, when he left to pursue his own solo career.
While he had had a few 45 rpm singles released previously, an album for the Pine Tree label called Ramblin' Guitar essentially launched Larry's solo career. This was followed up with New Gospel Songs, and Pickin' and Singin' on Pine Tree and Ramblin' Bluegrass for Starday Records.
Quite naturally, there were several nods to Carter and Ralph Stanley in terms of material on the albums, but equally important was the inclusion of a number of songs with Larry's name as the writer or co-writer, among them "These Old Blues," "How I've Tried," "King Jesus," "Memories and Dreams," and "Too Much Mountain Dew." Contributing to the success of many of these early recordings were two band members who helped to define the sound of the early Lonesome Ramblers: mandolin player Wendy Miller and banjoist Mike Lilly.
Momentum continued to build with Larry's 1972 album, Bluegrass Old and New, on Old Homestead. It was a collection on which he felt he was finally "digging in." 1974 found Larry with a new label, King Bluegrass, and another new album, Footsteps of Tradition. Continuing to build his repertoire and hone his style – an artful mix of soulful singing and bluesy guitar work – he noted that "everything was solid" on this album. Later King Bluegrass releases included Sparklin' Bluegrass (1975), You Could Have Called, and Christmas in the Hills (both in 1976).
The You Could Have Called album charted somewhat of a new course for Larry. By this time he had added to the Lonesome Ramblers Tom Boyd, a versatile musician who doubled on banjo and Dobro. Added to the mix on the album was the mandolin, fiddle, and harmony vocal work of rising prodigy Ricky Skaggs. The new and guest artists, along with an eclectic choice of top-flight material, created a somewhat more refined sound for Larry.
Hot on the heels of You Could Have Called came two seminal recordings. The first was a concept album for the County label that paid homage to the music of Hank Williams. The pairing of Williams' songs with Sparks' voice was a natural fit that was given an extra boost by veteran fiddler Chubby Wise. The other release was Larry's first for the Rebel label, John Deere Tractor. With a crack edition of the Lonesome Ramblers, including fiddler Kirk Brandenberger and Tom Boyd, the album added more songs to Larry's core repertoire than any other project. There was, of course the title track (later covered by the popular country music duo The Judds), "Great High Mountain," "Girl at the Crossroads Bar," "Love of the Mountains," and the tour de force guitar solo "Carter's Blues."
With a string of successful record releases to his credit and growing popularity as a bluegrass festival headliner, Larry was able to maintain excellent editions of the Lonesome Ramblers. Notable members have included banjoists Joe Isaacs, Dave Evans, Scott Vestal, Barry Crabtree, and Josh McMurray; mandolin players David Harvey and Scott Napier; fiddlers Joe Meadows, Kirk Brandenberger, and Stuart Duncan; and his own son, "Dee" Sparks, on bass.
Since the early 1980s, the bulk of Larry's recorded output has appeared on Rebel Records. For that label he has released fifteen newly recorded projects and a half dozen compilation albums and CDs. Among the highlights were The Testing Times, Silver Reflections, a star-studded anniversary collection called 40, and most recently Lonesome and Then Some: A Classic 50th Celebration. Two other high-profile releases have appeared on Rounder (Almost Home) and McCoury Music (The Last Suit You Wear).
A key component to Larry's success, early on and to this day, is his commanding stage presence. In contrast to his off-stage persona, which is soft-spoken and reserved, he oozes personality while in performance. He doesn't just sing and play guitar, he emotes soul-inflected vocals punctuated with perfectly accented bluesy guitar notes, with a host of gyrating body motions thrown in for good effect. Larry is totally immersed in each song from head to toe. Sporting a thick shock of now slightly graying hair that contains a very prominent widow's peak hair line, he is affectionately known to a number of his fans as "Count Sparkula!"
Gospel music has always been an important component of Larry Sparks' repertoire. Some of his first and many subsequent albums were composed entirely of gospel material. Many of his secular bluegrass albums contain at least one or two gospel tracks. In the early 1990s, Larry gave new conviction to his performances of this material when he dedicated his life to Jesus Christ. Since that time his personal appearances have often contained testimonies of the positive impacts this decision has had in his life.In addition to an active touring schedule throughout the United States, Larry has also taken his music to Canada and Japan. He counts among his career highlights performances on the Grand Ole Opry, Austin City Limits, other PBS programs, and, of course, his 2015 induction into the International Bluegrass Music Association's Hall of Fame.
– Gary Reid is a bluegrass music historian, journalist, producer, and actor based in Roanoke, Virginia.
Read the Full Bio