Lester Flatt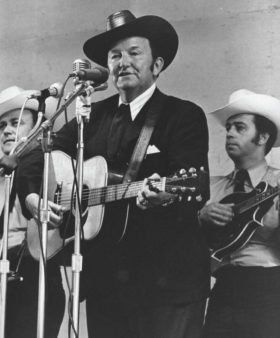 Year Inducted: 1991
Born: June 19, 1914 in Duncan's Chapel, Overton County County, Tennessee, United States
Died: November 5, 1979 in Nashville, Tennessee, United States
Primary Instrument: Guitar, Mandolin
"I used to write practically everything we did. Maybe they weren't good, but they were original, and they were selling."
Biography
Lester Flatt's grandfatherly emceeing style, relaxed southern singing voice, solid rhythm guitar playing, and songwriting endeared him to generations of bluegrass and country music fans. A member of the classic edition of Bill Monroe and the Blue Grass Boys, Lester's star burned even hotter when he and Earl Scruggs formed a partnership in 1940s, heading the Foggy Mountain Boys. Mercury and Columbia records, WSM radio, the Grand Ole Opry, constant touring, a Martha White Mills-sponsored television show, themes to "The Beverly Hillbillies" and "Bonnie & Clyde," and full participation in the folk revival ever widened Lester Flatt's visibility and influence. After splitting with Earl Scruggs in 1969, Lester headed a crack bluegrass ensemble, the Nashville Grass, on Nugget, RCA, and CMH records right up to the year of his death at the age of 64 in 1979.
Lester Flatt was born to a musical farming family in central Tennessee, near Sparta. He started on banjo, but switched to guitar at the age of seven. Lester played with a thumb and finger pick, as did most country guitarists in the 1930s and 1940s. He left school at 12, married singer Gladys Stacey at 17, and alternated between textile millwork and music for a decade before committing to a professional music career after a bout with rheumatoid arthritis. Lester sang tenor, first with Clyde Moody and then with Charlie Monroe, before permanently switching to lead upon joining the band of Charlie's younger brother Bill in 1945.
It must have been a heady experience appearing on the Grand Ole Opry and recording for Columbia records in Chicago with the Blue Grass Boys. But by this time Lester Flatt was a seasoned professional, and emceed stage shows for the more reticent Monroe. Like contemporaries Frank Sinatra with the Harry James and Tommy Dorsey bands, and Tommy Duncan with Bob Wills and the Texas Playboys, Flatt was prominently featured as a crooning vocalist. Lester's wife missed him during the long road tours, and soon was also employed by the Monroe organization, selling concessions. When banjo player Stringbean left the group, Flatt didn't share Monroe's enthusiasm for finding a replacement – until he heard young Earl Scruggs play the instrument in an exciting new style at an impromptu backstage audition. In a 1979 interview with Don Rhodes for Pickin', Lester recalled telling Bill, "Hire him no matter what it costs."
After three years of stardom as sidemen, Flatt and Scruggs decided that they were ready to co-lead their own organization. In 1948, they founded the Foggy Mountain Boys. Relations with their former employer were cordial until 1955, when Martha White Mills insisted on Flatt and Scruggs' addition to the cast of the Grand Ole Opry. Bill Monroe considered this direct competition for his niche and tried to block the decision, but was unsuccessful. He and Flatt didn't speak until a 1973 reconciliation at Bean Blossom, Indiana.
The Foggy Mountain Boys worked hard at a series of small radio stations before landing a 15-minute, 5:45 am slot in 1953 on WSM: "Martha White Biscuit Time." This, and a television show which followed two years later, were syndicated to other southern markets. But technology at the time forced the group to travel to these locations for the broadcasts. A bus was fitted out for the band and they traveled more extensively than any other Grand Ole Opry act.
Hugely successful for two decades on the air, on records, and on stage, Flatt and Scruggs finally split in 1969 after differences about musical direction. Earl wanted to play more modern music with his sons. Uncomfortable singing Bob Dylan and other folk material demanded by a Columbia record contract, Flatt headed off on his own to play a much more traditional brand of bluegrass. Martha White sponsored a "name the band" contest. The winning name, "Nashville Grass," was a pun on the currently popular Danny Davis and the Nashville Brass.
Lester Flatt made some strong recordings as a solo act, including three albums of duets with former associate Mac Wiseman. His appearances, with a strong ensemble of side musicians, were enthusiastically received on the burgeoning bluegrass festival scene. But health problems arising from a 1967 heart attack led to an open-heart operation, lowered stamina, reduced touring, and eventual retirement early in 1979. Flatt persuaded Curly Seckler to continue the Nashville Grass, and died a few months later. In her song, "The Day That Lester Died," Claire Lynch spoke for the entire bluegrass community, "The songs will live on, we'll sing them again, but somehow it will never be the same."
– Fred Bartenstein is a bluegrass music historian and journalist.
Read the Full Bio