Lynn Morris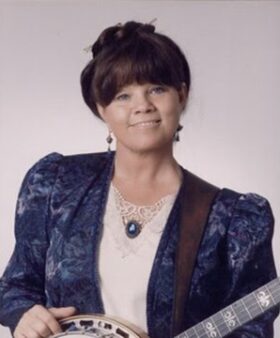 Year Inducted: 2021
Born: October 8, 1948 in San Antonio, Texas, United States
Primary Instrument: Guitar and Banjo
"I never have been the kind of singer who could feel comfortable singing anything without some kind of emotional connection to what the song is saying. I'm guided as much by my background as by my abilities."
Biography
Coming of age on the West Texas plains in the 1950s and '60s with influences as diverse as Johnny Cash, Merle Haggard, Dolly Parton, and the Chuck Wagon Gang, Lynn Morris seemed an unlikely candidate to be a major player in the world of bluegrass. In a career that lasted three decades, she broke geographic and gender barriers to emerge as one of the genre's early female bandleaders and multi-instrumentalists.
Lynn's early musical training, which consisted of piano lessons at age six, was short-lived; she detested being forced to learn by reading music. Learning guitar chords by ear at age eleven was a much more pleasant proposition. But it was another decade before her passion for music kicked into high gear. Shortly after her 1972 graduation from college in Colorado with an art degree, she saw a bluegrass band live and became enthralled with the sound of the five-string banjo. After only a few lessons, she was off and running.
Later in 1972, at age twenty-one, Lynn co-founded Colorado's City Limits Bluegrass Band. The gig lasted for six years, during which time the group recorded two albums: Hello City Limits and Live at The Oxford Hotel. Lynn saw herself mainly as an instrumentalist, but City Limits also thrusted her into the spotlight as a vocalist. In 1974, she became the first female to take top honors on banjo at the famous music competition in Winfield, Kansas. In 1981, Lynn became the only person (to date) to win the banjo contest at Winfield a second time.
After the demise of City Limits, Lynn formed a duo known as Fire on the Mountain, playing ski lodges in the Aspen area. With another band, Little Smoke, Lynn participated in two USO-sponsored tours. While Lynn enjoyed playing in the Rockies, she felt the call of the bluegrass heartland and moved to North Carolina to take a job with Cherokee Rose.
Through banjo player Pete Wernick, Lynn learned of an opening in Whetstone Run, a Pennsylvania-based band. On her way out of Texas, where she had been taking care of her father, she stopped to enjoy a picking session that included bass player Marshall Wilborn. The pair struck up a friendship that resumed several months later when Marshall visited Lynn in Pennsylvania. Marshall's visit happened to coincide with the departure of Whetstone Run's bass player. Lynn and Marshall have been a couple ever since.
Lynn and Marshall stayed with Whetstone Run from 1982 to 1986. During that time, the band recorded one album; it included five original compositions and featured Lynn playing guitar and singing lead. When they left that group, Marshall had an opportunity to tour with Jimmy Martin and the pair contemplated a move to Nashville. When a spot opened up for Marshall with the Johnson Mountain Boys, they instead settled in Winchester, Virginia.
Without a performance outlet, Lynn toured for a while with Laurie Lewis. When Marshall's work with the Johnson Mountain Boys ended in 1988, he and Lynn (with Tom Adams on banjo) assembled the Lynn Morris Band. Their IBMA showcase that October led to the group's signing with Rounder Records.
The 1990s was a good decade for the Lynn Morris Band. For starters, the group released four compact discs for Rounder Records, all met with critical acclaim. The 1990 disc was titled The Lynn Morris Band. Songs from that album soon took five of the top twenty-two spots on Bluegrass Unlimited magazine's "National Bluegrass Survey" of radio airplay. In 1992, The Bramble and the Rose, climbed to the top of Bluegrass Unlimited's top album chart and stayed in the Top 10 for nine months. The hits continued in 1995 with Mama's Hand, named for the Hazel Dickens composition that shot to the top of the Bluegrass Unlimited charts and was chosen as IBMA's 1996 Bluegrass Song of the Year. Closing out the decade was You'll Never Be the Sun, a project that featured Lynn's "dream team" band with Ron Stewart on banjo and fiddle and Jesse Brock on mandolin.
Lynn and the band racked other impressive achievements. In 1991, she became the first woman elected to the board of directors of the International Bluegrass Music Association (Mary Tyler Doub had been appointed to the original board). In 1992 the band debuted on the Grand Ole Opry and was called back for an encore. In 1993 the Society for the Preservation of Bluegrass Music in America (SPBGMA) selected Lynn as Female Vocalist of the Year – Traditional; she won the award on nine later occasions. IBMA named her Female Vocalist of the Year in 1996, 1998, and 1999.
Bluegrass historian/author Richard D. Smith wrote that "Lynn Morris's voice is in many ways that of a country singer but one with very deep traditional roots, a voice of the mountains and not of the suburbs. Some of the qualities of Dolly Parton's best work comes to mind . . . not only in the style of the voice but in the constant feeling the listener gets that the singer has lived and understands her songs." Reviewer Robert C. Buckingham noted the chemistry between Lynn and Marshall and that they "have had a gift for being entertaining and thought provoking. While they know how to have fun, they have insights into this world we live in and a very gentle way of showing these insights to us. As an additional bonus, their voices complement each other by contrasts that enhance rather than detract. They coax the best from the lyric while remaining true to the musical setting."
Lynn proved herself a more-than-worthy picker, singer, and bandleader, but her rise to the top was not always easy. She faced gender discrimination on numerous occasions throughout her career, including biased judges at music competitions, denied audition opportunities with all-male bands, and festival promoters who "already had a female act on the bill." Lynn was not a quitter and persevered despite the obstacles.
The new millennium offered further promise. In 2003 Lynn completed her fifth Rounder album, Shape of a Tear. The disc contained a bonus track, "Spay Your Pet," recorded earlier as public service announcement; Tom Adams composed the song in answer to a request from producers of a local television program that hosted the Lynn Morris Band and also featured a story on the Doris Day Animal League's Spay Day USA. That year, Lynn took time off the road for knee replacement surgery. Post-surgery complications resulted in Lynn suffering a stroke. In time, physical therapy returned her to full mobility. Speech therapy made great strides in restoring most but not all of her talking/singing abilities.
In 2009 Lynn served as sound technician for Bill Emerson and the Sweet Dixie Band. In 2011 she appeared with Marshall and several past Lynn Morris Band band members at the annual Winchester, Virginia, Apple Blossom Festival. After opening with a blistering instrumental, Lynn stepped up to the microphone to sing in public for the first time in eight years. Fans who had gathered for the event roared with approval.
Read the Full Bio