Mac Wiseman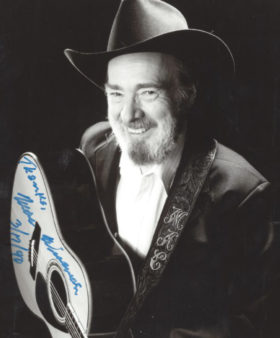 Year Inducted: 1993
Born: May 23, 1925 in Crimora, Virginia, United States
Primary Instrument: Guitar
"It was very nomadical or gypsy-like because other than the few lucky ones that were on the two or three recording labels at the time, nobody had any records out. So you depended entirely on the local stations to get you a couple of daily radio shows, and build up as quickly as possible, and play the local theaters and schools within commuting distance. It was survival of the fittest – you worked hard at it and if you had a few breaks you could build."
Biography
Mac Wiseman had a successful career in country music, as a sideman with major artists and as a soloist, before the term "bluegrass" came into common use. But his first and only top-10 records built on other phenomena – the popularity of a Disney television series ("The Ballad of Davey Crockett," 1955), and a growing interest in folk music ("Jimmy Brown the Newsboy," 1959). It was this kind of serendipity, flexibility, and well-tuned business instincts that assured Wiseman's durable appeal over seven decades. And let us not forget the voice, so pleasing and affecting that he was lastingly branded "The Voice with a Heart."
The hamlet of Crimora lies eight miles north of Waynesboro, in the bucolic Valley of Virginia, 260 miles northeast of the Stanley Brothers' Clinch Mountain birthplace in the Virginia coalfields, and 550 miles east of Bill Monroe's childhood home of Rosine in Western Kentucky. Despite the distance in geography and culture, Mac Wiseman shared with other bluegrass pioneers a musical heritage conveyed through church, family, hand-cranked phonographs, and battery powered radios. His was the first generation to be blessed with such wide access to repertoire.
As a frail child, suffering from the after-effects of infantile paralysis, Wiseman had ample opportunity to learn songs and accompany himself on the guitar. An accommodating mother took him to schoolhouse concerts and transcribed lyrics that appealed to him from the radio into hand-written notebooks. Mac sang on WSVA in nearby Harrisonburg, and in a high school combo, but never contemplated a professional career in music.
After graduating in 1943, he worked in a laboratory at a manganese mine. There, the March of Dimes offered to pay half the cost of a higher education. Mac enrolled in a broadcasting program at the Shenandoah Conservatory of Music and was soon employed as an announcer at WSVA. It didn't take long for him to realize that the money in the entertainment industry is not in announcing. As World War II drew to a close, Wiseman began a succession of performing stints at mid-Atlantic and southern radio stations, on bass and guitar, but primarily as a featured vocalist and commercial pitchman.
In 1946 he was recruited to play bass and open shows for Molly O'Day and the Cumberland Mountain Folks, based in Knoxville. Wiseman participated in their first Columbia sessions, and learned valuable lessons about the big-time music industry. Next came a band in Bristol, from which he was called in 1948 to join an early edition of Lester Flatt, Earl Scruggs and the Foggy Mountain Boys. Bill Monroe, a guest on their radio show, offered Mac a job while on the air, much to Flatt's consternation. A stint with the Blue Grass Boys followed, in which Mac recorded "Traveling This Lonesome Road" and "Can't You Hear Me Calling" as lead vocalist.
By now a seasoned veteran, Mac Wiseman was disappointed that he had been unable to leverage his visibility into a Nashville recording contract. He contemplated leaving the business, but returned to WCYB, Bristol, until he was able to land a berth on the Louisiana Hayride at KWKH, Shreveport, second only to the Grand Ole Opry in listenership. The fledgling Dot label offered to record him there, and the resulting first single, "'Tis Sweet To Be Remembered" became a regional best-seller and Mac's lifelong theme.
A string of enduring hits followed, including "Little White Church," "I Still Write Your Name In the Sand," "Four Walls Around Me," "I Wonder How the Old Folks Are At Home," "Shackles and Chains," "Don't Let Your Sweet Love Die," and "Love Letters in the Sand." From 1953 to 1957, Mac Wiseman starred on "The Old Dominion Barn Dance," at WRVA, Richmond, Virginia.
Rock 'n roll hit in the middle '50s, challenging the commercial marketplace for bluegrass and traditional country artists. Wiseman responded by disbanding The Country Boys and moving in 1957 with Dot Records to California, as head of artists and repertoire and the country department. He still performed and recorded, but did everything he could to escape the bluegrass stereotype which country format radio was increasingly avoiding. Much to his surprise, it was that very style that attracted folk audiences to his earlier recordings. Soon Mac's performing career was revitalized as college concerts, folk festivals, and the emerging bluegrass festivals sought him as a headlining artist.
Now back in the mid-south and appearing as a solo artist, Mac maintained other business interests in the slow season for performing appearances, including management of the Wheeling Jamboree, his own Wise record label, a mail-order record business, a festival at Renfro Valley, Kentucky, and a stint as secretary of the Nashville local of the American Federation of Musicians. His recordings in the sixties and seventies began to crack the Billboard top 100, reflecting his now-continent-wide visibility. While both were on RCA, Mac and his former bandmate Lester Flatt recorded three successful albums together. Similar collaborations followed with the Osborne Brothers on the RCA and CMH labels.
Since the 1990s, Mac Wiseman has been a visible spokesperson for the bluegrass music industry, narrating the video series "Grassroots to Bluegrass" and the movie "High Lonesome: The Story of Bluegrass Music." Still a musical innovator, he can be heard with the bluegrass/hip hop fusion Groove Grass Boyz and on a duet album with John Prine. With Jesse McReynolds, he is engaged in a project to record hundreds of songs from the early repertoire that influenced their musical careers. Slowed a bit by health issues, Mac still performs at increasingly rare and treasured concert appearances.
– Fred Bartenstein is a bluegrass music historian and journalist.
Read the Full Bio