Mike Seeger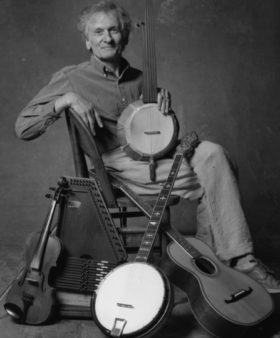 Year Inducted: 2018
Born: August 15, 1933 in New York City, New York, United States
Died: August 7, 2009 in Lexington, Virginia, United States
Primary Instrument: Mandolin (but he played them all!)
"There has to be an audience which will really listen to the music, since what I play is kind of quiet, home-style music which isn't designed to knock you over."
Biography
Although primarily known as a performer of old-time music, Mike Seeger had a profound impact on bluegrass music. As an engineer/producer, he recorded some of the first albums to be issued by bluegrass artists. He was also one of the first people to write about the music. With his trusty reel-to-reel tape recorder, he captured countless hours of live bluegrass—as played by the masters—in the heyday of the 1950s. And, as a solo performer and member of the New Lost City Ramblers, he was a tireless interpreter of rural roots music.
Mike was born in New York City in 1933 to parents who had a strong interest in American folk music. Charles Seeger was known as a musicologist, composer, teacher, and folklorist, while Ruth Crawford Seeger was a composer and classically trained musician. Shortly after Mike's birth, the family moved to the Washington, D.C. area, where he spent his formative years.
As a conscientious objector during the Korean War, Mike was assigned community service work near Baltimore. It was there in 1954 that he first he came in contact with Appalachian musicians who had migrated from West Virginia and Kentucky, most notably Hazel and Guy Dickens and Bob Baker. Mike was a member of Baker's Pike County Boys in the middle 1950s. With the Dickens siblings and others, Mike attended country music performances at nearby parks such as New River Ranch and Sunset Park. In 1955, he started tape recording such concerts by Bill Monroe, the Stanley Brothers, Flatt and Scruggs, Reno and Smiley, and others.
Mike's fascination with the music and his recorder led to his recording various banjo players for a collection he assembled for Folkways Records called American Banjo Tunes & Songs in Scruggs Style. Released in 1957, it was the first long-play album devoted to bluegrass music. Other Seeger-produced albums soon followed, including a various artists collection called Mountain Music Bluegrass Style and early releases by the Country Gentlemen, the Stoneman Family, and the Lilly Brothers. Other artists for whom Seeger produced albums—over 40 in all—included Elizabeth Cotten, Tommy Jarrell, Dock Boggs, and Maybelle Carter.
Mike banded together with John Cohen and Tom Paley in 1958 to form the New Lost City Ramblers. Their forte was recreating for attentive folk audiences, mostly at colleges, songs and tunes they had learned from obscure hillbilly recordings. Their renditions sought not to create slavish note-for-note copies but rather to impart the original feeling of the music. This, combined with an engaging stage presence, made the Ramblers one of the more popular groups of the 1960s folk movement. Paley left the group in 1962 and was replaced by Tracy Schwarz.
Mike Seeger became a full-time musician in 1960, performing both with the New Lost City Ramblers and as a solo act. But his scholarly work continued. In 1961 he contributed to Sing Out! magazine one of the first in-depth articles on bluegrass music, a re-working of the liner notes from his 1959 Folkways album Mountain Music Bluegrass Style, which had introduced a number of important early bluegrass artists to wider audiences. He also collaborated with John Cohen to produce the New Lost City Ramblers Song Book, a 256-page volume that contained 125 old-time songs and tunes, along with notes on their origins.
When the Ramblers were booked for the first University of Chicago Folk Festival in February of 1961, Mike secured a spot on the festival for the Stanley Brothers. The scope of Mike's influence increased when he served on the board of the Newport Folk Festival (1963-1967). Bill Monroe, Mac Wiseman, Jim and Jesse, the Osborne Brothers, Flatt and Scruggs, the Kentucky Colonels, the Dillards, Alice and Hazel, the Lilly Brothers, and the Stanley Brothers were among those who appeared at Newport during Mike's tenure on the board.
From 1968 to 1976, Mike was a member of the Strange Creek Singers, an ensemble that performed a mix of bluegrass and old-time music. The group took its name from the West Virginia town of Strange Creek. Band members included Hazel Dickens, Alice Gerrard, Lamar Grier, and Tracy Schwarz. The group had one well-received album on the Arhoolie label.
Having been in close proximity to each other for a number of years, Mike and fellow Hall of Fame inductee Alice Gerrard were married in 1970. The duo spent much of the next decade touring together and collaborated on several recorded projects.
Starting in the early 1970s, Mike served as an advisor to the State Department and to the Smithsonian Institution. With them, he helped to coordinate tours of old-time musicians who served as ambassadors of American culture. At about the same time, Mike began making annual tours of the West Coast with accompanying musicians such as Tommy Jarrell, Dewey Balfa, Elizabeth Cotten, Lily May Ledford, and Kilby Snow.
In the middle 1980s, Mike embarked on an ambitious project to document various styles of Appalachian solo dancing. This culminated in the documentary film Talking Feet (1987, also issued as a book in 1993). Mike was the driving force behind an album release by a group known collectively as A. Robic & the Exertions titled Old Time Music Dance Party: Old Time Mountain Music for Buck Dancing, Flat Footing, Clogging and Other Activities (1987). In 1986, Seeger founded the Rockbridge Mountain Music & Dance Festival, an event that features dancing and music but no contests; it continues on Labor Day weekends at Glen Maury Park in Buena Vista, Virginia.
In 1995, Mike received the Rex Foundation's Ralph J. Gleason Award for "outstanding contributions to culture to those who exemplify the qualities of talent, vision, and innovation that Ralph so tirelessly supported." The award carried a $10,000 stipend. It was also in 1995 that Mike married Alexia Smith; the couple resided in the quaint Lexington, Virginia, farmhouse that had been Mike's residence for a decade or more.
Mike's contributions were often overshadowed by the popularity of his older half-brother, Pete. When queried by one reporter in 1992 about the details of his upcoming projects as opposed to those of his brother, Mike quipped, "Well, this is refreshing." A bit of Mike's own national exposure came in May 1997 when he guested on Garrison Keillor's Prairie Home Companion. Other career highlights included board member of the Smithsonian Center for Folklife and Cultural Heritage (1968-76), board member of the National Folk Festival (1972-78), board member of the Southern Folk Cultural Revival Project (1973-86), National Endowment for the Arts Grantee (1975, 1982, 1984, 1987), Smithsonian Institution Visiting Scholar (1983), Guggenheim Fellow (1984), Honorary Member of the Society for American Music (2003), Heritage Award at Uncle Dave Macon Days (2004), and the Bess Hawes National Heritage Fellowship Award (2009).
In his later years, Mike received a grant to make tape copies of 275 hours of his field recordings—including live concerts by Bill Monroe, the Stanley Brothers, Flatt and Scruggs, Reno and Smiley, and many others—for deposit with the Library of Congress, the Southern Folklife Collection at the University of North Carolina-Chapel Hill, and the Country Music Hall of Fame in Nashville.
Mike Seeger died at his Virginia home on August 7, 2009, from complications of multiple myeloma. His life was chronicled posthumously in a 2013 biography by country music historian Bill Malone: Music From the True Vine; that phrase was often used to describe Seeger's music and was borrowed from the title of a 1972 album.
– Gary Reid is a bluegrass music historian, journalist, producer, and actor based in Roanoke, Virginia.
Read the Full Bio