Neil V. Rosenberg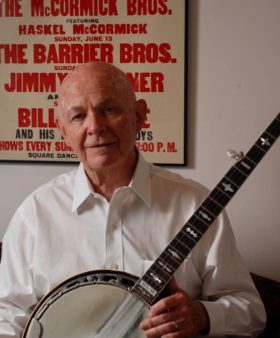 Year Inducted: 2014
Born: March 21, 1939 in Seattle , Washington, United States
Primary Involvement: Author and historian (also a banjoist)
"We were teenage bohemians, hanging out in the Cal campus fringe scene, going to North Beach, having big music parties at a cabin in Redwood Canyon in the hills behind Oakland on weekends, playing on the Midnight Special at KPFA, [and] playing folk music in school concerts. Sometime during my teenage years, making music became an essential part of my being, something I had to do."
Biography
Neil Rosenberg was born in Seattle, Washington, but spent his early childhood in nearby Olympia, located some sixty miles southwest. Neil began taking classical violin lessons at age seven. When he was ten, his family relocated to Los Alamos, New Mexico, for two years and then, in 1951, settled in Berkeley, California, where his father, an attorney, worked as legal counsel for a research institute.
Not long after the move to Berkeley, Neil dropped the violin, opting for instruction in folk guitar and voice. This was due to his growing fascination with folk music, which coincided with the stirrings of the folk music boom of the 1950s as well as his friendship with classmate and budding folk enthusiast Mayne Smith.
A Berkeley appearance by Pete Seeger further solidified the sixteen-year-old Neil Rosenberg's interest in folk music. His musical ramblings shortly afterwards made for a rich tapestry of varied experiences that included jamming with a number of other high school students, performing folk music at school events, and making occasional appearances on radio station KPFA's Midnight Special.
From 1957 to 1961 Neil attended Oberlin College in Ohio, where he received a Bachelor of Arts degree in History. Two factors contributed to his choice of Oberlin: his friend Mayne Smith was also attending, and Sing Out! magazine had reported on the vibrant folk music scene there. Neil's first year at Oberlin was significant in that he first heard the term "bluegrass" and became aware of the first bluegrass album release, Mike Seeger's anthology American Banjo Scruggs Style.
It would be two more years before the banjo became Neil's primary mode of musical expression. When he returned to Berkeley for the summer of 1959, he helped organize the Redwood Canyon Ramblers with Mayne Smith, Scott Hambly, and Pete Berg. The group was active again in the summer of 1960.
It was also in 1960 that Neil had a chance to see his first professional bluegrass band, the Osborne Brothers, when his band, the Plum Creek Boys, opened for them at Antioch – the first college bluegrass concert in history. That year Neil was elected president of Oberlin's Folk Song Club. The club booked groups such as the New Lost City Ramblers and the Country Gentlemen (their first college concert) at Oberlin.
Following graduation from Oberlin, Neil moved to Bloomington to attend Indiana University, where he earned Masters and Doctorate Degrees in Folklore. His stay in Indiana lasted from 1961 to 1968. While there, he spent a considerable amount of time at Bill Monroe's Brown County Jamboree music park in nearby Bean Blossom. It was here, in June of 1961, that he first saw Monroe perform in person. At an informal jam session following this show Bill opined, "That boy's gonna make a fine banjo player." He was invited to join the house band for that season.
A guest appearance on one of Monroe's shows at the Brown County Jamboree in September of 1961 inspired Neil to research Monroe's recording career. Filling in with the Blue Grass Boys, he realized that he was unfamiliar with a sizeable portion of their repertoire. To remedy the situation, he embarked on what would later become a published discography of Bill Monroe's recording career. At the same time he began tape recording shows by Monroe and others at the Jamboree, creating a large collection that is now on deposit at the Library of Congress's Archive of Folk Culture.
Other early events in Rosenberg's bluegrass life also occurred at the Brown County Jamboree. He won banjo contests held there in 1962, 1963, and 1964. In 1963, he was tapped by Ralph Rinzler, Bill Monroe's new manager, to oversee the park during the 1963 season. He played with the Stoney Lonesome Boys in the house band during that and the 1965 season and was called on by Monroe to assist at his first Bean Blossom festivals, in 1967 and 1968.
During the middle 1960s Neil began writing about bluegrass. His article "From Sound to Style, the Emergence of Bluegrass Music" was one of the first scholarly papers on bluegrass. It traced the evolution of bluegrass from being one man's (Bill Monroe's) music to a full-blown musical genre. The paper was first read at the American Folklore Society meeting in Boston in 1966. Coincidentally, Bill Monroe was performing in Boston at the same time. Neil also published, in the pages of Bluegrass Unlimited magazine, a concise discography of the recordings of the Osborne Brothers.
In 1966, after completing his coursework, Neil joined the staff of Indiana University where he worked until 1968 when he accepted a position teaching Folklore at Memorial University of Newfoundland in St. John's, Atlantic Canada's largest university. He held this position until his retirement in 2004.
Although he was geographically far removed from the heartlands of bluegrass, he was certainly not detached from the genre. He worked to bring bluegrass to Canadian audiences. From 1972 to 1979 he helped organize and run the Nova Scotia Bluegrass and Oldtime Music Festival, Canada's first such event. In 1973, he co-founded Crooked Stovepipe, a Newfoundland-based bluegrass band that continues to this day. From 1984 to 1991 he hosted a weekly bluegrass radio show on St. John's commercial country station CKIX-FM. And in 2003 he was a founding member of the Bluegrass and Oldtime Country Music Society of Newfoundland and Labrador.
Meanwhile his activities as a writer expanded. He began writing liner notes for various album releases. His 1969 compilation for RCA's Vintage Series, Early Blue Grass, was the genre's first historical reissue anthology. In 1974, the Country Music Foundation published his Bill Monroe and His Blue Grass Boys: An Illustrated Discography.
In 1981 Neil launched a monthly column that appeared in Bluegrass Unlimited for the next thirteen years. "30 Years Ago This Month" acquainted current readers with the activities (recording sessions, record releases, personal appearance dates, etc.) of luminaries from the golden days of bluegrass.
In the midst of his other writing and teaching responsibilities, Neil found time to complete his crowning achievement in music, the 450-page book Bluegrass: A History. Thirty years after its initial printing, the book remains the definitive study on the birth and development of the style. On its twenty-fifth anniversary, the book was revised to include more recent phenomena, including the rise of bluegrass superstar Alison Krauss.
Other books followed, including Transforming Tradition: Folk Music Revivals Examined(1993); Bluegrass Odyssey: A Documentary in Pictures and Words, 1966-86, which featured the photography of Carl Fleischhauer (2001); and The Music of Bill Monroe, a revised and greatly expanded version of his 1974 Bill Monroe discography, co-written with Charles Wolfe (2007).
Neil's writings also include some sixty published articles and review essays, and the notes to approximately fifty albums and CDs, including the Grammy-winning reissue of compiler Harry Smith's Anthology of American Folk Music. Rosenberg prepared notes and discographies for boxed-set compilations of vintage bluegrass on the German Bear Family label, including sets by Bill Monroe, Flatt and Scruggs, the Osborne Brothers, and Carl Story.
Despite his accomplishments in the academic world, playing his own music is still a top priority. Rosenberg notes, "I never stopped performing, despite the demands on my time and energy… For me, making music is an essential exercise of the inner self."
– Gary Reid is a bluegrass music historian, journalist, producer, and actor based in Roanoke, Virginia.
Read the Full Bio