New Grass Revival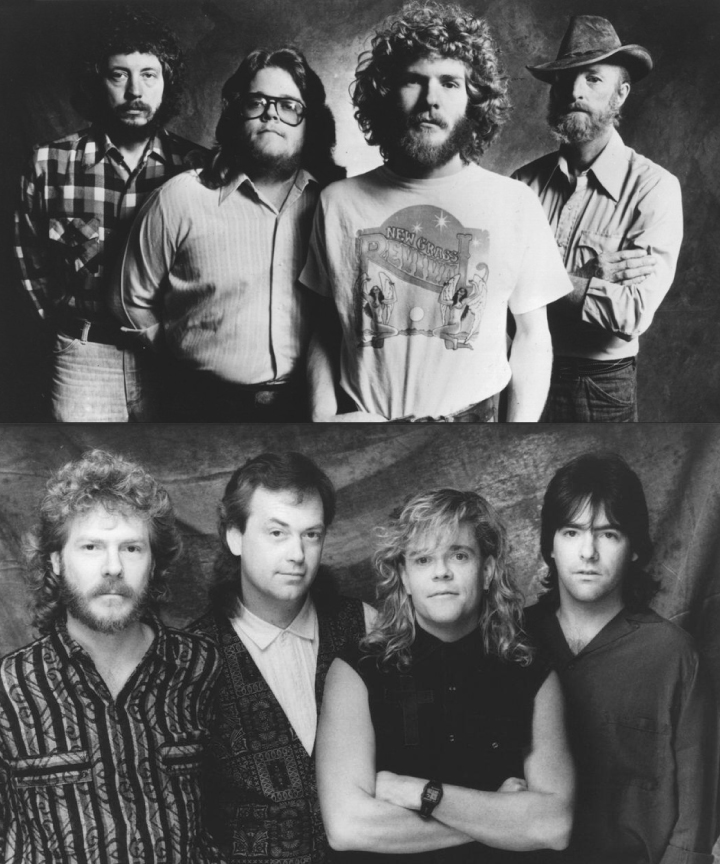 Biography
New Grass Revival, affectionately known to many of their fans as NGR, was a band that formed in 1971 and gave rise to a musical movement known as newgrass. The accent was on taking the older forms of bluegrass and reinterpreting them with a contemporary/progressive sensibility. The group took its cues as much, or more, from rock music as it did from Bill Monroe. Visually, with long hair, beards, and no discernible dress code, they were a sharp contrast to the staid, more traditional bluegrass groups of the day. In a career than spanned nearly twenty years, NGR toured the world, gained a legion of fans, and charted new directions for bluegrass.
New Grass Revival was an offshoot of a Louisville, Kentucky-based group known as the Bluegrass Alliance, whose first version included Dan Crary, Danny Jones, Harry Shelor Jr. (aka Ebo Walker), and Buddy Spurlock. By 1971 band members were Shelor, 19-year old mandolin and fiddle prodigy Sam Bush, Courtney Johnson, and Curtis Burch. Fiddle player Lonnie Peerce was the acknowledged leader of the group. In 1971 Peerce parted ways with the band and took the name with him. Those left behind formed a new group which they called New Grass Revival. Sam Bush explained that the name was coined to convey the band's intent to build upon bluegrass innovations of groups like the Country Gentlemen, the Osborne Brothers, and the Dillards.
New Grass Revival began to appear regularly on festival stages, notably Carlton Haney's and Jim Clark's, where they were an instant hit with younger audiences. In August of 1972 and again in July 1973, they were hired by Bill Monroe's brother Birch to play at Bill's Brown County Jamboree Park in Bean Blossom, Indiana, despite Bill's opposition to their bluegrass/rock fusion.
The group's self-titled first album was released in early 1973 on the Starday label. Due to the progressive nature of the music, at least one venerable bluegrass mail order outlet refused to review it. But Bill Vernon of Muleskinner News praised the versatility and proficiency of the band, noting that "Sam Bush could 'jam,' on mandolin and fiddle, as he does on the seven-minute 'Lonesome Fiddle Blues,' for several hours without ever repeating a 'lick.'"
Bass player Ebo Walker bowed out in 1973 and was replaced by Butch Robins, a Virginia-born musician usually noted for his banjo work. Robins' stay with the group was brief and the group recruited electric bass guitarist John Cowan to take his place. Cowan didn't have a bluegrass background and his early indoctrination came from other New Grass Revival members. In short order, Cowan's vocals became a real asset to the group. Courtney Johnson noted that "John brought a whole new vocal scene to the band. It was weak up until that point, but now the band had a good strong lead singer." Also impressive were his soaring tenor vocals.
New Grass Revival signed with the independent label Flying Fish and released their first album with them in 1976. Fly Through the Country featured the new line-up, but rank and file bluegrassers still weren't sold. Bluegrass Unlimited reviewer Dick Spottswood acknowledged that the album was "well produced and the musicianship is fine" but expressed his own bias against the "attempt at integrating pop-rock with bluegrass."
Throughout the middle and late 1970s, the group played concert clubs and outdoor festivals throughout the nation. They released a string of albums for Flying Fish that included Too Late to Turn Back Now (1977), When the Storm is Over (1977), and Barren County (1979). If their 1978 season was any indication, they were a busy band, logging forty-two weeks of work.
For two years, starting in 1979, the New Grass Revival toured with rocker Leon Russell. Sam Bush looked on the association favorably, noting that they learned valuable lessons in how to relate to their audiences. In 1980, while performing at Perkins Palace in Pasadena, California, New Grass Revival participated in the making of The Live Album with Russell. An overseas tour with Russell included performance dates in Australia and New Zealand.
The group's final album for Flying Fish came out in 1982. Entitled Commonwealth, it was also the last album to feature the long-time line-up with Curtis Burch and Courtney Johnson. The two were replaced by guitarist/vocalist Pat Flynn and banjoist Béla Fleck. A later newspaper clipping said of this new foursome that "using bluegrass instruments, they play a combination of rock, jazz, country, reggae and bluegrass. Bush plays fiddle and mandolin, the percussive trademark of the group. John Cowan plays bass and sings in a rhythm-and-blues style. Pat Flynn flat picks guitar with a fluid drive and Béla Fleck has turned the banjo into a bona fide jazz instrument." It was also in 1982 that NGR signed a management contract with Jim Halsey.
Nationwide coverage came to the group in 1983 with their appearance on The Nashville Network's (TNN) Fire on the Mountain program. Internationally, the group appeared at the Toulouse Bluegrass Festival in France; a live album of that performance was issued the following year. Another overseas tour took place in 1994, when the U.S. Information Agency sent the New Grass Revival, along with four guys, one manager, a sound man and a USIA officer to clear the way and make introductions. They visited Spain, Portugal, Turkey, Malta, Crete and Greece.
With the fairly recent Bush-Cowan-Fleck-Flynn line-up, the group signed with Sugar Hill Records and in December 1984 released On the Boulevard. The following year, the album won a Frets magazine reader poll/award for Acoustic Album of the Year. High profile appearances for 1985 included a spot on the popular PBS program Austin City Limits and the Barns at Wolf Trap, in the Virginia suburbs of Washington, DC.
NGR brokered a major label deal with EMI/Capitol and recorded three albums for the label, the first of which was a self-titled disc that was released in 1986. Two tracks from the project broke into Billboard magazine's "Hot Country Singles" chart. "Ain't That Peculiar" spent eight weeks on the chart and peaked at 56 while "What You Do to Me" spent five weeks on the chart and peaked at 78. The album spent four weeks on the "Top Country Albums" chart and peaked at 73.
The band experienced what may have been their busiest year in 1987. In February, they participated in another U.S. Information Agency tour that took them to Morocco, Egypt, Nepal, India and Bangladesh, as well as ten days in Norway, Sweden, England and France. They flew out again in mid-April for an appearance at the International Country Music Festival at Wembley Stadium in London. The group made it back to the States in time for a May appearance on Garrison Keillor's Prairie Home Companion radio program. In August they appeared at the Newport Folk Festival. The same month saw the release of their second Capitol album, Hold to a Dream. Again, two singles were released to radio. "Unconditional Love" spent nine weeks on the Billboard country singles chart and peaked at 49 while "Can't Stop Now" spent eleven weeks on the chart and peaked at 45.
The third Capitol album, Friday Night in America, was released in 1989. As before, two singles were pulled for radio: "Callin' Baton Rouge" and "You Plant Your Fields." They peaked on the charts at 37 and 58 respectively. Capitol lent further support by producing music videos on "Can't Stop Now" and "Callin' Baton Rouge;" both went into heavy rotation on Country Music Television (CMT). The group also snagged an appearance on the TNN program On Stage. In a Billboard survey of top disc jockeys, Orin Friesen of KFDI radio pegged Friday Night in America as his top pick for Album of the Year.
One of the last projects that New Grass Revival worked on was a track for the Nitty Gritty Dirt Band's Will the Circle Be Unbroken Two, a rousing version of the old gospel song "Don't You Hear Jerusalem Mourn." The album was the 1989 CMA Album of the Year and also received a Grammy for Best Country Performance. New Grass Revival participated in a star-studded tour in support of the album.
At the end of 1989, a press release told that the group was putting their career on hold. It was explicit in stressing that it was not quits for good. In 1993 Garth Brooks had a number 2 hit recording of their "Callin' Baton Rouge," which he recut in 1998 with former members of NGR. In 2000 Brooks' cover of their "Do What You Gotta Do" went to number 13 on the country charts. The individual members of the band have since gone on to lead successful solo ventures.
——
Gary Reid is a bluegrass music historian, journalist, and producer, based in Roanoke, Virginia.
Read the Full Bio