Norman Lee Blake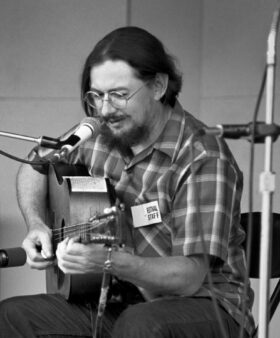 Year Inducted: 2022
Born: March 10, 1938 in Chattanooga, Tennessee, United States
Primary Instrument: guitar (also fiddle, mandolin, Dobro)
Biography
Norman Blake is a North Georgia-born multi-instrumentalist, vocalist, and songwriter who has enjoyed a career that has spanned nearly seventy years. While he has appeared in several bluegrass bands and has performed as a session player on a number of bluegrass albums, he thinks of himself primarily as a rural country musician. After working in the 1960s and early '70s as a Nashville session player, Blake branched out on his own as a solo artist and showcased his prowess as a flatpicking guitar master. He is equally proficient on mandolin, fiddle, and Dobro. Added to the mix are his pleasing, understated vocals and an eclectic repertoire that balances period-sounding Blake originals with deftly interpreted versions of songs and tunes that reach back to the days of the Carter Family, the Monroe Brothers, and the like. Since 1974 an integral part of Norman's stage shows and record releases has been his life and musical partner, Nancy Blake.
Norman acquired his first guitar around age eleven. Among his early influences were recordings by Roy Acuff (which included Dobro work by Brother Oswald) and the Carter Family. A nearby cousin who played fiddle, guitar, and banjo afforded him the first opportunity to play with others.
After five years of playing by himself or with relatives, Norman quit school and at age sixteen joined a bluegrass/rockabilly group called the Dixie Drifters. Headed by Ronald and Donald Everett, the group performed on WNOX radio in Knoxville, Tennessee; on the Tennessee Barn Dance; had a television program on WROM-TV in Rome, Georgia; and recorded for Sun Records. Norman played mandolin in the band.
Norman's most high-profile job to date came in 1960 when he joined Hylo Brown's Timberliners. The group was headquartered out of Wheeling, West Virginia, and appeared regularly on radio station WWVA. A recording session for Capitol Records – Norman's first trip to the studio – netted four songs: "Test of Love," "Dark as a Dungeon," "Lost to a Stranger," and "Sweethearts or Strangers." All four songs remained unissued until they appeared on a 1992 Bear Family reissue.
During a two-year hitch in the Army (1961-1963), Norman was stationed in the Panama Canal Zone, where he served as a radio operator. When not on duty, he found time to play mandolin and fiddle in the Fort Kobbe Mountaineers.
After his discharge from the Army, Norman maintained a busy schedule that included giving guitar lessons to as many as 150 students per week, performing and recording an album with banjo player Bob Johnson's Lonesome Travelers (Twelve Shades of Bluegrass), and touring as part of June Carter's solo act. It was through Carter that Norman met Johnny Cash. Starting in the fall of 1963 and continuing throughout the decade, Norman appeared as a session player on many of Cash's albums for Columbia, the first of which was titled I Walk the Line. Norman also appeared on Cash's network television program, which ran from 1969 to 1971.
Norman's association with Johnny Cash led to a lot of session work in Nashville during the middle and late 1960s, including an appearance on Bob Dylan's Nashville Skyline album. In 1970 and 1971 he toured and recorded with Kris Kristofferson and Joan Baez. Later in 1971 he appeared as part of John Hartford's Aereo-Plain band (also known as the Dobrolic Plectral Society), which included fiddler Vassar Clements and Dobro flatpicker Tut Taylor. Norman participated in the making of the group's iconic self-titled Aereo-Plain album. When the band broke up, Blake remained with Hartford, recording Morning Bugle in 1972.
In August of 1971 Norman added his Dobro to seven tracks on the Nitty Gritty Dirt Band's Will the Circle Be Unbroken three-album set. He received a gold album in recognition of the set's phenomenal sales.
Norman's associations with Kris Kristofferson and John Hartford ignited his creativity as a songwriter; throughout 1971, he wrote at least a half-dozen songs. At year's end, he added these to several old-time favorites to produce the album Back Home in Sulphur Springs, his first solo outing. The album title, an ode to his boyhood home in Georgia, is a clue to the themes and inspirations for Norman's songs, many drawn from personal experience or people that he knew. Amazingly, the album sold 30,000 copies despite having very limited distribution.
In 1972 Norman gave his first solo performance, putting his guitar playing, songwriting, and singing front and center for the first time. In the fall of that year, Norman became affiliated with the Old Time Picking Parlor in Nashville, where he served as a musical consultant and performed on Wednesday evenings.
In 1973 Norman joined Red, White & Blue(grass), a progressive bluegrass band based in Atlanta. The band's guitarist, Grant Boatwright, backed Norman's instrumental solos. Norman appeared on Red, White & Blue(grass)'s debut album playing mandolin, guitar, and Dobro, also contributed two of his original compositions, "Ginseng Sullivan" and "Johnson's Crook." During this time period the New Grass Revival also recorded "Ginseng Sullivan" while "Last Train from Poor Valley" was an integral addition to the Seldom Scene's Act II album.  These were some of the earliest instances of Norman's material being recorded by other artists.
The most long-lasting change came to Norman's music came in 1974 when he added celloist Nancy Short to his act. Rarely seen in old-time/bluegrass settings at the time, Nancy opined that "I thought it (the cello) was a really original idea—until I started digging around." The instrument had appeared in Dr. Humphrey Bate's band, The Possum Hunters (an early favorite on the Grand Ole Opry), as well as Texas Swing and Cajun groups. Nancy's playing has been described as "wine-dark, at times emotionally evocative, at other times mischievous." Adding yet more variety to the duo's live performances, Nancy also sings and plays mandolin, fiddle, guitar, bass and melodeon. The couple married in 1975 and are frequently billed as Norman and Nancy Blake. In 1979, they added fiddler James Bryan to form the Rising Fawn String Ensemble.
Throughout the 1970s Norman recorded for a variety of labels, including Rounder, Flying Fish, Takoma, and County. The releases mixed Blake originals with traditional material and further bolstered his rising reputation as a flatpicking guitarist of note.
In 1979 Norman signed a multi-album contract with Rounder Records, reportedly Rounder's first. At least once source called it "the largest deal ever made by an independent label." All of Norman's recordings for the next decade appeared on the Rounder label. Straight out of the chute were two albums by the Rising Fawn String Ensemble. Recorded later were three solo albums: Original Underground Music From the Mysterious South, Nashville Blues, and Lighthouse on the Shore. The album Blind Dog was billed as a Norman and Nancy Blake release. Near the end of the 1980s Norman recorded a pair of albums with guitar legend Tony Rice, Blake & Rice and Blake & Rice 2.
Norman's recording career continued unabated throughout the 1990s. A series of Norman and Nancy Blake projects were released by Shanachie, a prominent folk label. Several independent regional label releases appeared on Tutlee and Plectraphone. But it was a new entertainment medium – VHS tapes (video home system) – that allowed Norman to be seen as well as heard by his fans. A half-dozen or so videos were released during the '90s, many of them instruction oriented, including Norman Blake's Guitar Techniques No. 1, Mandolin of Norman Blake, Great Guitar Lessons – Bluegrass Flatpicking, and Norman Blake's Guitar Techniques No. 2. A few were strictly for entertainment: My Dear Old Southern Home and Legends of Flatpicking Guitar.
As Norman entered the new millennium, he scaled back his touring but continued as a vibrant recording artist. His Wood, Wire and Words release won the 2016 Grammy award for Best Folk Recording. His music was exposed to new audiences by its inclusion in a number of popular movie soundtracks including O Brother, Where Art Thou?; Cold Mountain; Inside Llewyn Davis, and Walk the Line.
Gary Reid is a bluegrass music historian, journalist, and producer, based in Roanoke, Virginia. 
Read the Full Bio