Paul "Moon" Mullins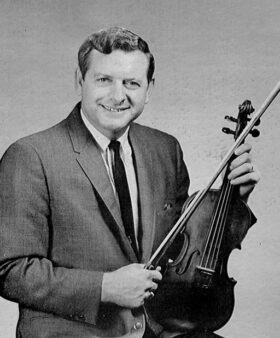 Year Inducted: 2022
Born: September 24, 1936 in Frenchburg, Kentucky, United States
Died: August 3, 2008 in Springboro, Ohio, United States
Primary Instrument: Fiddle
Primary Involvement: Broadcaster
Biography
Paul Mullins logged 47 years as a professional in the service of bluegrass music. His journey started in 1958 when he signed on to play fiddle with the Stanley Brothers. It ended in 2005 with his retirement as a broadcaster. In the years between, he performed in several critically acclaimed bands, made numerous trips to the recording studio for projects under his own name and for other artists, promoted concerts by top-name bluegrass performers, and served as a master of ceremonies at important early bluegrass festivals. A jack-of-all-trades, he mastered them well.
A native of Frenchburg in eastern Kentucky, Mullins started out as a young teen on a six-dollar Stella guitar. At 18, while stationed with the Army in Alaska, he upgraded to a Martin D-28 guitar. During his two years with the military he also played mandolin and learned to play fiddle, putting his talents to use in several bands that performed for dances at NCO clubs.
After his discharge in 1958, he joined a group in Monticello, Kentucky. While performing with them at a weekly jamboree hosted by Carl Story, Paul met the Stanley Brothers. He joined their band, playing fiddle, in September 1958 and worked dates in Kentucky and North Carolina. During Paul's first stint with the Stanley Brothers, he was plagued with stage fright. Offstage, he knew the group's material frontwards and backwards but onstage he was a nervous wreck. Mullins accompanied the Stanleys when they moved their headquarters to Florida. There he was shifted to the bass fiddle, to make room for returning fiddler Chubby Anthony. Paul stayed in that position until January 1959.
Paul returned to Kentucky where he again played with some local pickers and secured a job as an announcer at radio station WGOH in Grayson. After a year or so, with his confidence bolstered, he successfully returned to the Stanley Brothers for another tour.
After his second hitch with the Stanleys, Paul moved on to WMST in Mount Sterling, Kentucky, and then to WTCR in Ashland. It was during this timeframe that Paul performed in a band known as the Bluegrass Playboys, which included future country music songwriter/performer Tom T. Hall. The group had a weekly radio broadcast. In August 1962, Paul worked his first recording session, an outing for country music icon Charlie Monroe that also included banjoist J. D. Crowe.
In the latter part of 1962, the Playboys (minus Tom T. Hall) came to the attention of Nashville recording executive Paul Cohen. He recorded the group for release on his Briar label. The resulting World of Bluegrass album contained at least one song that became a minor hit, "Katie Daly." The song, arranged by Paul, was later covered by Ralph Stanley.
In 1963 the Bluegrass Playboys broadened their exposure with a television program on WHTN-TV 13 in Huntington, West Virginia. The program was cut short, however, when the group was invited to join a nationwide tour that was billed as Hootenanny '63. When it seemed that more money was going to the promoter than to the bands, the Bluegrass Playboys bowed out and broke up not long afterwards.
Paul rebounded, landing back at WGOH in Grayson and working with a new band called the Log Cabin Boys. Its members included Sid Campbell on guitar, Ross Branham on banjo, Danny Milhon on dobro, and June Thompson on bass. Paul, who played mandolin and fiddle in the group, secured a 13-week television program for the band over WSAZ-TV in Huntington during the winter of 1963-1964.
At Sid Campbell's urging, Paul relocated to Middletown, Ohio, in October 1964 and landed a position at WPFB radio. Around this time he acquired the on-air nickname of "Moon," inspired by a long-running (1923-1991) comic strip. Many men with his surname were given such a handle during this era; Mullins often said, "My friends call me Paul" and remained ambivalent about the moniker for which he was best known by tens of thousands of radio fans.
It was at WPFB that Moon entered the most impactful phase of his career. The station covered a large swath of southwestern Ohio, including the sizeable cities Dayton and Cincinnati. A proud native Kentuckian, his folksy on-air persona sounded like home to generations of Appalachian transplants who swarmed to the area for good-paying factory jobs. Paul believed in bluegrass music, in his sponsors, and in his audience – and the feeling was mutual. On the strength of his endorsements of goods and services, which he ad-libbed with healthy doses of down-home witticisms, Moon's fanatical listeners staunchly supported his sponsors. During the nearly 25-year run that Paul logged at WPFB, there were advertisers who stayed with him the whole time.
On the air, Paul Mullins played only the music he liked. On occasions when a song he didn't approve of started to play, he was known to stop and replace it with something more palatable. In an era when bluegrass music was not all that radio-friendly, he maintained a ratio of one bluegrass song to every three country songs, proving that bluegrass could be successful on commercial AM radio. Keeping it before the public, he did much to pave the way for bluegrass music's growing popularity within his region. Through the balance of the century, southwestern Ohio was a world capital for bluegrass music, due in large part to Paul Mullins's on-air activities.
Middletown's proximity to Cincinnati afforded new performance opportunities for Paul Mullins, including gigs at the now-legendary Ken-Mill tavern. It was also in Cincinnati that he picked up session work at King Records. Over a three-year period, Mullins played fiddle on four albums by Charlie Moore and Bill Napier: City Folks Back on the Farm (King 922, 1964), Songs For All Lonesome Truck Drivers (King 936, 1965), Spectacular Instrumentals (King 1014, 1965), and Gospel and Sacred Songs (King 1017, 1966).
The first recording to bear Paul's name as a bandleader came in 1966. The album, by Paul Mullins and the Backwoods Boys Quartet, was called Hymns From the Hills. He offered the album on the air to his radio listeners and wound up selling 5,000 copies. The following year, Paul, along with banjoist Noah Crase and others, backed singer J. D. Jarvis on a gospel album called Bluegrass Hymn Time. Reviewer Dick Spottswood noted that ". . . their playing bursts the bonds of the usually inhibited studio session . . . The album is lean, hungry, exciting bluegrass from start to finish."
In 1967 Mullins joined an Ohio group called the Valley Ramblers, which also included Noah Crase. He appeared on a 45-rpm release in 1967 as well as the group's 1969 album Pickin' and Singin' Solid Bluegrass. The era produced a solo "Moon" Mullins album that featured bluegrass on one side and gospel on the other. Paul also added his fiddle talents to a 1969 album by the Goins Brothers called Bluegrass Hits.
In the late 1960s Paul began emceeing at bluegrass festivals. Among the first was Bill Monroe's 1968 Bean Blossom festival. Other festivals promoted by Ralph Stanley, Mac Wiseman, the Goins Brothers, and Larry Sparks also began hiring Paul for emcee duties. One benefit of his emcee work at Monroe's 1973 festival was the opportunity to perform on stage with Jimmy Martin. The segment was recorded and appeared on Monroe's popular double album, Bean Blossom.
Paul reunited with Noah Crase and Sid Campbell in the early 1970s to form the Nu-Grass Pickers. One journalist at the time cited the band's name as somewhat of a misnomer, as its music was anything but newgrass. Given that the individual band members were spread apart geographically, assembling for rehearsals and local performances was problematic. Consequently, the Pickers disbanded not long after its formation. A lone album by the group, Our Kinda Grass, was heralded for the "superior way in which they play classic bluegrass."
Also in the early 1970s Paul lent his talents to two albums by Charlie Moore. The discs were released on Cincinnati's Vetco labels: Charlie Moore Sings Good Bluegrass and Gospel Time.
Paul's most high-profile band work ran from 1973 to 1979, as he teamed with guitarist/singer/songwriter Aubrey Holt, bass player/vocalist Tom Holt, dobro picker/vocalist Harley Gabbard, and others to form the Boys From Indiana with Paul Mullins and Noah Crase. As with all of Mullins's bands, the Boys From Indiana were purveyors of classic traditional bluegrass music. A key component of the group was original material, most of it written by Aubrey Holt. The group's efforts were acknowledged in 1975 when readers of Muleskinner News voted it as the Most Promising New Band. Paul recorded five albums with the Boys From Indiana: We Missed You in Church Last Sunday (1973), Atlanta is Burning (1974), Bluegrass Music is Out of Sight (1975), One More Bluegrass Show, (1976), and Memories and Dreams (1977).
All of Paul's recording and touring activities took place while he held a day job as a radio announcer. In 1981, after 17 years on the air at WPFB, a management decision about the station's format left him without a job. Without missing a beat, Paul relocated to Jellico, Tennessee, where he secured a job as station manager at ailing WJJT. In less than two years time, after reversing the station's downward trajectory, he left to return once again to WPFB for a five-year stint.
Back in Ohio, Paul was the nucleus of another new group, the Traditional Grass. Paul appeared on fiddle and was joined by his son Joe, an accomplished five-string banjo picker, and guitarist/lead singer Mark Rader. The group held its first performance in December 1983. Over the next dozen years, the band released four well-received albums on the Rebel label and, in 1991, made the decision to tour on a full-time basis. For Paul, the timing was right, as a management change at WPFB resulted in his leaving the station again in 1989. It was just shy of what would have been his twenty-fifth anniversary.
Ironically, it was radio work that brought an end to the Traditional Grass. In 1995 Joe Mullins purchased radio station WBZI in Xenia, Ohio, devoting his full-time energies to that endeavor, which soon grew to three simulcast AM stations and one FM signal. The upside of the venture was getting Paul Mullins back on the air, this time for a solid ten-year stretch. He retired from the airwaves in March of 2005.
In all, Paul's radio and professional music career spanned 47 years. He is remembered for his folksy, downhome on-air persona and unerring knack for playing exactly the kind of music his listeners wanted to hear. In 2000 he received two IBMA awards: one for Broadcaster of the Year and another for Distinguished Achievement. In 2007, he received an Ohio Heritage Fellowship. He died in 2008 from progressive supranuclear palsy.
——
Gary Reid is a bluegrass music historian, journalist, and producer, based in Roanoke, Virginia. 
Read the Full Bio