Paul Williams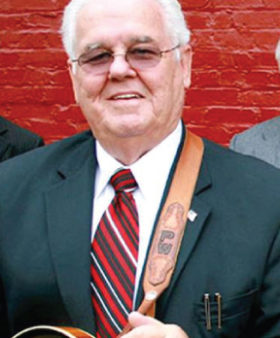 Year Inducted: 2018
Born: March 30, 1935 in Wytheville, Virginia, United States
Primary Instrument: Mandolin
"Jimmy [Martin] worked with me on phrasing and [vocal] tone—we worked hard on that. Jimmy and J.D. [Crowe] both worked with me on timing. I'd been playing country [music, while in the Air Force], and bluegrass is a whole different ball game. I've always tried to play the melody. I was never interested in just the notes, I love the melody."
Biography
Paul Williams career in bluegrass has spanned seven decades. He is best known for a six-year stretch with Jimmy Martin and the Sunny Mountain Boys but also had a memorable run with the Lonesome Pine Fiddlers and more recently fronted his own band, the Victory Trio. As a songwriter, he has over 125 songs to his credit.
Born in Wytheville, Virginia, in 1935, Paul received a mandolin from his father before he was ten and was soon making music with a distant cousin, Jimmy Williams. Although Paul was born with the last name of Humphrey, he adopted the stage name of Williams so that he and Jimmy could be billed as the Williams Brothers.
In their early teens, the Williams Brothers landed a spot on radio station WPUV in nearby Pulaski, Virginia. The duo toured with an act known as Black Whip, which also included a banjo player who was billed as Uncle Leroy. Their next stop was WWYO in Pineville, West Virginia, where the boys signed on with the English Ramblers, a group that featured banjo, fiddle, mandolin and guitar. Yet another switch came when they migrated to Marion, Virginia, and radio station WMEV. Here they were hired by Cousin Zeke Leonard for his Virginia Valley Boys.
In the early part of 1951, Paul and Jimmy landed with the Lonesome Pine Fiddlers. The group was headquartered out of radio station WHIS in Bluefield, West Virginia. Just sixteen at the time, Paul received a salary five dollars per show. In May of the next year, following Jimmy's departure, Paul recorded the first of two Nashville sessions with the group, playing guitar and singing lead and tenor. Three of the four RCA releases bore his name as composer: "You Broke Your Promise," "I'm Left Alone," and "Nobody Cares (Not Even You)." A second session, in October, included two of Paul's songs: "My Brown Eyed Darling" and "That's Why You Left Me So Blue."
At the start of 1953, the Lonesome Pine Fiddlers relocated to Detroit to appear on WJR's Saturday night Big Barn Frolic. Band members secured day jobs to supplement their income. During the band's tenure in Detroit, Paul cut his final session with the group. They recorded six selections at a studio in Chicago in August 1953, none of them written by Paul.
Shortly after the session, Paul briefly joined the Stanley Brothers, whose Clinch Mountain Boys included his cousin Jim Williams. Paul roomed at the Stanley home on Smith Ridge in rural Dickenson County, Virginia. At the start of 1954, he enlisted in the Air Force. While stationed in the Far East, Paul played electric guitar in a country band.
Upon his discharge from the Air Force, Paul visited with the Lonesome Pine Fiddlers, then headquartered at radio station WLSI in Pikeville, Kentucky. It was here that Jimmy Martin called, asking him to replace Earl Taylor on mandolin and tenor vocals in the Sunny Mountain Boys. Paul joined Jimmy in Detroit in the fall of 1957 and played nightclubs three nights a week. Also in the band was banjo player J.D. Crowe. The trio of Martin, Williams, and Crowe made the Sunny Mountain Boys one of the most dynamic groups in bluegrass history.
In February of 1958, Martin moved the band to Shreveport where they appeared on KWKH and the Louisiana Hayride. Also in February, Paul cut his first session with Martin, at Bradley Studio in Nashville. Six songs were recorded, including Paul's "I Like to Hear 'Em Preach It."
During his six years as a Sunny Mountain Boy, Paul recorded eleven sessions and forty-nine songs. He returned to the studio with Jimmy as a guest in 1967 and 1968, adding two sessions and six more songs. By his own reckoning, Paul wrote at least half of the songs he recorded with Martin. Some were credited in his own name, some were listed as joint collaborations between himself and Martin, and others—for whatever reason—were copyrighted in Jimmy's name. In at least one instance, one of Paul's songs was published under his wife's name. Among his credited and uncredited triumphs are bluegrass classics: "Night," "Hold Whatcha Got," "The Joke's On You," "Old Fashioned Christmas," "I Can, I Will, I Do Believe," "My Walking Shoes," "Pretending I Don't Care," "Mr. Engineer," and "Shut-In's Prayer."
While in Shreveport, Paul left Martin briefly to perform with James O'Gwynn, another Hayride artist. By the latter part of 1958, Williams was back with Jimmy Martin in time to move to Wheeling, West Virginia, and WWVA. Many cite the band's tenure there as its artistic and commercial high point.
In 1963, Paul received salvation and subsequently turned in his notice to Jimmy Martin. For the next thirty years he held non-musical jobs, retiring from the U.S. Post Office in 1995. During these decades, he continued to keep a hand in music by being the choir director for his church and a member of an a cappella gospel quartet which had a program on radio station WMTN in Morristown, Tennessee.
Coinciding with his retirement, Paul launched his own gospel group, the Victory Trio. The group toured for the next fifteen years, averaging an album a year, starting with Ain't God Good for Rounder. All of his subsequent band projects, as well as a duet album with veteran Cliff Waldron, appeared on Rebel. In 2010, he teamed up with Doyle Lawson and J.D. Crowe for Old Friends Get Together on the Mountain Home label. The album won IBMA awards for Recorded Event of the Year and Gospel Event of the Year. A second release, Standing Tall and Tough, followed (2014), as well as a duet project by Paul and Doyle called Chapter Three (2017).
Over the years, Paul's songs have been covered by a number of artists including Jimmy Martin, the Nitty Gritty Dirt Band, Hank Williams, Jr., Ernest Tubb, Charlie Walker, Ray Charles, the Osborne Brothers, IIIrd Tyme Out, Marty Raybon, Doyle Lawson, the Primitive Quartet, Vernon Oxford, and Here Today (David Grisman, Emory Gordy Jr., Herb Pedersen, Jim Buchanan and Vince Gill).
In 2013 Paul scaled back his performance activities but he continues to make select appearances with Doyle Lawson and J.D. Crowe as well as with the Victory Trio.
– Gary Reid is a bluegrass music historian, journalist, producer, and actor based in Roanoke, Virginia.
Read the Full Bio