Peter V. Kuykendall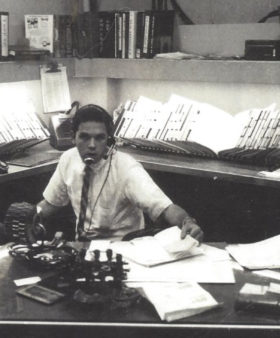 Year Inducted: 1996
Born: January 15, 1938 in Washington, DC, United States
Primary Instrument: Banjo
"Benny & Vallie Cain had me switch from fiddle to banjo when we were playing at a little dive in D.C. called the B&J Tavern. I was about 17. I had learned to play banjo but didn't have one. Vallie said, 'Your instrument is the banjo.' Donnie Bryant left shortly thereafter, so it might have been a set-up to replace him in the group."
Biography
There are folks who go through life doing what needs to be done, looking for a little relaxation and getting by. Then there are those who, with a touch of serendipity, are driven to be involved.
Pete Kuykendall seems to be one of the latter. He is the editor and general manager of Bluegrass Unlimited magazine, positions he has held for almost forty years. He has also been involved in nearly every aspect of the bluegrass world in the years since his childhood in Arlington, Virginia. He grew up in this suburb of Washington, D.C., during the '50s when a variety of music types and styles was available to him. His mother's career as a piano instructor made lessons on that instrument his first musical endeavor but, Pete says, "She got frustrated pretty early."
During junior high and high school, he also played the clarinet in the concert band. While in his early teens, he became interested in boogie-woogie and in what is now called bluegrass music. "I did a lot of [radio] band-scanning at night. Generally, we couldn't pick up WSM very well – just at certain times." The Grand Ole Opry could only be tuned in when weather conditions were exactly right. WWVA (Wheeling, W.Vaest Virginia), WRVA (Richmond, Virginia), WCKY (Cincinnati, Ohio), and, especially, WARL (Arlington, Virginia), and WGAY (Silver Spring, Maryland) provided country and bluegrass for the young musician. During the years at Washington & Lee High School, Pete became interested in the guitar and the five-string banjo. "My first desire was to play banjo. I was one of the early ones that Earl Scruggs influenced. He caught my ear. I heard it on the radio, probably from Don Owens on WGAY."
Pete's first string instrument was purchased with proceeds from a paper route. "There was a pawn shop in Rosslyn, Virginia (where there are now high-rises). That used to be the pawn-shop area, because it was right across the river from Washington. I would pass this one pawn shop, and they had a five-string banjo hanging in the window, with a resonator, for $19.95. I saved my money and went down to buy the banjo and instead experienced my earliest example of 'bait-and-switch.' The banjo in the window had a resonator – I had seen a picture, so I knew it was supposed to have a resonator – but that one was $24.95, and the $19.95 model had no resonator. They sold me on buying a guitar. I didn't get a banjo until a number of years later."
In addition to eventually learning to play bluegrass instruments (bass, mandolin, fiddle, guitar, and banjo), Pete had begun a hobby that he continues (a little less seriously) today. As an avid record collector by 1950, he had begun writing a bluegrass column in Disc Collector magazine. This continued for a year or two, then the magazine became inactive. His record collection started with the boogie-piano things and then, "I started to hear some blues, what they now call country blues. It seems like I've always been a 'roots music' person. I might hear something played in a polished professional way, but I'll usually dig back to find where it came from.
"In junior high, I saw a little band – Ashby Rollins on banjo, Larry Leahy, Ronnie Porter sang, and one other boy I don't remember. That was the first time I'd seen somebody play three-finger five-string banjo." In high school, there was also bluegrass activity. Among the students were the boys mentioned above, as well as Donnie Bryant, who later played banjo with Mac Wiseman and filled in for Earl Scruggs.
After graduation, with his sights set on a radio career, Pete enrolled in the Capitol Radio and Electronics Institute (CREI) in Washington, D.C. In those days, a disc jockey either doubled as ad salesman and DJ or as an engineer and DJ. "I was not a very good salesman, so I opted to go the engineering route."
In 1957, Pete left school, short of his degree, and took his first full-time radio position at WKIK in Leonardtown, Maryland. "A guy I was playing music with, Norman Vaughn, had left there to go to a station in Pennsylvania, so I took his place. I was down there for about a year. I was also playing with Benny and Vallie Cain, a little with Buzz Busby, and this was about the time the Country Gentlemen formed." This band would prove to be the one Pete is most associated with as a musician.
The Country Gentlemen was originally assembled as a fill-in group for Buzz Busby who, along with his guitarist at the time, Eddie Adcock, had been injured in an auto accident. Bill Emerson was playing banjo with Busby at the time, but was not in the car wreck. He lived near John Duffey and called John and Charlie Waller (who'd played with Buzz before) to cover for them at the Admiral Grille for their regular playing job. Pete recalls, "It doesn't make much difference now, but I distinctly remember playing bass with Charlie, John, and Bill Emerson at the Admiral Grille, and I think it may have been the first night." Since the banjo slot was taken, Pete joined the band on fiddle.
When he left WKIK, Pete returned to Arlington and CREI to get his degree. Bill Emerson had left the Gentlemen, so, while continuing his education, Pete joined the band and played banjo regularly with them. Playing with Charlie Waller and John Duffey during this formative period had an important impact on both the band and the man.
After graduation, Pete married and went to work at the Library of Congress, which required working Friday nights, so he had to give up the band job. Even though he wasn't playing in the group any longer, he continued to be involved with it in various capacities over the next few years.
While employed at the Library, one of Pete's primary duties was "dubbing" music from the fragile discs and cylinders to tape; this provided access to a vast array of recorded music. The Gentlemen had a daily radio program and sought to play lots of different material on the show. In addition to Pete and John Duffey writing a lot of their own songs, Pete would find old gems and present them to the band. This was the source for such hits as "Little Bessie." Around this time, the band signed a contract with Starday Records, and, on two of the four songs recorded at the first Starday session, Pete played bass.
In 1960, the job at the Library was reduced to a part-time position. Since Pete had a family, a part-time job wouldn't suffice, so he accepted a chief engineer position at WKCW in Warrenton, Virginia. He left there after about six months and took a job with an electronics distributor. It was during this time working with Electronic Wholesalers that Pete began assembling the components for Wynwood Recording Studio. He also played for a while, during this time, with Red Allen and Frank Wakefield.
Mike Seeger had been working at Capitol Transcriptions in Washington and engineered the first Country Gentlemen Folkways Records session. After Mike moved to another job, the band called on Pete to engineer its next sessions for the label. "That was where I got my feet wet, actually recording a band. It made sense to me, 'cause I didn't have any better sense, to put together a recording studio. (We had bought a house, so I put it in the basement)."
In this studio, some great music was made. Rebel Records released a four-record set of seventy songs for mail-order, and much of it was done in Pete's basement. Also, in 1963, Mississippi John Hurt recorded there. The studio was quite active, doing not only bluegrass, but also country and blues sessions for several years. It was even moved into separate quarters for a couple of years after the breakup of Pete's first marriage. However, his subsequent marriage and the pressures of a television engineering job he took in 1965 left the studio deactivated.
Wynwood was also the chosen name for a music publishing company that Pete has operated since the early 1960s. Through his songwriting and the contacts made from the studio, the Wynwood Music catalogue accumulated quite a variety of material. The list of artists who have recorded material by Wynwood is extensive; the Country Gentlemen, Ralph Stanley, Bill Clifton, the Rolling Stones, Cream, and Emmylou Harris are just a few.
By the mid-1960s, the number of bluegrass fans in the D.C./Baltimore/Philadelphia region had grown significantly. This was due, in large part, to the northern migration after World War II. As a result, locally based bands, as well as nationally touring bands, were playing in the area frequently. The problem, however, was that many times the fans wouldn't know about it until the next week. On one such occasion, the Stanley Brothers appeared in Waldorf, Maryland. Radio personality Gary Henderson got a call from a listener who had missed the show and who suggested that a newsletter be put together to advise people of these performances in advance. The listener had an old mimeograph machine, and volunteered to type the stencils if the information could be collected.
One spring evening in 1966, Henderson, Kuykendall, Dick Freeland (then, of Rebel Records), Dick Spottswood (then of Melodeon Records), and Dianne and Vince Sims (the radio listeners) met at the Kuykendalls. That night, Bluegrass Unlimited was born. As the discussion proceeded, it was decided that articles and record reviews would be included in addition to the performance schedule. Over the next four years, the fledgling enterprise made several moves as it outgrew its residence in various volunteers' homes.
By mid-1970, the journal was too much for a volunteer effort, yet not enough for a full-time job. Enter serendipity. The rock band Cream had recorded an old Skip James song, "I'm So Glad," published by Wynwood Music. The royalties gave the proverbial 'kick in the pants' to Pete, enough for him to say to his late wife Marion, "Hon, I'm gonna quit my job and go into doing Bluegrass Unlimited full-time." As they were picking blackberries at the time, she couldn't get to him from across the bushes to shake some sense into him. That year, with visits to several major bluegrass festivals and making nearly the whole process a do-it-yourself operation, a period of rapid growth began. The volunteers would gather each month to address and prepare the copies for mailing, and the operation outgrew its last home in a home.
From 1972 through 1980, Bluegrass Unlimited (i.e., Pete) produced 17 major bluegrass festivals at a campground near Hagerstown, Maryland. The Indian Springs Bluegrass Festival is remembered for several "firsts." These include Bill Clifton's first U.S. appearance after several years abroad, and the only festival appearance by Clarence White before his untimely death.
Through the years, Kuykendall has always been on the lookout for good material, and still sends tapes to artist friends with suggestions for recording projects. He is one of the foremost authorities on the history of bluegrass. In addition to the magazine, he has run Wynwood Music Company and, since 1985, has been involved with the International Bluegrass Music Association (IBMA) as one of its founding members and as a board member. He and his wife, Kitsy, have been staunch supporters of the young organization and served in several capacities on committees for many of IBMA's endeavors.
-Steve Spence.
Read the Full Bio