Ralph Rinzler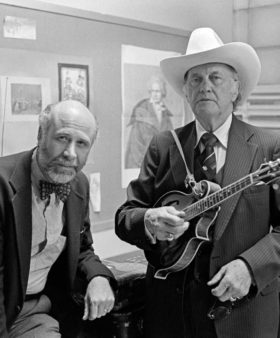 Year Inducted: 2012
Born: July 20, 1934 in Passaic, New Jersey, United States
Died: July 2, 1994 in Washington, DC, United States
Primary Instrument: Mandolin
"The meaning of these experiences was clear and powerful. Here was the context of the folk music I had heard in recorded and concert performances for twenty of my twenty-six years. The distinctions between traditional and urban revival performances have long been obvious to me, but never had I been in a community whose music – repertoire, vocal and instrumental styles – was part of its everyday life. Never had it been possible to hear a brilliant, innovative, traditional stylist – like Doc, for example – alongside his own as well as another generation of musicians from whom he had absorbed both style and repertoire."
Biography
Ralph Rinzler sought out, recorded, advocated for, booked and wrote about the old-time and bluegrass performers whose music he cherished as a musician and a scholar. He brought Doc Watson to the world; he got Bill Monroe to speak.
Rinzler introduced bluegrass to many people. In 1957 he helped produce the first bluegrass LP album, American Banjo Scruggs Style. From 1959 to 1963 he performed in the first nationally touring and recording bluegrass band from outside the South, the Greenbriar Boys. In 1961 he launched Doc Watson's career. Between 1963 and 1965, as a manager and writer, he revitalized Bill Monroe's career. In 1964-65 he helped Carlton Haney start the festival movement that transformed bluegrass. As he moved on to other cultural activities, Rinzler never lost his interest in bluegrass. Among his last productions before dying in 1994 were Smithsonian/Folkways albums of live recordings by Bill Monroe and the Blue Grass Boys and Bill Monroe and Doc Watson.
Today Ralph Rinzler is best remembered for his work at The Smithsonian Institution in Washington, where he played a major role in establishing folklife research and presentation in American public life. He led the development of the Smithsonian's Festival of American Folklife, created its Office of Folklife Programs (now The Center for Folklife Programs and Cultural Studies), and managed its acquisition of Folkways Records in 1988. In 1993 he was awarded the Smithsonian Secretary's Gold Medal for Exceptional Service.
Ralph Charles Rinzler was born on July 20, 1934, in Passaic, New Jersey. Son of a doctor, he grew up in a family with deep interests in the arts. Samuel Joseph, an uncle who had studied folklore at Harvard, encouraged his interest in folk music with yearly gifts of newly published Library of Congress field recording albums.
As a teen Rinzler attended folk music concerts in nearby New York City. At Swarthmore College, near Philadelphia, he heard Pete Seeger in concert, took up the five-string banjo, and began performing at folksong revival events. He moved to mandolin after seeing Woody Guthrie play that then-novel folk instrument.
At Swarthmore's Folk Festival, Rinzler met Mike Seeger, who was deeply involved in old-time and bluegrass music in the Washington-Baltimore area. Seeger took him to nearby country music parks where he heard Bill Monroe, the Stanley Brothers, and other bluegrass performers. Their music and its audiences gave him a deeper understanding of the field recordings he'd heard as a child, and moved him to begin making his own recordings of traditional musicians. Between 1956 and 1959 he learned field research techniques by working with Mike Seeger, Alan Lomax, and the great British scholar-performers A. L. Lloyd and Ewan MacColl.
At the same time his musical performing activities grew. He worked as a mandolin accompanist at concerts and recording sessions in Europe and the U.S.
In 1959 he was invited to join the Greenbriar Boys, the first non-southern bluegrass band to achieve national popularity. In 1960 they took their sound to the Union Grove Fiddlers' Convention in Iredell County, North Carolina, and walked away with first place in the band contest. When they played Gerde's Folk City in Greenwich Village in the fall of 1961, Bob Dylan opened for them.
Signed to record for Vanguard Records, the Greenbriar Boys released their first album in early 1962. Around the same time they recorded on several tracks of Joan Baez's second Vanguard album. In spring 1962 they toured nationally with Baez as her opening act. When she came to Nashville for a concert at Vanderbilt, the Greenbriars guested on the Grand Ole Opry. By 1963, when Ralph left the band to work for the Newport Folk Festival, they had taken bluegrass to folk music audiences all over North America.
Through his years with the Greenbriar Boys, Rinzler continued to follow his interest in researching traditional music. In a back-room jam at Union Grove in 1960 he rediscovered Tom "Clarence" Ashley. Ashley's recordings from the late 1920s had made him an authentic folk music icon, but no one had been able to track him down. Ralph arranged to record him, and thus met Doc Watson, who was playing in Ashley's band.
In 1961 Folkways published Ralph's recordings of Ashley's band. Working with the newly formed Friends of Old Time Music, he brought the band to perform in New York. Watson was an immediate hit. Over the next three years Ralph helped guide Doc to a solo career on Vanguard records.
Rinzler's liner notes to the Greenbriars' first album devoted much space to Bill Monroe; he felt that not enough was known about this influential artist. In 1962 he interviewed Monroe for an article in the folk music magazine Sing Out! It was Monroe's first published interview and the beginning of an enduring relationship between Rinzler and Monroe.
In 1963 Ralph began introducing Monroe to folk music audiences at festivals and concerts. Moving to Nashville, he became Monroe's manager and helped him assemble a band that included Del McCoury as singer and guitarist and Bill "Brad" Keith as banjoist. McCoury went on to become one of bluegrass music's leading singers. Keith, the first "Yankee" Blue Grass Boy, introduced a style that revolutionized five-string banjo. Rinzler booked Monroe at festivals, coffeehouses, and concerts, showcasing this band and encouraging Bill to talk about his music on stage.
Rinzler stayed in Nashville as Monroe's manager for only six months, but continued to represent Monroe as an agent, and began booking Doc Watson, whom he also represented, to open at Bill's shows, where Doc and Bill began recreating the old Monroe Brothers' duet sound.
While in Nashville, Rinzler began working to edit reissues of Bill Monroe's old recordings. The first fruit of this work came in Blue Grass Instrumentals (1965), the first historically oriented collection of bluegrass recordings. The second, High Lonesome Sound (1966), compiled Bill's most influential early Decca singles, and introduced the phrase by which Monroe and his music became widely characterized.
In the summer of 1963, Rinzler began working for the Newport Folk Festival as Director of Field Research, a post he held until 1967. Folk had become one of the nation's most popular musical genres, and Newport was its premier showcase. The large crowds who came to see folk stars like Dylan and Baez generated ample income. This gave Newport the means to introduce festival audiences to lesser-known traditional artists from whose music the young stars drew. Ralph's field research was targeted at finding such artists, and to using the festival's resources to help communities preserve and develop their traditional arts.
It was in this spirit that Rinzler invited Carlton Haney to attend the 1964 Newport Folk Festival and then worked behind the scenes with Haney as he created the first multi-day bluegrass festival at Fincastle, Virginia, on Labor Day weekend 1965. That year and the following Ralph helped backstage with Haney's "Story of Bluegrass," a dramatic recreation of Monroe's musical history that brought onstage former Blue Grass Boys like Jimmy Martin, Carter Stanley, Don Reno, and Mac Wiseman to recreate their performances with Monroe.
In 1967 Rinzler moved to the Smithsonian Institution where he forged an innovative career in the public preservation and promotion of traditional culture. He died of HIV/AIDS in Washington, D.C., on July 2, 1994, a few weeks before his sixtieth birthday.
– Neil V. Rosenberg is a bluegrass music historian, journalist, and member of the Hall of Fame.
Read the Full Bio