Terry Woodward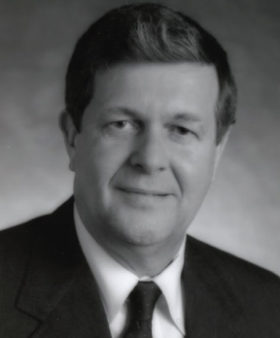 Year Inducted: 2018
Born: July 19, 1937 in Owensboro, Daviess County, Kentucky, United States
Primary Involvement: Volunteer Leader
"Nashville is the home of country music, but bluegrass has no home. We want to make Owensboro the home of bluegrass music. The idea is ambitious, but it is very realistic... When the Grand Ole Opry started, people didn't realize what it would grow into either."
Biography
For more than three decades, Owensboro, Kentucky, native Terry Woodward has been a key player in selling, organizing and publicizing bluegrass music, and in creating a state-of-the-art space for its history to be preserved.
There was little to suggest that Woodward would be a mover and shaker in the world of bluegrass. As a teenager in 1952, he worked part-time in his father's Wax Works, Owensboro's only record shop, where he stocked and sold merchandise. He graduated from the University of Kentucky in 1964 with a degree in industrial administration. Over the next four years, he logged time at Texas Instruments, the Owensboro-Daviess County Hospital, and Modern Welding Company. In 1968, he returned full-time to Wax Works which was a record store as well as a "one-stop" distributor of recorded product to other retail outlets.
By the middle 1980s, Wax Works had expanded to include a chain of retail outlets called Disc Jockey. During that time there were 36 outlets in 14 states and it was counted among the top 15 music chains in the country. Concurrent with this, the company was heavy into video sales and had some 1,500 accounts.
It was at this time and with Woodward's leadership, that the city of Owensboro had designs on becoming a mecca for bluegrass music; bluegrass patriarch Bill Monroe had been born less than 40 miles away in the village of Rosine. The Owensboro-Daviess County Tourist Commission, of which Woodward was chairman, organized a free-to-the-public event called "Bluegrass With Class." The highlight of the 1985 program, a pairing of the Osborne Brothers with the Owensboro Symphony, is reported to have attracted 12,000 attendees.
A chance meeting with Barry Poss of Sugar Hill Records set the stage for Woodward's invitation to the 1985 Nashville gathering (organized by Hall of Fame member Lance LeRoy) that resulted in the formation of the International Bluegrass Music Association (IBMA). As part of the Tourist Commission, Woodward was able to offer free office space and $20,000 in seed money for three years if the organization would locate in Owensboro. Owensboro civic officials and leaders of the bluegrass community jointly envisioned a bluegrass trade organization, a bluegrass festival, awards show, annual convention and a bluegrass museum, all of which would initially be located in the city of Owensboro.
In 1986, IBMA established its headquarters in Owensboro. Woodward would become its board chair, a position he held until 1989. In 1987, IBMA's first World of Bluegrass trade show and Fan Fest were held in Owensboro. Given Terry's head-first lunge into bluegrass, Wax Works / Disc Jockey became prime outlets for the sale of bluegrass albums, CDs, and the emerging format of videocassettes.
By 1989, Woodward was also chairman of Owensboro's RiverPark Center. The committee was charged with developing a state-of-the-art performing arts facility that was to have an auditorium, a performance café, and a bluegrass museum. The performance part of the Center opened in September 1992 and Woodward's Café—intended as a Preservation Hall for bluegrass—opened in January 1993. The museum still lacked funding, but several displays were in place to give attendees a glimpse of what the finished facility could be. The full-scale International Bluegrass Music Museum (renamed the Bluegrass Hall of Fame and Museum in 2018) opened in 1995.
In 1997, with significant issues surrounding the city's primary convention hotel, IBMA's World of Bluegrass trade show and Fan Fest relocated to Louisville. While a blow to the community, Woodward opined that the trade show and fan fest were once-a-year attractions, while a bluegrass museum had the potential to draw tourists year-round. The museum closed in 2000 for a remodel and reopened to much fanfare in 2002. Yet another setback to Owenboro's bid to be the headquarters of bluegrass came in 2003 when IBMA moved its offices to Nashville.
In the meantime, in 2000 Wax Works sold its Disc Jockey division, which then included 230 retail outlets in 37 states, the fifth largest music chain in the nation. The company then concentrated its efforts on DVD sales. Today, the vast majority of DVDs ordered through Amazon and Walmart.com are routed through the Wax Works warehouse in downtown Owensboro. Wax Works distributes DVDs to 400 museums and gift shops across the U.S, including the White House, Smithsonian, Disney, and Graceland.
In 2003, Woodward became a trustee of the bluegrass museum. He donated $25,000 to fund a video oral history project to document the stories of early bluegrass performers. (268 interviews of these cultural icons have since been archived, along with numerous concert performances).The following year, he was elected chairman of the board of trustees. In recognition of Terry's many bluegrass accomplishments, he was awarded an IBMA Distinguished Achievement Award in 2005.
The bluegrass museum continued to be a major focus for Terry. In 2007, he donated another $25,000. In 2009 he was elected treasurer of the board of trustees, and in 2010 he was elected vice chairman.
As 2010 approached, it was apparent that the existing bluegrass museum was not able to fulfill the early vision for its success and Woodward, again, would lead efforts for a more bold approach and renewed focus within the community. Plans were developed to replace a state office building at a prime intersection into an expanded museum, an indoor state-of-the art theatre capable of recording and filming performances for broadcast, and a stage for outdoor events. Among his visions for possible uses to expose the music to new and existing audiences was a weekly Opry-style program to emanate from the space.
In 2011, Woodward was tapped to head the museum's fundraising steering committee; later in the year he was elected chairman for a two-year term. Funding continued to be an obstacle to seeing the museum project through to its fruition. Finally, in 2015, $100 million was allocated for an Owensboro riverfront renovation, including a new convention center and a bluegrass center. The bluegrass facility was budgeted with a $15.3 million price tag for which he would become the primary force in securing those funds from state and local resources in addition to major financial gifts from Woodward personally. Terry was elected to a term as vice chairman and construction on the new facility began not long afterwards.
Yet another term as chairman of the museum came to Woodward in 2017. The Bluegrass Music Hall of Fame & Museum held its grand opening in October 2018.
– Gary Reid is a bluegrass music historian, journalist, producer, and actor based in Roanoke, Virginia.
Read the Full Bio