Maybelle Addington Carter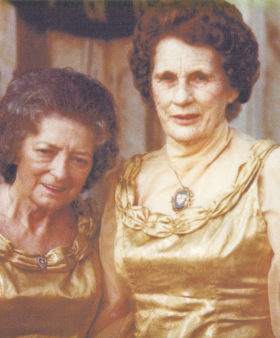 Year Inducted: 2001
Born: May 10, 1909 in Near Nickelsville, Scott County County, Virginia, United States
Died: October 23, 1978 in Nashville , Tennessee, United States
Primary Instrument: Guitar
"By 1939, South Texas had blossomed with an outlandish industry built on XERA and other border stations that had sprung up around it… Maybelle, the 29-year-old guitar player, was the virtuoso of the group, a fact which astonished many listeners of the 1930s, who would not believe that the agile licks and infectious rhythms were conjured by a woman."
Biography
Maybelle Addington's sister Madge (eight years older) and her cousin Sara Dougherty (11 years older) were neighborhood singing partners in rural southwestern Virginia as young Maybelle first grew interested in music. She took up the autoharp and the banjo before acquiring, at age 13, an instrument with which she would inspire generations of country and folk musicians – the guitar. By then Sara had married fruit-tree salesman A.P. Carter and moved to Poor Valley, on the other side of Clinch Mountain. Guitars were just beginning to penetrate the area in the 1920s; on her inexpensive Stella, Maybelle taught herself a unique way to play melodies and strum accompaniment at the same time.
A.P. and Sara were beginning to perform in surrounding churches and schools, and had even auditioned for the Brunswick Record Company. In March of 1926, fate brought 16-year-old Maybelle even closer as she married A.P.'s younger brother Ezra 'Eck' Carter and moved to their side of the mountain. A year later, the duo had become a trio, with Sara singing lead, Maybelle a higher harmony, and A.P. the bass part. Maybelle's guitar was the sole lead instrument, accompanied by Sara on guitar or autoharp. The Carter Family's repertoire included material all three of its members had collected from various family and community sources, both secular and sacred.
Maybelle was seven months pregnant with her first child when A.P. promised to weed a corn patch for Ezra if he would let his wife accompany A.P. and Sara on a trip to Bristol. In late July and early August of 1927 Ralph Peer was seeking rural talent for the Victor Talking Machine Company of Camden, New Jersey. "Must I take my guitar?" Maybelle asked.
The audition was successful, resulting the following fall in the first of some 300 Carter Family releases. Ralph Peer owned the publishing company Southern Music; he arranged for otherwise uncopyrighted material to be registered under A.P.'s name (A.P. divided royalty checks three ways for the rest of his life). Peer also managed the group's recording and performing career. The Carter Family's concert dates and revenues were limited by quickly growing families, Ezra's railroad work, the Depression, A.P. and Sara's 1933 separation, and the inaccessibility of their Poor Valley home. But their 78-rpm records traveled all over the world, generating fan loyalty and musical disciples wherever they were heard.
After several winters spent performing on Mexican border radio and one wartime year on WBT in Charlotte, North Carolina, the original Carter Family disbanded in 1943 after 16 years together. Sara and her new husband moved to California. A.P. opened a grocery store adjacent to his home in Maces Spring (now Hiltons). Maybelle and her daughters – Helen, Anita, and June – lost no time in establishing their own country act, with encouragement and tour support from Ezra.
Mother Maybelle & the Carter Sisters' repertoire included Carter Family favorites, but also expanded into popular sounds of the day. Maybelle's iconic f-hole L-5 Gibson guitar (purchased in 1928 for $275) was but one of the group's lead instruments. Ever the innovator, Maybelle devised a method for cradling the autoharp (typically a lap instrument) in her arms and playing both melodies and accompaniment with thumb and fingerpicks. Helen played the accordion, an instrument frequently used in country music at that time. In 1949 a skinny Tennessee mountain boy, Chester "Chet" Atkins, became the first non-family member of the group, on fiddle and finger-style electric guitar. Breaking the laconic and dour mood of the predecessor act, June added energetic comedy while her mother and sisters sparkled, smiled, and sang sweet trio harmonies.
Starting with three years at tiny WRNL in Richmond, Virginia, the act moved up to 50,000-watt WRVA and the Old Dominion Barn Dance in Richmond, then on to WNOX and the Mid-Day Merry-Go-Round and Tennessee Barn Dance in Knoxville, and then Springfield, Missouri's KWTO, RadiOzark's syndicated program, and the Ozark Jubilee. The big step to Nashville, WSM, and the Grand Ole Opry came in 1950, shortly followed by national label contracts on RCA and Columbia.
Raised on a hard-work ethic in Virginia, Maybelle was quite the road warrior. She drove long shifts in the group's touring cars and managed wardrobes and musical issues, while Ezra took care (not always wisely) of most business decisions and chaperoned the daughters' solo ventures until all three were married.
As the swinging '60s began, Maybelle found her style out of favor and her daughters preoccupied with other musical and family activities. She took work as a part-time practical nurse, caring for the elderly, while still performing weekends on the Opry. Then, after A.P.'s death in 1960, a new generation discovered the historic recordings and classic style of the Carter Family. This time, they were calling it "folk music." Maybelle found herself being interviewed for national publications and demonstrating her guitar and autoharp styles for adoring disciples at places like the Newport Folk Festival and early bluegrass festivals. Sara was even convinced to come out of retirement for an album project and a few joint appearances with Maybelle.
But the biggest opportunity, a combination of Maybelle's country and folk fame and Johnny Cash's growing interest in daughter June, was a long-term contract for Mother Maybelle and the Carter Sisters to appear on the self-contained Johnny Cash touring package and eventually his network TV show. From the mid-'60s to the early '70s, they sang back-up to Johnny and performed their own set. Feeling the pain of arthritis in her fingers, Maybelle turned lead guitar playing over to daughter Helen and stuck mostly to autoharp.
Shortly before Ezra's death in 1975, Maybelle decided to retire from music, despite the protests of her daughters, Johnny Cash, and Chet Atkins. She spent more time at a second home in Florida, enjoying an active social life with friends, bingo, cards, and low-stakes gambling. Her health seriously deteriorated in 1978 and she died peacefully in her sleep on October 23 of that year. Her passing was nationally noted, but it is likely that the soft-spoken, hard-working, and well-loved Maybelle Carter never fully understood the extent of her impact upon the world's musical heritage.
– Fred Bartenstein is a bluegrass music historian and journalist.
Read the Full Bio