Sara Dougherty Carter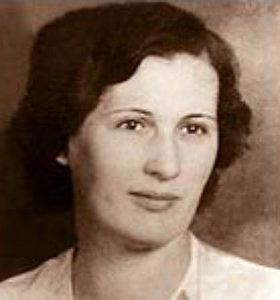 Year Inducted: 2001
Born: July 21, 1899 in Coeburn, Wise County County, Virginia, United States
Died: January 8, 1979 in Lodi, California, United States
Primary Involvement: Vocalist, Guitar and Autoharp Accompanist
"Sara's voice… was the major element in their continued success and certainly the prime factor in securing their initial recording contract…. Over the years Sara's voice took on a deep, almost masculine tone and… seemed to improve almost from one recording session to the next."
Biography
Sara Carter was born two years before the close of the 19th century near Copper Creek, on the north side of Virginia's 150-mile Clinch Mountain ridge, not far from the Kentucky border. After her mother's death in 1901, the child and her sister moved in with an aunt and uncle. Neighbors owned autoharps, and a preteen Sara acquired her first by selling greeting cards and ordering it from the Sears catalog. This instrument, held on the lap, provided a singer with chordal accompaniment and required only a bare minimum of musical knowledge and skill. Its limitations required that a song be arranged in simple and regular form. Sara also learned to accompany herself on guitar and banjo but it was her striking, strong, and expressive singing voice that attracted the most attention.
A.P. Carter, a fruit tree salesman from the other side of Clinch Mountain, came to call. He heard Sara singing (family legend says the song was "Engine 143″) and started to court the young lady. Although she professed not to like him, they married a month before her 17th birthday.
The couple – who were joined by children Gladys (1919), Janette (1923), and Joe (1927) – moved to Maces Spring (Hiltons), where they sang together at home and in local churches. A.P. was restless by nature and often away from home. Their primary sources of income included blacksmithing, carpentry, nursery sales, and logging. On a trip to visit relatives in a borrowed car, the couple had a breakdown and no money. Asked what they should do, Sara suggested they arrange a performance at a local schoolhouse – their first attempt at professional singing.
A.P. heard that the Brunswick Record Company was seeking talent and arranged an audition, where the couple performed "Log Cabin By the Sea," "Poor Orphan Boy" and several fiddle tunes. Brunswick was looking for a singing fiddler rather than a family act, so A.P. refused their offer.
Sara had two younger cousins in Copper Creek, Maybelle and Madge Addington, who enjoyed making music with her. After Maybelle married A.P.'s brother Ezra and moved to their side of the mountain, A.P. and Sara asked her to join in on guitar and vocal harmony.
A more successful recording audition involved the trio in Bristol, Virginia/Tennessee on August 1 and 2, 1927. Sara's singing on "Single Girl, Married Girl," "The Storms Are On the Ocean," "The Poor Orphan Child," and "The Wandering Boy" so impressed the Victor Talking Machine Company's Ralph Peer that those became the first of an amazing 144 releases by that company and its subsidiaries over the next seven years. An equal number of recordings were made for other labels between 1935 and 1940.
Sara separated from A.P. in 1933 and moved back to Copper Creek, on the other side of the mountain. At the urging of Ralph Peer's wife Anita – who reminded Sara that Hollywood movie couples continue to perform together after splitting – she remained a member of the performing and recording ensemble. According to family and friends, distance improved her and A.P.'s relationship and they remained cordial thereafter, despite an eventual divorce in 1939 and Sara's marriage to A.P.'s first cousin, Coy Bayes.
After several winters spent performing on Mexican border radio and one wartime year on WBT in Charlotte, North Carolina, the original Carter Family disbanded in 1943 after 16 years together. Sara and Coy moved to California, Maybelle and her daughters established their own country act, and A.P. opened a grocery store in Maces Spring.
Clifford Spurlock, a Kentucky preacher, approached A.P. about recording for his Acme label. Sara was convinced to come back and record 58 tracks in 1952 and 1956 with her ex-husband and their children Janette and Joe. The recordings (reissued on CD in 2008) made little impact on a market that was at the time spawning rock 'n roll. Folkways included a handful of Carter Family songs on the influential compilation Anthology of American Folk Music in 1952. Further reissues post-dated A.P.'s death in 1960 and Joan Baez's popularization of the Carter repertoire.
Sara maintained contact with her Virginia and Tennessee family members. In 1965, she sent Maybelle a tape of home recordings for Christmas. In a wry comment about how low her voice had become, she suggested Maybelle play it for her soon-to-be son-in-law Johnny Cash (Johnny and June Carter were married in 1968). Cash arranged a recording session for Columbia, and the album An Historic Reunion was released in 1966. A year later, Mike Seeger and Bill Clifton arranged for Sara and Maybelle to appear at the Newport Folk Festival in 1967 (they were included in the documentary film Festival!).
Sara and Maybelle were both present to accept the Carter Family's induction into the Country Music Hall of Fame in 1970. Their last performance together was in floor-length, high-necked gold dresses at daughter/niece Janette's Carter Family Fold at Maces Spring in 1977. The next December Maybelle was dead. Soon after, Sara was hospitalized for circulatory and respiratory problems and died January 8, 1979. After a funeral at the Carter Fold, she was laid to rest two rows from A.P.'s grave at the nearby Mount Vernon Methodist Church Cemetery.
Beginning with the Monroe Brothers (Bill and Charlie), in 1936, bluegrass artists in all generations have made extensive use of the Carter Family's recorded repertoire. It is fitting that the Carters were the first inductees to the Bluegrass Hall of Fame selected entirely for their influence upon, rather than direct participation in, bluegrass music.
– Fred Bartenstein is a bluegrass music historian and journalist.
Read the Full Bio