Charlie Waller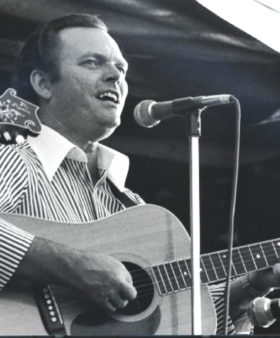 Year Inducted: 1996
Born: January 19, 1935 in Joinerville, Texas, United States
Died: August 18, 2004 in Gordonsville, Virginia, United States
Primary Instrument: Guitar
"One of the things that caught my attention early on was the way he held his guitar on stage…. With his feet planted wide, he would lean into that Martin with his right hand balled up and turned in toward the sound-hole as his arm stroked out the rhythm.
Biography
Charlie Waller was born in a now-tiny east Texas town named for Columbus Joiner, who drilled the first oil well there in 1930. Waller's family must have experienced the bust, leaving Joinerville shortly after Charlie's birth during the Great Depression. The Wallers moved to a farm in northern Louisiana, where Charlie remembered picking cotton.
At the age of 10, he purchased his first guitar – a Stella – for $15 and decided to make his career in entertainment. His mother, who had taken a job with Potomac Electric Power Company and ran a rooming house in Washington, D.C., sent for Charlie to join her. He left school in the eighth grade and landed his first professional music job in 1948 at the age of 13, with Richard Decker and Jack Jackson. Also working by day in a gas station and body shop, Waller picked up musical and performance skills from the slightly older Scott Stoneman.
In the early '50s, Charlie played with Earl Taylor & the Stoney Mountain Boys in the bars of Baltimore until switching to Buzz Busby & the Bayou Boys. Buzz had also migrated from northern Louisiana, and the band (which also included Don Stover on banjo) decided to try out for the Louisiana Hayride in Shreveport. There they appeared alongside Elvis Presley, Johnny Cash, George Jones, the Browns, Johnny Horton, and Jimmie Newman and recorded classics such as "Lost" and "Me and the Jukebox."
The Bayou Boys had returned to Washington and Eddie Adcock had replaced Charlie on guitar by the time an auto wreck hospitalized Busby and Adcock. Banjo player Bill Emerson hastily called together Charlie Waller, John Duffey, and Larry Leahy to fill in at the Admiral Grill in Bailey's Crossroads, Virginia on July 4, 1957. Waller and Duffey had never met, but were pleased by the blend of their voices and musical interests. The group adopted the name "The Country Gentlemen" and self-produced Carter Stanley's "Going to the Races" and Duffey's "Heavenward Bound" on the Dixie label before beginning to lease tracks to the Starday label later in 1957.
For almost 15 years, the Country Gentleman appeared for two nights a week at the Shamrock Club in Washington's Georgetown district. It wasn't a fancy place, but the informal atmosphere and audience of southern country music fans, college kids, and government workers created an environment in which a variety of musical tastes, experimentation, and onstage rehearsal could forge a distinctive and appealing act.
By 1964, the Country Gentlemen's recordings were nationally distributed on the Folkways and Mercury labels. Ruggedly handsome, sincere, and baritone-voiced Charlie Waller contrasted with the wiry and volatile wiseacre John Duffey, the flashy and aggressive banjo star Eddie Adcock, and the quiet and collegiate bassman Tom Gray – the "classic" edition of the band. Some of Charlie's most popular solos from the early days included "Two Little Boys," "Copper Kettle," and "Matterhorn."
The group took a new lease on life with a quite different sounding ensemble in 1971: Bill Emerson in his second stint on banjo, Doyle Lawson on mandolin, and Bill Yates on bass. Waller was the constant and increasingly the "star" vocalist, a role he had previously shared with John Duffey. Songs such as "Fox on the Run," "Teach Your Children," and "Legend of the Rebel Soldier," won awards and became perennial bluegrass standards. Opposite from the experience of other country and bluegrass acts of the time, the Country Gentlemen's popularity grew from a northern base into the south, midwest, and southwest, as outdoor festivals proliferated. This edition of the Gentlemen toured Japan and recorded a live album in Tokyo.
More band changes followed, but the group's Waller-centric sound remained stable over three more decades. During this era, recordings on Rebel, Vanguard, Sugar Hill, and Pinecastle were best sellers and frequent visitors to the bluegrass charts.
Charlie Waller faced health challenges as the millennium turned, but he kept coming back to touring and recording. The end came unexpectedly. At 6:30 p.m. on August 18, 2004, his wife found him dead of a heart attack in the Gordonsville, Virginia, garden where his mother had also died.
– Fred Bartenstein is a bluegrass music historian and journalist.
Read the Full Bio