The Lewis Family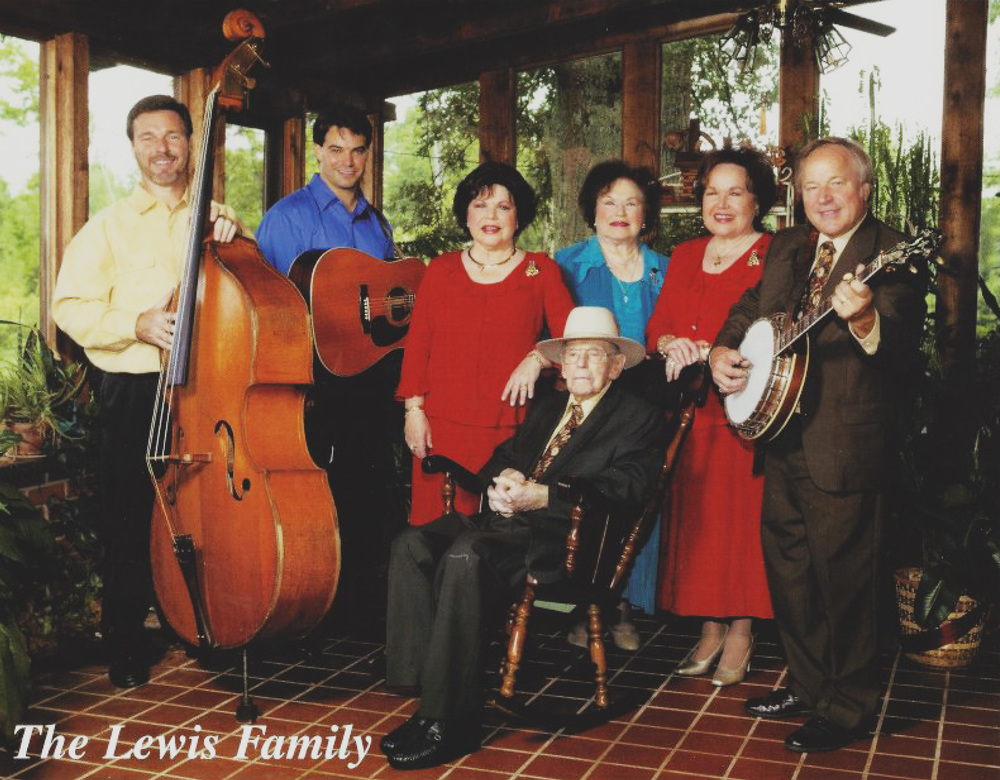 Biography
The Lewis Family – known to their many fans as "The First Family of Bluegrass Gospel" – hailed from Lincolnton, Georgia, a small community of 1,500 residents situated on the northeast edge of the state not far from South Carolina. Named for Revolutionary War general Benjamin Lincoln, the town did much to infuse the group's show with a genuine country charm as well as the members' thick Southern accents.
In its classic configuration, the band consisted of family patriarch Roy "Pop" Lewis on bass and his children: Wallace on guitar, Talmadge on mandolin and fiddle, Roy M. "Little Roy" on banjo, and daughters "Miggie," Polly, and Janis on vocals.
The group got its start in 1947, as the Lewis Brothers and featured yet another brother, Esley, on bass, along with Wallace, Talmadge, and sometimes "Little Roy." This configuration played country music and fiddle tunes at square dances. When the rest of the family came on board in 1951, they switched to all gospel and remained that way throughout their career.
The group had a chance to make their first recordings in 1953. A session was held in the studio of radio station WJAT in Swainsboro, Georgia, and the songs' intended destination was the Bibletone label. The label ceased operation before the records could be released and they found a new home with Sullivan Records of Greenwood, South Carolina. Two 78-rpm discs were released in 1954: "He's the Only One" / "Lights in the Valley" and "Did You Do What the Lord Said To Do" / "Wait a Little Longer, Please Jesus."
The label's owner, Hoyt Sullivan, figured prominently in the next phase of the group's career. In April of 1954, he sponsored the Lewis Family on television station WJBF in Augusta, Georgia. The program aired live every Sunday from noon until 1:00 pm. The show continued, with different sponsors, for the next 38 years.
The group had three additional singles released on the Hollywood label, a subsidiary of King Records, before landing at Starday in 1958. Initially, the Starday material appeared as a series of extended play 45-rpm discs, with two songs on each side of the records. Eventually, the songs from these singles were grouped together to form their first album, Singing Time Down South. All subsequent albums for Starday were recorded specifically as albums. From 1960 to 1969, the Lewis Family released 13 new albums on Starday, including a banjo album by "Little Roy" and a project that joined them with another popular Starday gospel artist, Carl Story. Several notable songs recorded for Starday included "Pop" Lewis' perennial favorite, "Just One Rose Will Do," and the poignant "Slippers With Wings."
As their popularity increased, the Lewis Family found their performance schedule included performances farther away from their Georgia base of operations. Typical venues included high school auditoriums, civic centers, fairs, and churches. To accommodate their travel needs, they purchased a 1948 GM Silverside bus, making them one of the first bluegrass bands to use this mode of transportation.
It was also during this time, in the early 1960s, that the various family members quit their day jobs and devoted themselves full-time to music. Things intensified in 1963-'64 when their television show, which had been done live up to this point, began to be videotaped and syndicated to approximately 25 different markets.
By the time they played their first bluegrass festival, in 1969 at Hugo, Oklahoma, the Lewis Family had perfected their stage show. Working within the confines of gospel music, they presented an entertaining and well-paced program. There were instrumentals, featuring "Little Roy's" hard-driving banjo, trio selections featuring the three sisters, spirituals, popular gospel songs of the day, originals, and a healthy dose of comedy by "Little Roy"… usually at the expense of other family members! Keeping the program on an even keel was the genial emcee work of "Pop" Lewis. Visually, the group was striking on stage, with the men dressed in matching suits and the women in matching dresses, many of which were hand sewn by "Mom" Lewis.
One thing that bluegrass fans and entertainers noticed immediately was the group's savvy salesmanship. Unlike most bands of the time, who might have sold two or three albums from a folding card table, the Lewis Family came prepared for business. They had an array of custom-made display racks to display the mass of merchandise (albums, songbooks, photos, etc.) that they brought with them. The selling area was usually mobbed as soon as the group finished their sets on stage. It's a safe bet that the group grossed as much or more from merchandise sales as they did from performance fees.
In 1970, the Lewis Family moved from Starday to Canaan Records of Waco, Texas, then one of the leading independent gospel labels. Over a 14-year period, they released a total of 23 albums – roughly one every seven months! The group must have been selling a lot of product to justify such a frenetic release schedule. Memorable songs from this era included "Honey in the Rock," "Joshua," "Baptism of Jesse Taylor," "Me and Jesus," "I'm Just an Old Chunk of Coal," and "Hallelujah Turnpike."
As children in the family's next generation began to come of age, they, too, joined the performing ensemble. These included Wallace's son Travis on bass, and Janis' son Lewis Phillips on banjo and lead guitar. Travis, who performed double duty as the bus driver, was voted Best Bluegrass Bass player of the year five years in a row by the Society for the Preservation of Bluegrass Music in America (SPBGMA). Lewis Phillips made his recording debut at age 5, appearing on Lester Flatt's Bluegrass Festival 2-LP set in 1977. The following year, he appeared with Dolly Parton and
Carol Burnett on a television special called Dolly and Carol in Nashville. He has one solo recording, Empty Fields, to his credit and has received two Gospel Music Association Dove awards and three nominations. Polly's daughter Sherri and her husband Jeff Easter also performed briefly with the group before launching their own highly successful duo act.
In recent years, the Lewis Family recorded for the Riversong and Daywind labels. Since 1999, the group's recordings have won 11 Dove awards for Best Bluegrass Song and /or Best Bluegrass Album. Other awards and honors have included the Lewis Family's induction into the Georgia Music Hall of Fame in 1992, "Pop" Lewis' induction into the Southern Gospel Music Hall of Fame in 2000, a Lifetime Achievement Award in 2003 from the digital magazine SGN Scoops, the family's induction into the Gospel Music Association's Hall of Fame in 2005, four awards from SPBGMA, and two IBMA awards: a Distinguished Achievement Award in 2002 and induction into the Hall of Fame in 2006.
As original members have passed on ("Mom" Lewis died in 2003, "Pop" Lewis died in 2004, and Wallace Lewis died in 2007) or retired due to illness (Polly was diagnosed with Parkinson's disease in 2005), the Lewis Family disbanded in 2009. Several offshoots quickly developed to keep the legacy alive. Most notably, "Little Roy" and Lizzy Long, have formed a duo known as the Little Roy and Lizzy Show. The Lewis Tradition features three former members of the Lewis Family: Janis and her son Lewis, Wallace's son Travis, as well as Travis' son, Jameson.
– Gary Reid is a bluegrass music historian, journalist, producer, and actor based in Roanoke, Virginia.
Read the Full Bio