Charles E. "Everett" Lilly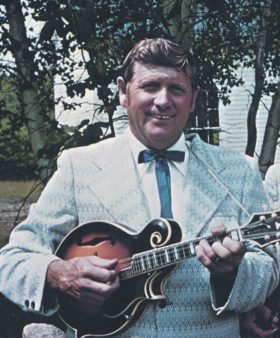 Year Inducted: 2002
Born: July 1, 1924 in Clear Creek Community, Raleigh County County, West Virginia, United States
Died: May 8, 2012 in , United States
Primary Instrument: Mandolin
"Tex speaks fervently of the many times Everett's strength of character would come to the fore in times of crisis – one icy night, the car in which the band was riding skidded out of control; Everett rose from the back seat and literally seized the wheel, skillfully bringing the car back under control, at a time when lesser men might have joined the driver in terrified immobility."
Biography
In 1924, in the remote community of Clear Creek, twenty miles and across the mountain from Beckley, West Virginia, the newest member of the Lilly family was known from the beginning as Everett. Later in life, he sometimes spelled his name "Everette" and found that his birth certificate actually read "Charley Edwin."
Everett and his three-year-older brother Bea became interested in mountain-style music at a young age. Both learned guitar and mandolin and the two vocal parts of the brother duet style then popular on radio and records. Eventually, Everett became the sole mandolin player, the predominant tenor, and the leader of their group (he continued to play lead guitar and later took up the fiddle as well). The year is in question, but a family story recalls that one Christmas Eve Everett and Bea left their families to join up with Bill and Charlie Monroe. When a heavy snowstorm blocked their progress, they went back home and gave up that adventure.
The Lilly brothers struggled to make a living in West Virginia. They worked for a while in the coal mines. Everett sustained burns to his hands in an electrical accident. During a slate fall, the workers ran out of the mine. With the top continuing to fall and black coal dust everywhere, Everett and an African-American miner headed back for Bea while other miners yelled for them to come back. Together they pulled Bea from a large piece of slate that lay on his hip.
Leaving the mines, Everett and Bea found it hard to survive as musicians in the local area. On one occasion they rented Soldiers Memorial Building in Beckley for $50. At their show, they took in $55 and, of course, had to pay the other band members something. With families to feed, staying in their beloved hills was not an option. So they began an odyssey typical for country bands of the time – moving from town to town and radio station to radio station – trying to build an audience and hoping for a lucky break.
For the Lillys, that break came in 1948 as a berth on clear-channel WWVA in Wheeling, West Virginia, where the Saturday night Jamboree reached millions throughout the northern states and Canada. There they made their first recordings (for the Page label of Johnstown, Pennsylvania) and worked in a band with fiddler Tex Logan, who was taking a break from his graduate engineering studies at MIT in the Boston area.
Everett was firmly committed to a career with his brother Bea as the Lilly Brothers but, as his family grew, he couldn't resist the offer of a steady job playing mandolin and singing tenor with increasingly the most successful act in the genre – Lester Flatt, Earl Scruggs & the Foggy Mountain Boys. His wife Jo Ann and children stayed in Clear Creek as Everett hit the road in the fall of 1950. During his tenure, which lasted until September, 1952, the group was based in Versailles, Kentucky; Roanoke, Virginia; and Raleigh, North Carolina. Everett recorded fourteen sides with Flatt & Scruggs on Columbia; his contributions were particularly notable on "I'm Workin' on a Road (to Glory Land)," "Somehow Tonight," "He Took Your Place," "'Tis Sweet to Be Remembered," and "Over the Hills to the Poorhouse."
Although Everett soloed effectively on the mandolin with Flatt & Scruggs, it was his wonderful voice that attracted their attention and that of countless listeners since. Everett is unerringly on key, his powerful tenor head tones blend well with both related and unrelated harmony partners, and, most distinctively, he is achingly sincere in his delivery. When Everett sings a number – although a listener may have heard it before by other singers – it becomes forever associated with Everett Lilly, stamped with the call of the West Virginia backwoods.
Back in Massachusetts, Tex Logan was moonlighting in the lively country music scene there. On a trip through the south looking to find a guitarist for his band, he stopped in Raleigh to see his old friend Everett Lilly. Shortly after that, the brothers joined Tex in the Confederate Mountaineers, together with three-finger and drop-thumb banjo prodigy Don Stover, who had been performing with Bea in West Virginia. They brought the style that would later be named "bluegrass" to New England, eventually (minus Tex) in a long-term, seven-night-a-week engagement at a nightclub called the Hillbilly Ranch. Many country musicians would sit in with the Lilly Brothers & Don Stover if they were appearing in Boston. Among the most notable were Bill Monroe, Tex Ritter, Doc Watson, and Mike Seeger.
In their early days in Boston, Everett, Bea, and Don lived by themselves in triple-decker apartments in East Cambridge, making yearly visits to their families in West Virginia. Don left a few times to play (separately) with Bill Monroe, Buzz Busby, and Bill Harrell; Everett rejoined Flatt & Scruggs briefly late in the '50s, but Boston provided a more stable and remunerative base of operations than the group could find in the south at the time. This was particularly true as the folk music boom swept America. Boston was one of its epicenters, and the Lillys were viewed as among the most authentic and appealing acts in the southern mountain tradition. Able to add recording, college, and folk festival dates to their steady nightclub revenue, the three were finally able to send for their wives and children and move to the suburb of North Billerica.
In January of 1970, Everett's 16-year-old son Jiles was killed in an auto accident. In their grief and realization that the city was not where they belonged, Everett, his wife, and the three children who were still in school moved back to Clear Creek. Bea briefly joined Everett there on a local television show, but soon returned to Boston. The Lilly Brothers & Don Stover reunited a number of times for appearances at bluegrass festivals (sometimes with Tex Logan) and for two tours of Japan. The Japanese tours were arranged by Robert and Jerry Tainaka, friends and fans since their 1961 visit to the Hillbilly Ranch (where the Tainakas recorded a live album of the Lilly Brothers & Don Stover for the Globe label).
Everett formed another family band for appearances and recordings, mostly in the West Virginia market. At first called Clear Creek Crossin', and then Everett Lilly & the Lilly Mountaineers, it included sons Mark, Charles, and Daniel, occasionally their older brother Everett Alan (a professor of social work), and an assortment of grandchildren and friends. The act is a fast-moving conglomeration of modern country music, traditional folk material, bluegrass, and comedy. In a sad echo of the earlier tragedy, Everett's son Charles was killed in a van accident while on tour with Grand Ole Opry star Billy Walker in 2006. Now in his eighth decade and facing various health challenges, Everett Lilly continues to enjoy performing and preaching the gospels of Jesus and mountain music.
– Fred Bartenstein is a bluegrass music historian and journalist.
Read the Full Bio