Don Stover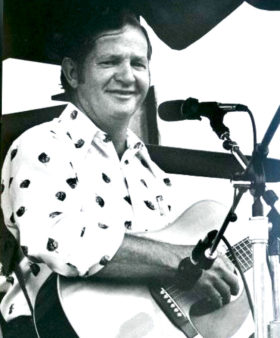 Year Inducted: 2002
Born: March 6, 1928 in Ameagle, Raleigh County County, West Virginia, United States
Died: November 11, 1996 in Brandywine, Maryland, United States
Primary Instrument: Banjo
"I remember the mountains where I left home, back where I was born, down at the end of a hollow… I remember walking to church on a Sunday when I was a youngster, and I had to walk the old dirt road when it was raining and there were mudholes you had to step in. I'd listen to somebody sitting in their cabin up on the hillside playing guitar or fiddle or banjo. The music was just ringing down those hollows and over that mountainside. It was a beautiful sound."
Biography
Don Stover was born in the coal mining company town of Ameagle, six miles northwest of the Lilly Brothers' homeplace of Clear Creek, West Virginia. Three years younger than Everett and six years younger than Bea, his path and family relationships undoubtedly crossed theirs before the three lifelong partners became involved in music.
The Stover family had a banjo at home, with which both father and mother entertained the family. Don wasn't allowed to touch it but – at seven years of age – he would secretly play while his parents were outside. In early 1941, he heard five-string banjo players Wade Mainer and Emory Martin and became seriously interested in mastering the instrument. By 1945 he had developed his own three-finger style of picking, which was heavily influenced by that of Earl Scruggs (Earl joined Bill Monroe on the Grand Ole Opry in 1945).
Everett Lilly's son Everett Alan remembers first hearing Don Stover in 1951 or 1952. He was "burning up" a couple of Earl Scruggs banjo numbers on the back of a flatbed truck, backed by Bea Lilly on guitar, at Glenwood Park (near Princeton and Bluefield, West Virginia). They won the contest that day, following a Flatt & Scruggs performance that included Everett Lilly on mandolin and tenor vocals.
Don was earning a living as a coal miner when the Lilly Brothers convinced him to pull up stakes and move with them to Massachusetts. There they linked up with Tex Logan (their friend and a former bandmate of the Lillys at Wheeling's WWVA) who was in graduate school and moonlighting in Boston's lively country music scene. Starting in late 1952, the four worked every day on WCOP radio and in a string of nightclubs as the Confederate Mountaineers. The Lilly Brothers & Don Stover eventually landed a sixteen-year, seven-night-a-week, booking at the rough-and-tumble Hillbilly Ranch in downtown Boston. A stream of homesick southerners, servicemen, college students, and bluegrass aficionados from throughout the world found their way to the door of that mountain music nirvana.
Everett Lilly dubbed Don (whose birth-certificate name is actually "Don Stover") "Little Don Stover," an apt description of his stature at the time. Thinking it sounded good from the stage, Tex Logan called him "Donald Eugene" or "Eugene." Don liked that name, and later named one of his nine children Donald Eugene.
At WCOP's Hayloft Jamboree, Don met Buzz Busby, Scotty Stoneman, and Jack Clement, who were performing there as the Bayou Boys. When Busby headed for Washington, D.C., and later the Louisiana Hayride in Shreveport between 1954 and 1956, he took Don with him. With the Bayou Boys, Don recorded the original versions of "Lost," and "Just Me and the Jukebox." On another session during this period – in their wildly offbeat comedy alter egos – Buzz Busby was "Ham," Pete Pike was "Scram" and Don Stover was "Spam."
Don Stover played banjo with Bill Monroe for about six months in 1957, recording eleven tracks with him. Historian Charles Wolfe noted that Don was one of the few banjoists who came to the Blue Grass Boys of that era with any professional experience. His playing is heard to particular effect on the Decca records: "I'm Sittin' on Top of the World," "Out in the Cold World," "Goodbye Old Pal," "Molly and Tenbrooks," and "In Despair" (which also features Don's strong lead vocal on the trio).
In those years, rock 'n roll had bluegrass and traditional country music in retreat. Don recalled that a call to work from Monroe might as likely involve plowing with a mule or loading hay bales as it would heading out on a show date. For a family man, the security of the Hillbilly Ranch was a better choice than the fleeting glory of the Grand Ole Opry. Although he went back north, Don disliked the atmosphere of Boston's seedy "Combat Zone." For a time, in 1958-1959, Stover co-led the band at Hillbilly Ranch with Bea Lilly and Chubby Anthony, while Everett Lilly went to Nashville for a second tour of duty with Flatt & Scruggs. It was this configuration that recorded for Mike Seeger on the path-breaking Folkways album, Mountain Music Bluegrass Style.
In 1965, Stover moved to Washington/Baltimore to appear with Bill Harrell & the Virginians but in less than a year he returned to Boston, where the folk music boom was opening new doors for the Lilly Brothers & Don Stover in recordings and concert appearances. The boom also motivated a stream of paying banjo students, who added to Don's still-marginal income as a working bluegrass musician. In 1968, Don was invited to accompany Doc Watson, Tex Logan, and Bukka White for appearances at the Summer Olympics in Mexico City. This led to his participation on the Vanguard album Good Deal! Doc Watson in Nashville later the same year.
During two decades spent in Boston, the Lilly Brothers & Don Stover recorded two singles for Event (re-released with additional tracks on the County label), an album for Folkways, and two albums for Prestige.
At smaller venues Don would go way out on the limb with creative and humorous banjo experiments, which meant that things didn't turn out perfectly every time. But on the big shows, like the Newport Folk Festival, he bore down and put everything together in ways that revealed his greatness. On the first Lilly Brothers, Don Stover & Tex Logan appearance there, as the show opened with a fast instrumental, Don whistled through his teeth like a man at the plow whistling to his horse to start a tough row. The enthusiastic audience response prompted the band to a new height of energy and excellence.
In early 1970, the Hillbilly Ranch era came to an end. After a farewell concert at Jordan Hall, Everett Lilly moved back to West Virginia, followed briefly by Bea. Don continued teaching banjo and organized his own White Oak Mountain Boys, mostly from the growing bluegrass community of New England. Don also emceed a number of bluegrass festivals in the northeast. In the 1970s, the Lilly Brothers & Don Stover reunited for occasional festival appearances (sometimes with Tex Logan), a gospel album on County, and two tours of Japan that produced three live LPs. Don recorded an album on the Towa label with Everett Alan Lilly and three long-overdue albums under his own name, two for Rounder and one for Old Homestead. The title song from one of these –Don's autobiographical "Things in Life" – has since become a bluegrass standard.
From 1978 until the mid-1990s, Don teamed with Bill Clifton and Red Rector (and after Red's death, Jimmy Gaudreau) in the First Generation, which made a series of international tours and recordings on the Elf label. Don and Red Rector played at the World's Fair in Knoxville during 1982. In 1990, Don underwent fourteen hours of brain surgery, was out of intensive care on September 17th, and was back playing on stage at Harper's Ferry, West Virginia on September 19th.
Struggling with health and resulting financial issues, Don relocated from Boston to his West Virginia childhood home in White Oak, a hollow adjoining the "town" of Artie, and then to the Maryland suburbs of Washington, where he could receive needed support from family and friends. In the latter years, Hank Edenborn's White Oak Records produced cassette tapes, LPs, and CDs of Don Stover's playing, supplementing his income and recorded legacy. Don told Hank that he planned to write a book – tentatively titled "BIG" for "Bluegrass in General" – but said he wouldn't do it while Bill Monroe was living. Monroe died in September of 1996. Two months later, Don followed him to the heavenly bluegrass band.
– Fred Bartenstein is a bluegrass music historian and journalist.
Read the Full Bio