Benjamin "Ben" Eldridge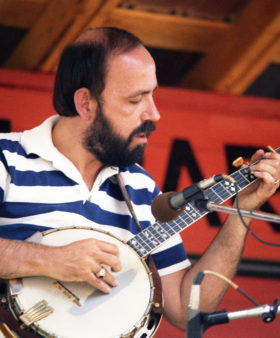 Year Inducted: 2014
Born: August 15, 1938 in Richmond, Virginia, United States
Primary Instrument: Banjo
I love to play banjo, and I'm perfectly happy doing that, but if I know I have to sing I get scared to death!
Biography
Ben Eldridge's first memory of music is of hearing his cousin Mike playing "Red River Valley" on the harmonica. Growing up in Richmond, Virginia, Ben had ready exposure to theOld Dominion Barn Dance, a weekly live broadcast on radio station WRVA. Starting at age nine or ten, he would attend once a month and see performers such as Looney Luke and Roly Poly Reed, Crazy Joe Maphis, Grandpa Jones, Benny Kissinger and Curly Collins, Sunshine Sue, and Mother Maybelle and the Carter Sisters (who lived on the Eldridges' street). Later, in the early 1950s, bluegrass groups such as Mac Wiseman, Flatt and Scruggs, and the Stanley Brothers were regulars on the program.
At about the same time that Ben starting to go to the Old Dominion Barn Dance, he got a guitar and began learning how to play it. Mac Wiseman's performance of "I'll Still Write Your Name in the Sand" hooked Ben on bluegrass. At age sixteen, in 1954, Ben got a banjo and formed a band with some high school buddies. At the same time, Flatt and Scruggs had a live evening program on WRVA and Ben was able to watch the group perform live in the studio. The first tune Ben learned on the banjo was the Flatt and Scruggs number, "Dear Old Dixie."
Additional exposure to the music came during Ben's senior year of high school when WXGI, another Richmond station, aired a half-hour program of acoustic country music. Despite having seen a number of the top bands in person at the Barn Dance, it was while listening to one of the DJs on WXGI that he first heard the term "bluegrass."
Following graduation from high school, Ben attended the University of Virginia in Charlottesville, where he studied Mathematics. The campus was home to a number of picking parties over the next four years. Among the regulars was another banjo picker by the name of Paul Craft, who later played with Jimmy Martin and gained fame as a Nashville songwriter.
In 1961 Ben moved to the Washington, D.C., area where he took a job with Johns Hopkins University in their Applied Physics Laboratory. Several years later, he met two other D.C. area pickers, Mike and Dave Auldridge. By 1967 Ben was hosting weekly jam sessions in the basement of his Maryland home. Regular participants included John Starling, the Auldridge brothers, and local DJ Gary Henderson on bass.
Ben's first work as a professional musician came in 1970, when he became the banjo player for Cliff Waldron and the New Shades of Grass, replacing Cliff's partner Bill Emerson, who left to join the Country Gentlemen. Ben recorded three albums while working with the New Shades of Grass. The notes to one had high praise for Ben: "Constantly striving for improvement, he has established innovations which are a key to the drive in the group. His ideas are unique and full of vitality and, in every aspect, his playing is performed with thought, originality, and a strong sense of professionalism."
In September of 1971 Ben, along with bandmate Mike Auldridge, left Cliff Waldron, citing a conflict between too much music and the responsibilities of their day jobs. The parting was amicable and, less than a month later, Ben found himself sitting in with a pick-up band that held down a spot for Cliff when he had to be away for another engagement. That ensemble soon morphed into the Seldom Scene, with original members John Duffey, John Starling, Mike Auldridge, Ben Eldridge, Tom Gray, and Dave Auldridge.
For a number of years, the Scene held down a weekly spot at a Bethesda, Maryland, club called The Red Fox Inn. Later, they alternated between the Red Fox and The Birchmere, a club across the Potomac River in Alexandria, Virginia. When original member John Starling left the group after seven years, the band dropped the Red Fox gig and worked exclusively at The Birchmere. Their weekly appearances helped to establish that venue as one of the premier music nightspots in the Washington area.
With over forty years of playing with the Seldom Scene, Ben remains the only original member of the group. To borrow from the frequent play on words that appear in many of their album and CD titles, he has "Scene it all." From the glory days of the group's original configuration, when they were one of the cutting edge progressive bands in bluegrass, through a revolving host of lead singers and bass players, the death of the legendary John Duffey, to the group's long-standing current configuration of guitarist Dudley Connell, mandolin player Lou Reid, bass player Ronnie Simpkins, Dobro player Fred Travers, and, of course, Ben Eldridge on banjo.
– Gary Reid is a bluegrass music historian, journalist, producer, and actor based in Roanoke, Virginia.
Read the Full Bio